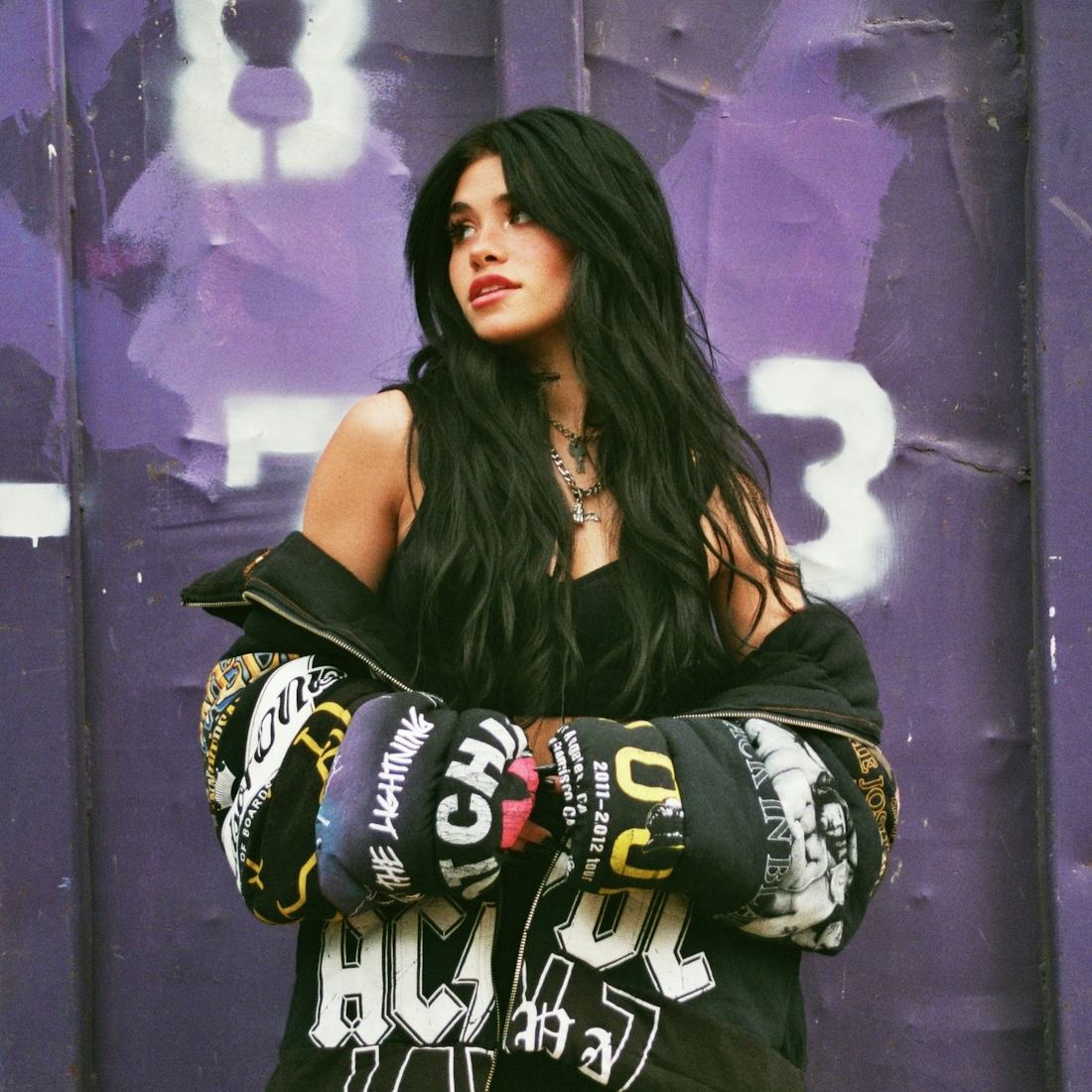 Nessa Barrett Says to Be Careful What You Wish For
With over 15 million TikTok followers and a collaboration with Travis Barker, the singer is a beacon of hope for the future of pop-punk.
For every emo-obsessed, studded-belt-loving, 2000s Warped Tour ticket-holder nostalgic for the good old days, Nessa Barrett's Instagram feed — boasting 5.1 million followers and filled with black hair, black nails, and Tim Burton-esque skeletons — is something of a beacon of hope for the future of pop-punk (and, not to mention, for eyeliner sales).
Not familiar? Let's set the scene at Barrett's West Hollywood apartment earlier this month, which will likely sound familiar to any of her 15.5 million TikTok followers: fellow rock-star-inclined TikToker Quinton Riggs (7.1 million followers) is sitting on the couch blasting Machine Gun Kelly music videos; Cooper Noriega (1.3 million followers) sits at the kitchen counter, dyeing his hair black out of a drugstore box, talking about putting Vaseline around his hairline to avoid stains. Barrett comes down the stairs minutes later in a hair spray cloud and softly says hello. She's glowing with the excitement of someone in the middle of shooting live appearances for both Jimmy Kimmel and Ellen, balancing late nights in the studio, and who also happens to know how to do her own makeup exceptionally well.
Barrett's first radio hit, "La Di Die" featuring Jxdn (aka Jaden Hossler), came out earlier this year, and already has more than 16 million views on YouTube. Comments on the video are overwhelmingly positive, with many of them acknowledging her as a legitimate musical artist rather than a TikToker. "I love it. I think that's what I've tried so hard to work towards," she says of the reception of her music thus far. "I've always wanted to be a musician, a singer, my entire life. TikTok just happened to fall in my lap, and I was given this platform on it."
"La Di Die" is a cautionary tale about Hollywood, with lyrics about drugs that taste like candy and joining the 27 Club. When asked how the beautiful nightmare of a song came together, she confirms she's seen a different side of the city than I ever have. "I always wanted to move to Los Angeles since I was little," Barrett recalls. "I didn't really have much support from my family at the time, so I kind of ran away. Not the best decision ever, I'm not supporting it."
The 18-year-old's life in L.A. sounds like a fairy tale to most girls her age desperate for their own taste of fame. Barrett first went viral in late 2019 during her senior year of high school in New Jersey after posting a dancing TikTok with friends. Whether it was timing, her forwardness in front of her phone camera, or the elusive TikTok algorithm, there was a quick shift in her account, quickly making her one of the most popular creators on the platform. Shortly after, she was signed by L.A.-based agency Talent X, which also represented the infamous "bad boys" of TikTok: the Sway House.
Fast-forward to today and Barrett's had a collaboration with Travis Barker, 50 million streams on Spotify, and a nomination for iHeartRadio Music Awards' Social Star (along with Dixie D'Amelio and Olivia Rodrigo) — not to mention countless, well-documented nights at the Sway House. "It's crazy because you don't really expect a lot of this stuff to happen out here because you see all the people that live here, and it just seems very normal but also very glamorous," she explains, before taking on a more somber tone. "I saw a lot of people lose themselves to a lot of crazy stuff. It almost feels like a loophole. If you get sucked in, you have to be so careful. And a lot of people don't really understand the downsides of fame. Everyone wishes for a bunch of followers and fame, but then you don't know what comes with that. And it does destroy your mental health. I want to be real and I think that 'La Di Die' was probably the realest it could get when it comes to describing what actually goes on."
The past few weeks for Barrett have been doused with personal and internet drama, often being taken to tea pages like @tiktokroom for the public to dissect. This constant magnifying glass has affected her personally ("dude i'm sorry but somethings need to be kept offline. it's real life"), as well as her approach to music and its public reception. "I'd be lying if I said it did not put any pressure [on me]," she exhales. "The more people that know you, the more people out there that are going to hate you. And that's something that I battled with so much because I've always tried to be a people-pleaser and I wanted everyone to love me, but I realized that not everyone will like me."
Like many young women in the music industry before her, Barrett has had to fight to keep her signature sound — deep, saccharine, moody — in which you can hear her influences: Lana Del Rey, Billie Eilish, Melanie Martinez, and The Neighborhood among them. She's also posted several videos singing along to the late Lil Peep, who's inspiring an entire generation of emerging artists at the moment.
Barrett is also part of a larger group leading the pop-punk renaissance over the past year, including Machine Gun Kelly, Lil Huddy (aka Chase Hudson, another TikToker-turned-artist), Maggie Lindemann, KennyHoopla, and MOD SUN. "I feel like everyone just expects so much from me because of my following, and I don't want to disappoint anyone," she says. "I want to put something out and I want everyone to love it, but then I also have to understand that everyone has a different taste for things. I mean, I've struggled a lot when it comes to 'Do I want to make music that I want to make, or do I want to make music that other people want me to make?'"
Barrett has spent the first few months of 2021 privately handling a public relationship with Josh Richards and speaking about her battles with self-destruction and body dysmorphia. When asked why she made the decision to discuss her mental health struggles so openly online, there was no hesitation. "I started seeing a lot of messages from my fans venting to me about everything that they're going through, and I've been through the worst of the worst," she says. After reflecting on months of feeling alone, she realized she never wanted her fans and followers to feel the same way. "I want to show everyone that there is a future. You can do something with your life, even if you think that you can't. There's always a way out."
Showing that she's human is also important to Barrett. "I don't know what it is about social media personalities and even artists and everything. People that have a following and are looked up to, you don't see them as human. You don't see them as a person that could just be walking down the street. So I think that's something that I value so much because I want to be able to connect and relate to my fans as much as I can."
So what's next for Barrett? There's a new single coming out this spring, and a mystery musical project that will hopefully be released this fall. "I just can't wait to perform," she adds. "I'm so ready for this quarantine and COVID situation to be over because I know life's going to be so crazy."
I ask her if there's anything her fans don't know about her, and she struggles to answer while admitting how vulnerable she already is online. Her manager, Bree, fills in the blank and says, "Nessa gets her hands in every single piece of her creative, down to the babiest detail. She controls everything."
As the last line of "La Di Die" says: She's gonna be a superstar.