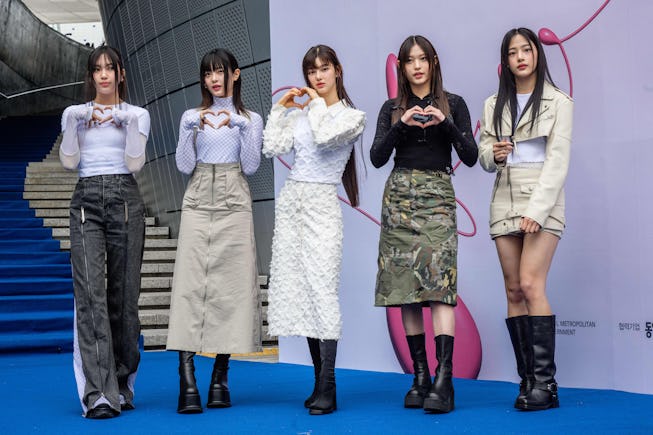 ANTHONY WALLACE/AFP/Getty Images
NewJeans Is Coming Back With 'Get Up' Mini Album
Welcome to another NewJeans summer.
In less than a year, NewJeans has skyrocketed to the status as one of K-pop's most exciting groups. The five-piece released their debut mini album, New Jeans, last August to chart-smashing success, and followed that up at the top of this year with two additional wildly popular singles, "ditto" and "OMG." Now, Minji, Hanni, Haerin, Danielle, and Hyein are coming back again with even more new music. Their second mini album, titled Get Up, lands in early July.
ADOR, the group's label, announced the comeback on June 18, and shared a first look at the record: artwork featuring NewJeans as Powerpuff Girl characters. It turns out the album's opening song, fittingly called "NewJeans," will be released in collaboration with the iconic superhero IP. A snippet of the new song was also shared and features Hanni sweetly singing, "just for a minute," over a delicate, dance-y beat.
The album will arrive at a momentous time in the group's career. In August, NewJeans will become the first female K-pop group to perform at Lollapalooza (where they'll no doubt debut these songs). And speaking of brand collaborations, the album also comes on the heels of another major collaboration they did with Coke, as well as several new fashion ambassadorships for many of the members.
Despite it only being announced a few days ago, Get Up is no doubt already one of the highest anticipated projects of the summer. Read on for everything we know about NewJeans' Get Up, including the exact release date, themes, and more.
When is NewJeans' Get Up being released?
The group's sophomore mini album is out July 7 via Ador. You can pre-order the album now on WeVerse (and one bundle comes with a beach bag).
What songs will be on NewJeans' Get Up?
'Get Up' will have six songs, including a "prologue" track called "NewJeans." See the track list for the album, below:
New Jeans
Super Shy
ETA
Cool With You
Get Up
ASAP
What else do we know about NewJeans' Get Up?
Perhaps the biggest thing we know so far is that the iconic superhero trio Powerpuff Girls will play a big role. In fact, the album's "prologue" track, "New Jeans," will arrive with a music video created in conjunction with Discovery's Cartoon Network, celebrating the cartoon series' 25th anniversary. A press release teases that the other tracks on the album will also receive "unique" music videos that will also feature "unpredictable cameos and collaborations with global brands."
Outside of that, the album's music has only been described vaguely, with descriptors like "colorful," "exotic charm," and "mysterious synths sound," per a descriptor on Weverse. We're interpreting that to mean more fresh-sounding and boundary-breaking K-pop from the band. In the meantime, watch the angelic teaser for the song "ASAP."
This article was originally published on