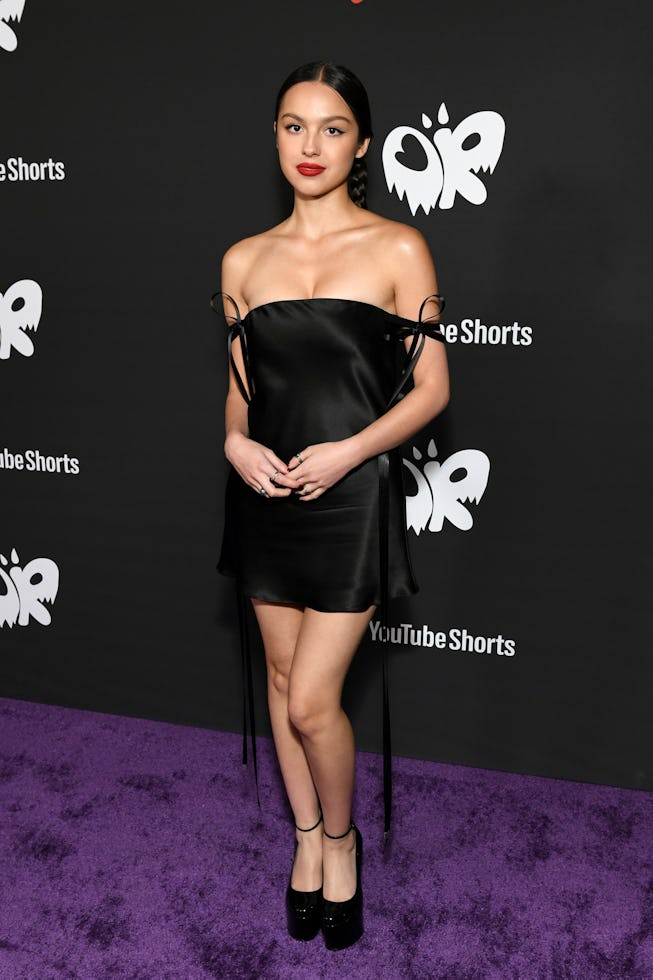 Jon Kopaloff/Getty Images Entertainment/Getty Images
Olivia Rodrigo Also Loves Indie Sleaze
It even inspired her move to NYC.
Olivia Rodrigo knows her references. Since the release of Sour, her wide range of music inspirations have become well-versed public knowledge. There are the pop girlies Taylor Swift and Britney Spears, of course; the respected singer-songwriters Carole King and Alanis Morissette; and the pop-punkers Hayley Williams of Paramore and more. Now it seems Rodrigo is finding inspiration in another trendy, adjacent scene: indie sleaze.
In her first-ever Vogue cover story, Rodrigo revealed that she's recently been getting into the downtown indie rock that defined NYC in the late '90s and early '00s. In fact, she cites the 2022 music documentary Meet Me in the Bathroom, which goes inside the indie sleaze scene via The Strokes, LCD Soundsystem, Yeah Yeah Yeah's and more, as partial inspiration behind her recent move to New York City — and, of course, says she "loves" Yeah Yeah Yeah's Karen O.
Whether or not the indie sleaze sound made it onto Rodrigo's upcoming sophomore record GUTS is obviously still unclear; however, in the cover story, the writer does suggest that at least one of the songs on the new album has vibes from another, different fierce female voice in rock/punk: Kathleen Hanna. Per the writer, Jia Tolentino, said song is about the "impossible expectations that rest on idealized young women" and undergoes a major sonic shift from the verse to the chorus that sounds like "Taylor Swift to Kathleen Hanna in a blink." (Another unreleased song is described as also having Charli XCX and Le Tigre, the band Hanna fronted, flair.)
Outspoken women songwriters and singers have long been a major influence in Rodrigo's aresenal of music inspirations. Taylor Swift is obviously the most well known and major one, but in the past Rodrigo has also shouted out Avril Lavigne, Lorde, Gwen Stefani, and more as big inspirations in her songwriting. In 2022, Rodrigo also helped indict Carly Simon into the Rock Hall of Fame with a searing performance of "You're So Vain," and during her 2021 debut headlining tour performed covers of songs by Veruca Salt, No Doubt, Ednaswap, and more. And in an interview with NYLON in 2021, Rodrigo cited Fiona Apple as an inspiration for her song "jealousy, jealousy."
"I remember thinking that I wanted to make jazzy music like [Apple] when I was younger, so I would play these jazz chords, and be like, 'Nobody can do it like her. I'm not going to be able to do anything even half as good as [1996's] Tidal was,'" she told NYLON. "But yeah, she's so incredible. I'm obsessed with her lyricism."
It's unlikely we'll get such forthright quotes about her songs from Rodrigo this album cycle go around after that small songwriting credits debacle post-Sour, but it's nice knowing Rodrigo's still expanding her musical well, whether or not it shows up in her music. As for GUTS, Rodrigo told Vogue that the songs are a time-capsule for where she is now in her life: "about figuring stuff out, about failures and successes and making mistakes."