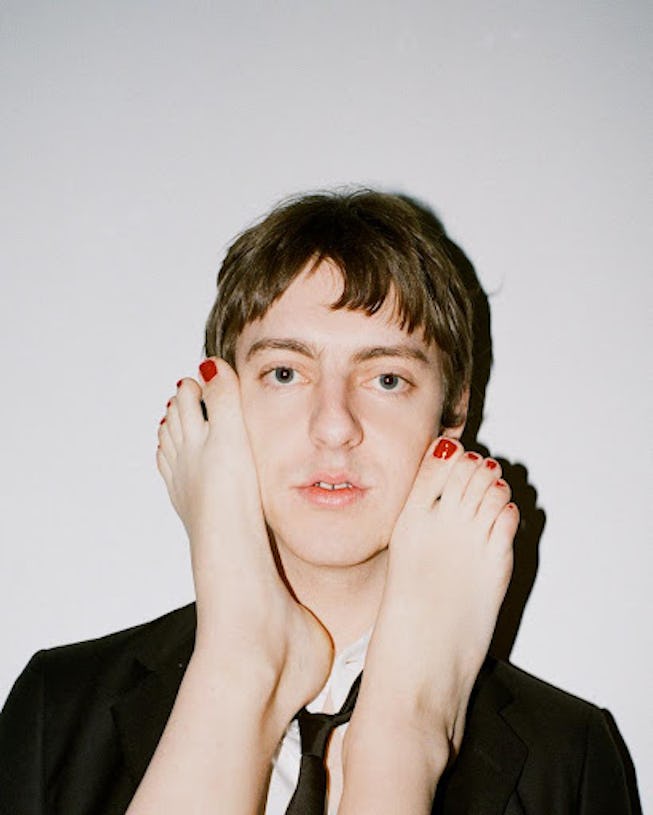 The Dare
With "Good Time," The Dare Keeps The Party Going Past Last Call
"I'm in the club while you're online."
It's hard to believe it's only been seven months since The Dare released "Girls" a buzzy electroclash anthem that captured the frenzied, hedonistic, post-lockdown partying that's enraptured New York City. Since then, Harrison Patrick Smith has gotten nods from everyone from Charli XCX to Matt Healy to Phoebe Bridgers. He's become not just a bona fide downtown NYC celebrity, but has also DJed for Gucci in Milan and Celine in L.A. People clamor to see his sets, which are high-wire explosions filled with balloons and beautiful girls, where The Dare-branded condoms get thrown into the audience like confetti.
So it's safe to say Smith's second single had a lot to live up to; if I were him I'd be shaking in my dress shoes. The Dare, after all, has been celebrated for throwing gasoline on the fire that is the indie sleaze resurgence — and everything about Smith, from his Julian Casablancas suit to his Home Sweet Home DJ residency has people excited about a return to an era that a lot of us missed the first go-around.
On Friday, Smith proved the party is far from over with the release of The Dare's second single, "Good Time," which delivers a grittier, darker approach to an electroclash party anthem. At Smith's party, the lights are out and the music is loud and glitchy; it's overwhelming in the way that makes you leave your body, in the way that sometimes only a song in a minor key can unlock.
"'Good Time' represents the darker side of hedonism," says Smith in a release. "The hangover to the celebration of 'Girls.' It's about trying to have fun when everything is fucked up, and failing."
I actually think "Good Time" is less like a hangover, and more like last call — when you're still at the club despite it being past the hour when good things happen. It's that frantic last push, when everyone starts looking hot again before the lights come up and you have to think about going home. It's that moment when you realize the party is going to end, when it looks like the disco ball may fall to the ground, when you have to start thinking about facing the consequences of your actions. But not yet! What else is there to do in that moment but dance?
"Let's have some fun tonight/ I might start a fight/ 'Cause we're all on the brink of suicide," Smith sings atop a banshee-like bubbling synth that recalls early LCD Soundsystem. "I got no money/ You've got no money/ We've got a good time," before getting to the line that will soon be the Instagram caption for many carousels of party pics: "I'm in the club while you're online." (It's good because it's true.)
The two-minute song ends as abruptly as it starts, like someone flipping a light switch at the club. It may be last call, but as the release promises, more music from Smith is imminent. The party is far from over.