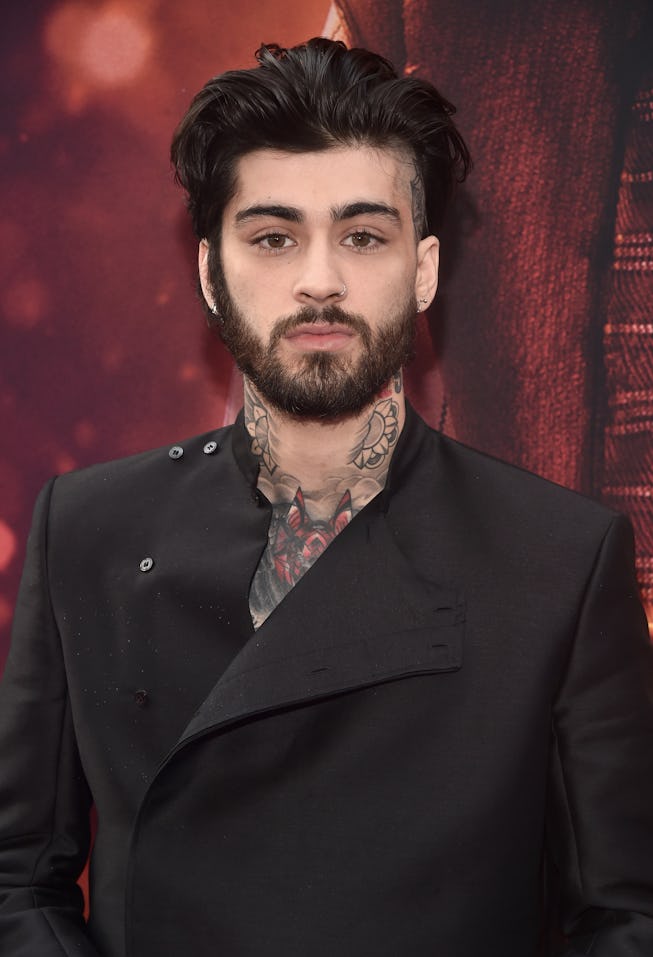 Alberto E. Rodriguez/Getty Images Entertainment/Getty Images
Zayn Just Wanted To Be The First One Direction Member To Go Solo
"I completely selfishly wanted to be the first person to go and make my own record."
Zayn's abrupt departure from One Direction in 2015 was one of the biggest news stories of the year. At the time, as the boy band was seemingly at the peak of its career, the singer chalked up his exit to stress and a desire to be "a normal 22-year-old who is able to relax and have some private time out of the spotlight," per his official statement at the time. But now, it seems things might've been more complicated than he let on. In a rare new interview, Zayn now says that the boyband was actually "sick of each other," and that he took the initiative to leave because he "selfishly" wanted to be the first to make his own record.
The 30-year-old former boy-bander hasn't done an official interview in six years but on Tuesday evening, he sat down with Alexander Cooper of the Call Her Daddy podcast to talk about his new life in Philadelphia, new music, and, of course, One Direction. In the hour-long chat, he revisted his decision to leave and admitted that "there was a lot of politics going on," and his exit was ultimately partially a strategic career decision.
"Certain people were doing certain things, certain people didn't want to sign contracts, so I knew something was happening. So I just got ahead of the curve," he said. "If I'm being honest with you, I was like, I'm just going to get out of here, I think this is done and I just seen it, and I completely selfishly wanted to be the first person to go and make my own record if I'm being completely honest with you. I was like, I'm going to jump the gun here for the first time. I'm a passive dude, but when it comes to my music and my business, I'm serious about it and I'm competitive, so I wanted to be the first to go and do my own thing."
He added that the group dynamic by that point was also under some strain. "We'd been together every day for five years and we got sick of each other," he said. "We were close, we'd done crazy things with each other that nobody else in the world will ever understand or have the experiences that we shared with each other and I look back with on it now with a much fonder light than I would've, you know, as I'd just left."
While these new revelations may be shocking, they aren't totally surprising. Over the years in interviews Zayn has let on that the last few months of his time together with the band weren't the greatest. In a 2018 interview with GQ, Zayn claimed that he "didn't make any friends from the band," and in a 2019 interview with Vogue U.K. described the band as a "machine." Fellow bandmate Liam Payne has also alluded to the members having a strained dynamic, stating in a 2022 interview that an unnamed member once threw him up against a wall, and that the band's later years "just got a little bit toxic." (Harry Styles, Louis Tomlinson, and Niall Horan have offered more diplomatic comments.)
Elsewhere in the interview, Zayn also addressed the allegations that he "struck" ex Gigi Hadid's mom, Yolanda in 2021. At the time, TMZ reported and alleged that Zayn had hit Yolanda at the farm, and that she was seriously considering filing charges. Zayn later released a statement online that he would "not contest claims" but that he would prefer for it to be left a private matter.
Speaking to Cooper on the podcast, Zayn didn't speak directly on the incident but said that the issue was resolved privately by all parties involved. "I knew what the situation was, I knew what happened, the people involved knew what happened too," he said. "And that's all I cared about. If anybody of a same mind would look at the situation, I believe you could respect that I just didn't want to bring attention to anything. I just wasn't didn't want to get into a negative back and forth with her, any sort of narrative online where my daughter was gonna look back and read that. I believe I dealt with it in an amicable, respectful way."
Zayn is currently gearing up for a major music return and the release of his new single "Love Like This," out July 21, his first release since 2021. His last album was 2018's Icarus Falls.
Of his upcoming era, Zayn says that the album will have a "different sound" and mention his daughter. "It's got some more narrative going on, like real life experiences and stuff."
Hear his full interview on the Call Her Daddy podcast.