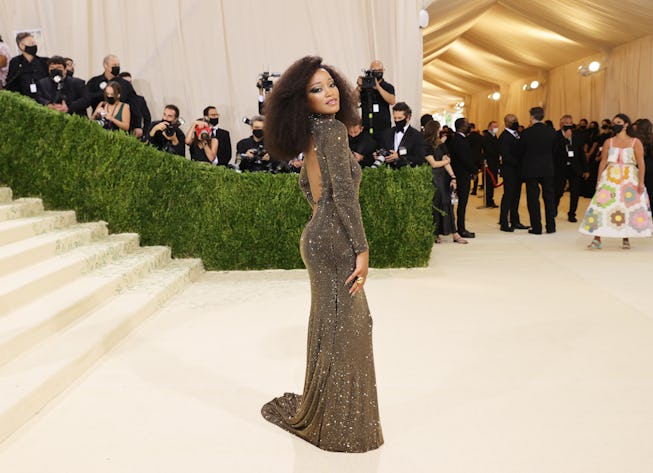 Mike Coppola/Getty Images Entertainment/Getty Images
Every Red Carpet Look From The 2021 Met Gala
Fashion's biggest night is here!
After a postponement and eventual cancellation last year, the 2021 Met Gala red carpet is finally here.
The "Super Bowl of Fashion" or "Oscars of the East Coast" arrived not on the first Monday in May, as tradition goes, but on Monday, Sept. 13, just after New York Fashion Week and the 2021 MTV VMAs. The string of major events have not only brought a ton of attention to NYC, but loads of famous faces to make their anticipated appearances, too.
The 2021 Met Gala will celebrate the Costume Institute's latest major two-part exhibition that will last through 2022. Tonight is the start of In America: A Lexicon of Fashion, which will be on view from Sept. 18 to Sept. 5, 2022 and explore the "modern vocabulary of American style," as well as celebrate The Costume Institute's 75th anniversary.
Of course, that ties in with the red carpet's dress code: American fashion, or, specifically, American independence. "Over the past year, because of the pandemic, the connections to our homes have become more emotional, as have those to our clothes. For American fashion, this has meant an increased emphasis on sentiment over practicality," Andrew Bolton, the Wendy Yu Curator in Charge of The Costume Institute, said in an official statement.
Tonight's sartorial theme will likely be channeled best by its Gen-Z lineup of Met Gala co-chairs, including Timothée Chalamet, Billie Eilish, Naomi Osaka, and Amanda Gorman. Speaking of Gen Z, we're likely expecting a slew of TikTokers, YouTubers, and online influencers to make their red carpet debuts, as well, especially since the event is sponsored by Instagram. (Emma Chamberlain was one of the first guests to arrive, wearing Louis Vuitton.) Plus, the usual Met Gala suspects, who have already made a few stops at NYFW, will probably make an appearance on the red carpet, such as Kendall Jenner, the Hadids, and more.
Our biggest anticipated appearance for the night is, obviously, Rihanna. The Savage X Fenty designer actually has some of her lingerie pieces on display at the Met's exhibition, and she's hosting an after party, too. Here's to hoping she sports her usual go-to, post-Met Gala outfit: pajamas.
See all of the red carpet moments from the 2021 Met Gala, below, and keep checking back for more.
Want more Met Gala content? Find out about the 10 most unforgettable celebrity Met Gala moments.