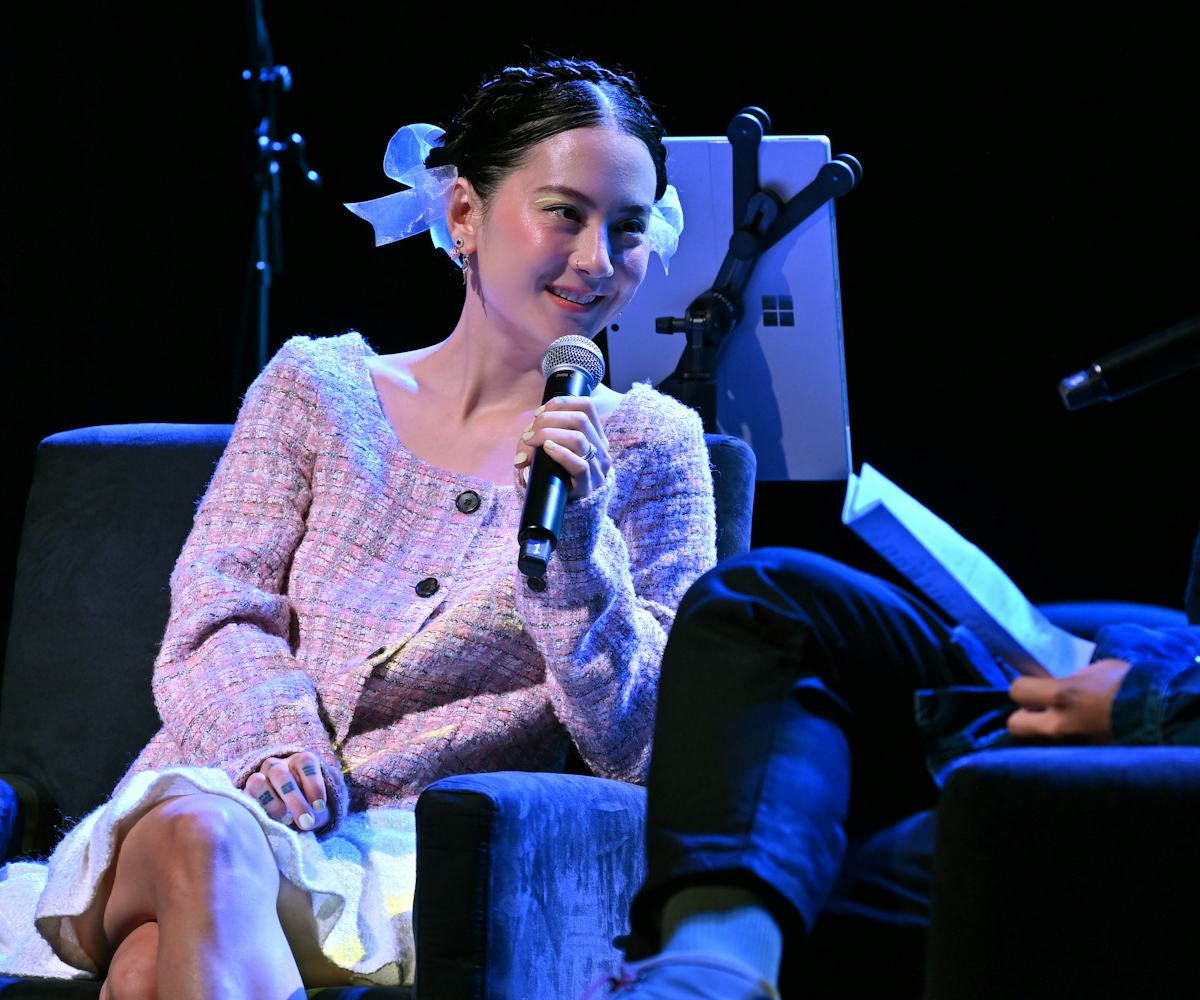 NYLON Fit Picks: Michelle Zauner in Sandy Liang, Hayley Williams on The Tonight Show, & More Celebrity Looks
The best fashion of the week, on and off the red carpet.
Welcome to NYLON's Fit Picks, a weekly roundup of our favorite celebrity outfits.
Japanese Breakfast has had their busiest year yet, so a break is well-deserved. After months of back-to-back performances during their sold-out world tour, Michelle Zauner is mapping out her year-long hiatus ahead of their final show this month to pursue other projects.
The musician and author spoke of her plans during The New Yorker Festival on Saturday, Oct. 7. While in conversation with writer Hua Hsu that night, Zauner talked about a myriad of things, from her forthcoming film adaptation of her best-selling memoir Crying In H Mart to her plans on moving to Korea next year to work on her next book. As expected from the 34-year-old, she delivered the news at the event in style.
Zauner took to the stage donning a very Sandy Liang ensemble. Her outfit included a baby pink tweed sweater, which was oversized and loosely fell over a white pleated mini skirt. The Jubilee singer also wore black Chanel heels paired with glittery mesh socks and to finish it off, a sheer organza ribbon braided into her hair.
See the rest of our favorite celebrity looks from the past week, including Rihanna and A$AP Rocky's coordinating couple outfit, Hayley Williams' ShuShu/Tong set, and more.
Rihanna and A$AP Rocky
After his birthday on Oct. 3, the festivities weren't over quite yet for A$AP Rocky. The rapper continued the celebration over the weekend dressed in a baggy gray Bottega Veneta suit and a white tee. He styled his look with black platform loafers and the brand's chartreuse woven handbag.
Right beside him was Rihanna, who went out in a double-denim two-piece number. She opted for a tied-up white top underneath which exposed her black Savage X Fenty bralette and completed her going-out 'fit with fuzzy black shoes.
Cailee Spaeny
During the New York Film Festival in New York on Oct. 6, actor Cailee Spaeny was captured on the red carpet to promote her upcoming film Priscilla wearing a white rosette-ruffled top with black trousers.
Emily Ratajkowski
Emily Ratajkowski is never not spotted taking a stroll in the city. Despite a gloomy autumn day on Oct. 6, the model went out in a buttery, chocolate-brown leather outfit. She also wore white sneakers, and black sunglasses, and carried a slouchy handbag.
Hayley Williams
Last week, Paramore's Hayley Williams appeared on The Tonight Show starring Jimmy Fallon wearing a gray blazer and mini short set by ShuShu/Tong, paired with Miu Miu's banana-colored Mary Jane pumps.
Dianna Argon
On Oct. 5, actor Dianna Argon attended the New York City 2023 Ballet Fall Fashion Gala wearing an embellished black gown and cape ensemble from Carolina Herrera's Fall 2023 collection. She finished her red carpet outfit with black pumps and dazzling diamond accessories.
Emma Stone
Just days after the Louis Vuitton show at Paris Fashion Week, Emma Stone was already captured at the New York Film Festival in a recently debuted trench coat dress from the Spring 2024 collection. She also wore sheer tights with black flats.
Camille Rowe
In between Paris Fashion Week events last week, Camille Rowe was photographed at the Miu Miu dinner party wearing the house's black mini dress styled with a matching cardigan, red tights, and kitten heels.
Zendaya
Right after the Louis Vuitton show last week, Zendaya did a quick outfit change in a vintage look. The outfit, previously worn by Naomi Campbell in a campaign almost two decades ago, included a fitted gold blouse from the house's Spring 2004 line, blue straight-leg jeans, and strappy white heels.