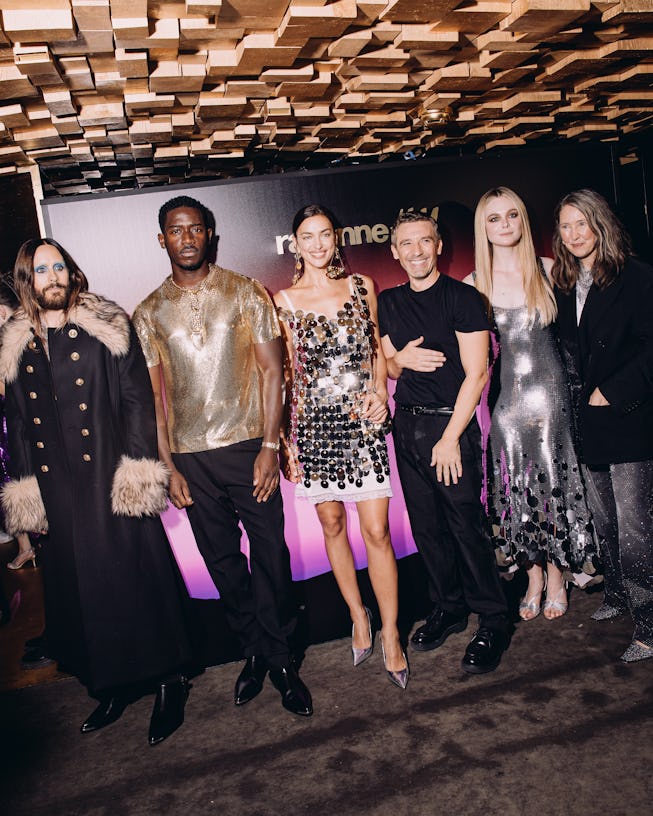 H&M Is Bringing The Party With A New Rabanne Collaboration
The rumors were finally confirmed at a surprise event in Paris.
There's no better place to drop unexpected news than Paris Fashion Week. Following a slew of rumors over the past few months, H&M officially announced its latest designer collaboration with French fashion house Rabanne.
During the tail end of fashion week chaos on Oct. 3, the mega Swedish retailer confirmed the news at a surprise party in Paris. Held at the legendary nightclub Silencio, the event's A-list roster of attendees gave a sneak peek into the collection ahead of its release; guests included Cher, Justine Skye, Jared Leto, Damson Idris, Iris Law, and Elle Fanning dripped in chainmail pieces and elaborate ensembles on the dance floor.
The preview into the collaboration revealed everything we know to be true of Rabanne: glamourous with lots of dazzle. Though the price points and number of pieces have yet to be revealed, you can expect to see nearly all of them pay homage to late founder Paco Rabanne — the Spanish designer who defined '60s fashion with his otherworldly space-age metallic creations. After Rabanne's retirement in 1999, the house has since been reinvigorated by current creative director Julien Dossena.
"As a designer, I've always been interested in exploring hedonism and empowerment," Dossena says in a press release. "I was very enthusiastic to work with H&M on a collection that will introduce Rabanne's avant-garde energy to a wider audience in a democratic way."
The Rabanne H&M collection is set to include a range of both women's and men's silhouettes, along with shoes, accessories, and — for the first time ever — a home décor capsule. You can shop the upcoming release in select stores and online at hm.com starting on Thursday, Nov. 9. While we wait for more details, see more images from the Rabanne H&M event during Paris Fashion Week, below.
Elle FanningDave Benett/Getty Images Entertainment/Getty Images
CherDave Benett/Getty Images Entertainment/Getty Images
Iris LawDave Benett/Getty Images Entertainment/Getty Images
Justine SkyeDave Benett/Getty Images Entertainment/Getty Images