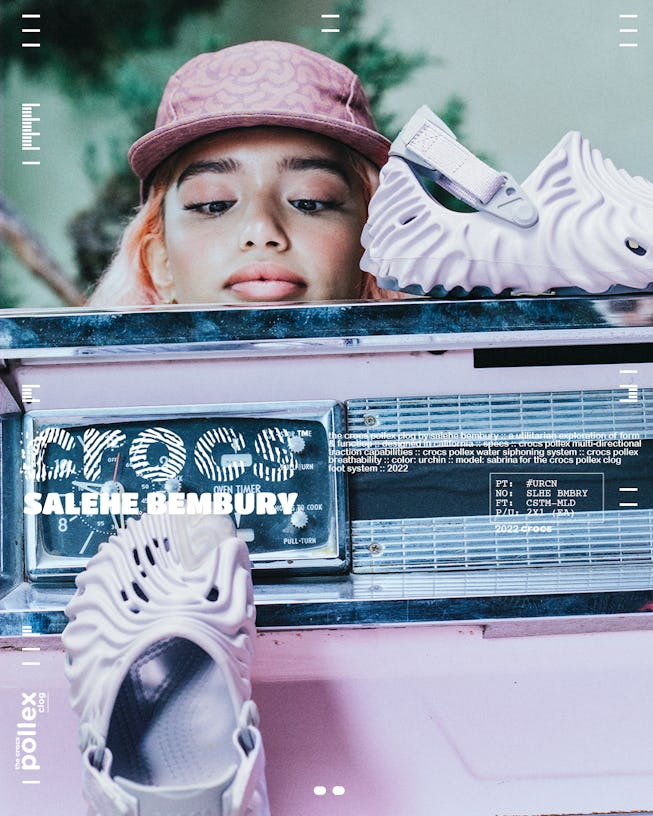 Courtesy of Crocs/Richard Brooks & Chaymine Jay Barut
Salehe Bembury's Coveted Crocs Are Back Again, Here's How To Get A Pair
Coming in three brand new colorways.
With major fashion houses "hacking" each other to a heritage jeweler teaming up with an iconic skater brand, 2021 was the year when brands came together to create something truly spectacular, especially for Crocs, with collaborations from musicians, influencers, and even beauty brands. Now, the comfortable footwear company has tapped veteran shoe designer Salehe Bembury, who has had fashion stints at Yeezy and Versace, for its latest (and extremely anticipated) collab.
Earlier in July 2021, Bembury took to Instagram to tease a photo of what is now one of the most hype Crocs drops of last year. In the photo, we see the heel of a Croc Pollex with the simple Crocs logo and Salehe Bembury's name right underneath. Since then, the designer has been seen wearing his Croc designs all over social media, causing some major buzz around these new shoes.
Following the release of its coveted (and instantly sold-out) collaboration back in November, Bembury and Crocs are back again with yet another launch — and it's expected to drop a lot sooner than you think. If you missed the last release, here's your chance to try again. We've gathered all the info you need to secure your pair of the newest Salehe Bembury x Crocs Pollex Clog, below.
What is the Salehe Bembury x Crocs Pollex Clog collaboration?
The Salehe Bembury x Crocs collaboration marks the first of its kind in terms of design. Instead of opting for the original classic Croc clog like most recent collaborations, Bembury chose to work with the brand's Pollex clog, which still offers the same comfort but, design-wise is made up of a compilation of Bembury's signature fingerprint motifs merged together. With dramatic concave ridges, these are Crocs you've never seen before.
For its second release, the coveted clog is back again but this time to be offered in three new colorways: "Stratus" (inspired by the cloudy white skies); "Crocodile" (a slime green); and "Urchin" (a cool-toned lilac hue).
The first drop consisted of three different colorways featuring "Spackle" (a creamy off-white with gray detailing); "Menemsha" (a brownish taupe); and "Cucumber" (a dark forest green). From the looks of them, as well as the campaign, you can tell this new collaboration was completely inspired by nature and being outdoors, which isn't surprising given Bembury's last gorpcore-style collab with New Balance.
When and how can you buy the Salehe Bembury x Crocs collaboration?
This is where to listen up. This super-hype Crocs collab is most likely going to sell out fast and it's already expected to go for a pretty high price on the resellers market.
You can enter the drawing for a chance to shop the Salehe Bembury X Crocs Pollex Clog in the Crocodile and Urchin colorways starting on Tuesday, May 24 at 12 pm EST until Wednesday, May 25 at 12 pm EST exclusively online at Crocs.com. Fans will be notified if they've been selected for the drawing and note that quantities are limited to one per customer.
Ahead of the launch, U.S.-based only Crocs Club Members will get exclusive access to the Stratus colorway from Monday, May 23 at 12 pm EST to May 24 at 12 pm EST.
The Salehe Bembury x Crocs Pollex Clog will be available in men's sizes 4 through 15 and will retail for just under $85. Below, you can take a closer look at the campaign imagery and the new anticipated shoes for the Salehe Bembury and Crocs' second release.
This article was originally published on