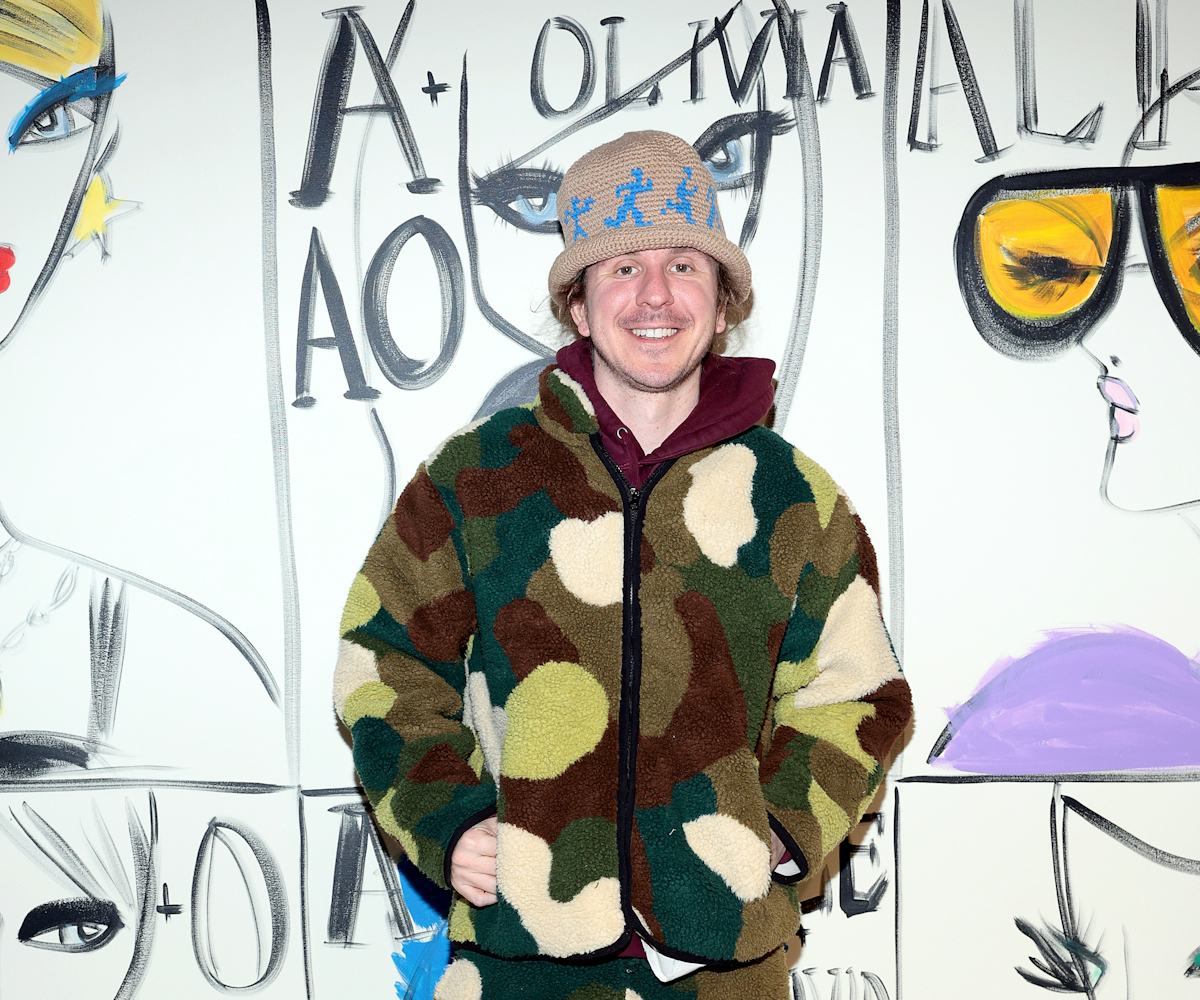 Dimitrios Kambouris/Getty Images Entertainment/Getty Images
KidSuper's Colm Dillane Likes That His Bold Designs Are Difficult To Wear
On the eve of his first-ever Coachella, the designer talks his new UGG collaboration and carving out time to stay creative.
Colm Dillane was very ready to pop his Coachella cherry. "You know how you always see the memes and the people in their outfits and them always being like, 'Oh my God, you didn't see Coachella?'" asks the KidSuper founder and designer one evening in Palm Springs, California while chilling in a lush back alcove of the sprawling Villa Royale hotel. "Now, I can be one of those girls!"
It's the Thursday evening right before the kickoff of Coachella weekend one, and the 31-year-old artist and designer is dressed in head-to-toe bright yellow KidSuper gear, waiting for his pre-festival party to begin. But he isn't the only host; Dillane is here in conjunction with UGG, who tapped him to design an exclusive Coachella collection this year. The product of their union sits on his feet right now, completing his sunny ensemble: the iconic Tasman Sport shoe wrapped in different shades of lemon yellow, textured with KidSuper's signature brush strokes and a vibrant stripe of pink running across the heel. "I just posted them on Instagram and all my friends, my personal friends, are like, What the f*ck," says Dillane, grinning, "I want a pair."
Their collaboration (which, sadly, won't be available for purchase by the public) is an ideal match in many ways. Dillane's playful, bold painterly designs, which have been popularized by celebrities like Bad Bunny, Travis Scott, and J Balvin, are a fitting foil for the heritage shoe brand's minimal silhouettes — though UGG has gotten more playful with theirs, too, in recent collections. The team-up is yet another peak in Dillane's massive year so far, which saw the Brooklyn native get appointed as Louis Vuitton's first-ever guest designer; in January, Dillane debuted his co-designed LV menswear collection at Paris Fashion Week, kicked off by a fiery performance from the Motomami herself, Rosalía.
Ahead of Coachella, NYLON caught up with Dillane for a candid conversation about his UGG collaboration, his own unique idea for a music festival, and how he's finding time to stay creative as his career takes off.
Tell me a little bit about your UGG shoe and the artwork that you went for.
UGG has very famous silhouettes that they're known for, and you don't want to change their silhouette necessarily because that's what you go for, but how can you make something unique with them? KidSuper is obviously known for the loud colors and the artwork and everything. And so we all-over printed a painting of mine. I think because it was summer and Coachella is the festival, the color's quite vibrant. I added the pink to tie it together. But sometimes all-over printing looks bad. I think people underestimate the skill to use it correctly. I think this was done well.
Do you have a philosophy when it comes to picking out what you want to wear with a shoe this bold?
I always said [KidSuper] clothing is like capes. I sell capes. You want to put on a piece of KidSuper and feel a little bit special, more special than you were feeling. A little bit of energy, so I always make these statement pieces. It was more because I wanted people to change the way you felt a little bit, or feel inspired or have a conversation about these shoes. I think people will stop you on the street and ask about them. What's the art from? Who's the artist? I think that's quite cool. I like the idea of clothing bringing people together. And I like the idea of clothing making you feel some type of way.
It seems like you don't have a strict "if you have a bold shoe, you have to wear muted colors" philosophy. From your outfit now, it seems like you're very fluid with how you throw things together.
Yeah, for me in a personal style, for sure. I don't really dress simple, ever. I only wear KidSuper stuff, so it's kind of hard. But I do think I love the idea when someone dresses super simple and wears one piece of KidSuper, because it stands out a lot, it brings attention. I do think when you go fully like I'm going, it distracts from how amazing the shoes are. But to each their own. I like the idea that KidSuper is kind of difficult to wear, or you have to be ready for people to stop you on the street. It's kind of cool.
I hear this is your first Coachella. What are you looking forward to or apprehensive about?
Being a very stereotypical Coachella goer.
How so?
Well, you know you always see the memes and the people in their outfits and then always being like, "Oh my God, you didn't see Coachella?" So now I can be one of those girls!
What are your thoughts around festival style or trends?
I haven't been to many festivals, so I don't truly know, but I've always dreamed of throwing a KidSuper festival. I always tried to think how I could make it different. Would I include not only musicians, but standup comedians? Would I include art? I had one idea, which I was saying, Tinder could sponsor my entire festival, and your ticket would show if you were single, it'd say green. Taken, it'd say red. Yellow would be 'complicated,' whatever. And then that might be another way to spice up the festival idea.
"I like the idea that KidSuper is kind of difficult to wear, or you have to be ready for people to stop you on the street. It's kind of cool."
That's definitely a unique festival idea. You've had a big year. You guest designed for Louis Vuitton. How was that? Have you processed it?
In the moment I definitely didn't process it. Now? I mean, one, what an amazing experience. Two, completely unexpected. Didn't think I was going to get it. Three, worked really hard behind the scenes. I had to audition a ton… or I don't think the term's audition, but pitch or whatever. And then I think it changed the perspective. I mean, obviously it was incredible. And for myself it was a huge stepping stone.
But I think for everyone else, it really changed their perspective of who I was or what I could do, which is pretty cool. And now if you have to list the 10 top creative directors for something, I'm weirdly in the conversation.
Now that you're so big, are you finding time to go to your studio and make art?
It's really hard. And it's been really, really hard because I'm having now to meet all these different people and talk about the business and talk about blah, blah, blah. And everyone's pulling me from different [directions]. I had my own ambitions that I was always trying to do outside of fashion, but within the consumer brand, media and all of these things are now kind of becoming more possible.
I'm in these meetings that I always wanted. It's like, are you going to say no? You can't say no to the meeting because it's like, I've tried so hard to even get these meetings, but now it's like who's designing? Who's drawing? And who's coming up with ideas? Because creativity requires, I think, space and time to f*ck around and play off. I always say one of my number one inspirations is deadlines, where it's like, you must be done by this time. But with that said, you do need some time to figure out stuff and test. So now I'm kind of running a mile a minute and I have to figure that out. It's a very good question, but also quite difficult to figure it out.