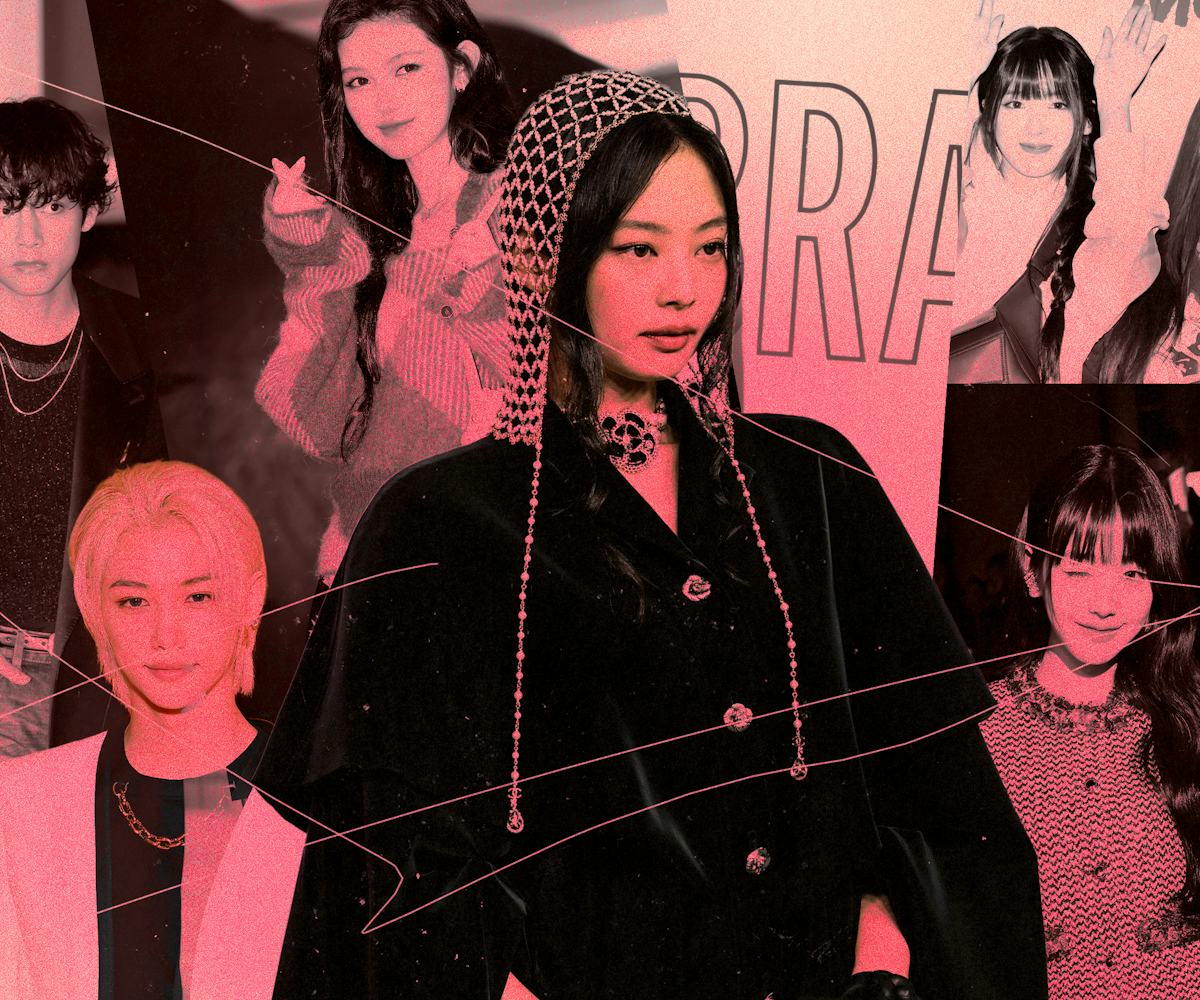 K-Pop Idols Are Taking Over Luxury Fashion, One Brand Deal At A Time
Korean musicians are the most sought-after models for high-fashion brands. But what makes them so coveted?
Fancy clothes and A-list attendees have always been essential to the exclusive allure of fashion week. In recent years, the glitz and glam have been kicked up a notch thanks to the newer, undeniable force that is the K-pop idol. What was once a bimonthly showcase held solely for buyers and editors has become a spectacle for loyal K-pop enthusiasts who swarm the doors of the industry's biggest runways, waiting to catch a glimpse of their favorite star, even for a split second. In turn, luxury fashion labels are playing into the virality of Korean pop groups not just by inviting them to sit in the front rows but enlisting them as brand ambassadors.
Not long ago, K-pop idols were a rare sight at international fashion shows. Nowadays, the hype around Korean musicians has evolved into a lucrative business strategy. They're a highly sought-after commodity with new endorsements pouring in constantly and showing no signs of slowing down. But what about South Korea's top stars holds such power and influence in the fashion industry?
The concept of a brand ambassador isn't new. Fashion partnerships with celebrities have long been a part of luxury houses since their inception, and it's common for talent to grace giant billboards and magazine ads for flowery perfumes, makeup lines, and fresh-off-the-runway collections. Korean celebrities have historically fronted beauty and liquor ads, but the past couple of decades launched the global rise of Korean pop culture, or the Hallyu wave, into the mainstream.
Since, the list of K-pop fashion ambassadors grows longer every other day, filling in as individuals or with their respective groups. The Blackpink members — Jennie (Chanel), Jisoo (Dior), Rosé (YSL), and Lisa (Celine) — rank as the most influential ambassadors according to a 2022 report by industry marketing firm Lefty. A decade into their careers, BTS members finally signed with high-fashion names, like Valentino and Bottega Veneta, amid their military hiatus. Newly launched bands are also inking multi-year contracts early into its debuts. Girl groups like NewJeans, Le Sserafim, Aespa, and NMIXX, for example have joined the families of Louis Vuitton, Loewe, and many others. And this is just a handful of names on a very long roster.
Blackpink's Lisa for Celine, 2023The Chosunilbo JNS/ImaZinS/Getty Images
NCT 127's Taeyong for Loewe, 2023Han Myung-Gu/WireImage/Getty Images
IVE's Wonyoung for Miu Miu, 2023Pascal Le Segretain/Getty Images Entertainment/Getty Images
Steffi Cao, an internet culture and creator economy reporter at Forbes, explains that this phenomenon goes back to the concept of fandom — K-pop's cult following has always relied on an online presence. She says that much of a group's global success is owed to fans getting the word out about them through subtitling videos and making memes, among other things. The last few years have shown just how powerful fandoms can be because K-pop stans, Cao says, have a history of very active online participation.
"K-pop has mastered making a prepackaged endless content hole, where you can just click from music video to fancam to variety show to interview to tour vlog, plus a whole world of rare photocards, fan calls, and hi-touch time that generates even more community content," she says. "Part of this genre's international success is infused with how well they provide content for fans that parlays into user-generated content."
K-pop idols are integral to driving up valuable media buzz. It makes sense — they're at the epicenter of the cultural zeitgeist right now, and their digital impact alone surpasses that of most well-known Western stars. See NCT 127's Taeyong, as mentioned in Lyst's Q2 Index report, who positioned Loewe as the "No. 1 hottest brand" because of the gained attention on socials by fans when the singer was announced as their ambassador in June.
Aside from cultivating engagement, Trinity Talton, a writer and student at Florida's A&M University, tells NYLON that what makes a K-pop idol an ideal ambassador is their passion and dedication to represent the brand and its core identity — no need for singers to show loyalty before getting signed. At the very least, "[they should have] enough interest to promote their products without compromising their contract," they say.
"K-pop has mastered making a prepackaged endless content hole, where you can just click from music video to fancam to variety show to interview to tour vlog."
Their influence not only generates clicks but cash as well. Earned media value is at an all-time high as the effect of the Hallyu wave has impacted most consumer categories. Fans in Southeast Asia alone are each spending up to $1,500 a year on merchandise and physical albums on groups like BTS. Domestically, Koreans are considered to be the world's biggest spenders on luxury goods, with Morgan Stanley estimating that total spending in 2022 increased "around 24 percent to $16.8 billion, or $325 per capita, which is much more than the $55 and $280 spent per capita by Chinese and Americans, respectively." The result is a win-win situation for everyone involved: Musicians make millions in sponsorship and brands profit from it, now having access to a younger, trendier consumer base.
Nikki Ong, a 25-year-old fan working in fashion and based in New York City, says that this increased brand recognition does work at influencing her, even if she doesn't have the disposable income to splurge on thousand-dollar handbags or logo-adorned sneakers. The appeal is in an idol's association with a company. "Sometimes I find myself being able to ID designer styles because I've seen it on an idol," she says. "But I don't think I find myself wanting to buy it. I stick within my tax bracket."
NMixx for Loewe, 2023Pascal Le Segretain/Getty Images Entertainment/Getty Images
Le Sserafim for Louis Vuitton, 2023The Chosunilbo JNS/ImaZinS/Getty Images
NewJeans' Danielle for Burberry, 2023Han Myung-Gu/WireImage/Getty Images
It's not just about purchasing power — luxury fashion houses want to create walking human advertisements. The contracts are almost always exclusive, meaning Korean celebrities are only allowed to be seen in said brand for red carpets and other public-facing events. Talton believes this can restrict how an idol expresses themselves through personal style.
"I think ambassadorships create limitations for idols and put them in a box creatively," Talton says. "I also feel like K-pop stans tend to do the same based on who their favorite idols are ambassadors for, which can make those limitations worse."
But Ong disagrees, stating that if anything stylists are held responsible. "Jennie Kim is a Chanel ambassador, and although the styles aren't always 'wearable,' for lack of a better word, she still dresses in the way her brand should be received. She never lets the clothes wear her. The same goes for BTS when all seven were under Louis Vuitton," she says.
"To see someone non-white and non-American [is] an acknowledgment that the world is indeed global [and that] stars come from everywhere."
Ultimately, what makes the idol-to-brand ambassador pipeline so effective is because for many people they represent a community that, for the first time, is dominating music worldwide — an industry that has historically been seen as white, America-centric, and exclusive.
"To be a fan of K-pop, for me, has been a constant battle of explaining to people who don't listen to K-pop why I like it, why it's not ridiculous or frothy or meaningless, and why there are so many fans of it," Cao tells NYLON. "It's also deeply personal to me, as an Asian American woman, and I can never fully untie the hesitancy around it from xenophobia."
In some ways, the ambassadorships are more for the many people who, Cao says, are unfamiliar with the scope and reach of K-pop. "To see someone non-white and non-American, particularly making music they don't hear on their radios, [is] an acknowledgment that the world is indeed global [and that] stars come from everywhere," she says. "They mean a lot to many, many people."
Fashion ambassadorship to K-pop musicians is more like gaining accolades at the end of the day. It's a mutually beneficial business transaction that ensures album sales aren't their sole income. Most importantly, they're selling an aspiration regardless of whether their mostly Gen Z fanbase can afford it. In return, fans do often buy the products their favorite stars endorse as a way of showing support.
Cao says there only needs to be a reciprocal relationship in fandom for these partnerships to be successful, where fans of both the brand and idols feel appropriately matched in interest and fashion. "One of the wonderful community things about modern fandom is the sort of focused styles for each artist — the silver for [Beyoncé's] Renaissance, the bright blues and oranges for Rauw Alejandro. I think the best ambassadorships are ones where the fans can relate to the brand. They're the buyers, anyhow."