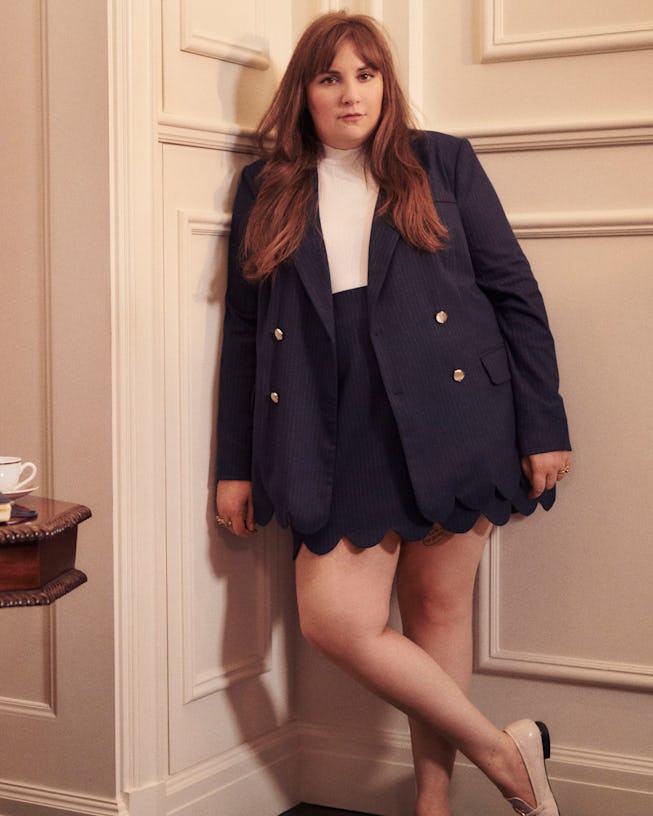 Courtesy of 11 Honoré
Lena Dunham's 11 Honoré Collab May Not Be Enough For The Plus-Size Community
The online retailer's first celebrity partnership is a move that feels disingenuous for many.
On May 31, 2020, plus-size retailer 11 Honoré made a statement outlining how actions speak louder than words. The brand emphasized the importance of community, especially in regard to uplifting Black voices within the plus-size space where POC are often excluded from the narrative. Now, 10 months later, the brand's latest launch and first-ever celebrity partnership with Lena Dunham is speaking volumes.
On Monday, the plus-size community at large erupted in conversation following an interview with Dunham in The New York Times that exclusively unveiled the collaboration. The piece centers on Dunham's desire to pivot into fashion, mentioning her support of the "Spanx liberation movement," her inspiration, and how the pandemic has changed her relationship with her body. Little is said, however, about Dunham's problematic nature or of her lack of interest in (or influence from) the plus-size community.
"Why didn't they take the time to do some research or reach out to other people who might have been a better fit for this?" writer and brand consultant Liz Black tells NYLON.
Dunham's original tease of the launch back on March 26 was initially met with favorable comments on social media, likely because of her relatable caption. "When you're thin — no matter the reason — there's a kind of inherent nod of congratulations that comes from being able to fit into runway samples and look the part of a Hollywood starlet," she wrote on Instagram. "And while some designers have embraced my plus size body, there's always the inherent implication by others that by doing so they have bravely risen to some kind of 'challenge' (and that I'm brave simply for coming out in this body, dressed in a way that doesn't hide in shame.)"
A notable message for sure — but enough to cover up Dunham's controversy within the plus-size community? For many, the answer is a resounding no.
Black explains that, from an outsider's point of view, 11 Honoré had no shortage of celebrities to choose from for a collaboration: Danielle Brooks, Aidy Bryant, Nicole Byer, Queen Latifah, Lizzo, Joy Nash, Precious Lee — the list goes on and on. And then there are the influencers and advocates — like Gabi Gregg, Nicolette Mason, Kellie Brown, and Roxane Gay — who are, essentially, the digital celebrities of this online-focused community.
"Any one of these people are viewed more as style icons and have more of a connection with the plus-size community, so it seems odd for them to choose Dunham of all people to begin this collaboration," Black adds.
Nevertheless, 11 Honoré landed on Dunham as its first celebrity partner, a move that feels disingenuous, according to writer and digital marketing strategist Sarah Conley. The brand did not respond to NYLON's request for comment.
"There's a lot you can say about Lena Dunham, but this specifically feels like a betrayal to the customers [11 Honoré is] trying to serve," she says.
Dunham is no stranger to controversy. In 2017, she accused a woman of lying about rape, later apologizing by writing, "I didn't have the 'insider information' I claimed but rather blind faith in a story that kept slipping and changing and revealed itself to mean nothing at all." At the 2016 Met Gala, she was met with fire after publicly calling out Odell Beckham Jr. for allegedly not showing an interest in her. In 2015, she received backlash for comparing allegations of sexual misconduct against Bill Cosby to the Holocaust. The list goes on.
Dunham herself said, "I am not a person, for many reasons, who anyone even wants to represent a product." The question arises, then: Why did 11 Honoré chose her to launch its celebrity-driven endeavor?
In the past — and present, as noted by The New York Times — Dunham has publicly distanced herself from the plus-size community, disliking terms like "plus," "curvy," or "body positive." While her reasoning is understandable — in 2021, fashion should be for all, without the need to segregate by body types and measurements — it shows a lack of understanding of the community she's now profiting from. 11 Honoré has even labeled itself a "plus-size" brand, catering to sizes 12 through 24. Is plus-size truly the problem, or is it the perception of what Dunham believes fatness to be?
The backlash is twofold: For starters, why is such a problematic voice being uplifted within a marginalized space? And additionally, why is Dunham, someone who hasn't shown appreciation for the plus-size fashion community, being given such a top-tier privilege?
Could 11 Honoré, the brand that once was labeled a champion for the plus-size community, have fallen out of touch with the very women who brought it to life? Could the brand's historic New York Fashion Week show in February 2019 have been the cap of its inclusivity measures?
"It really makes you wonder what was going on over there inside the brand," says writer Jess Sims. "I really hope they take this feedback internally to be smarter moving forward and think about who they want to align themselves with."
To many, including Sims and Black, the move to center Dunham echoes a common theme throughout the history of plus-size fashion, in which Black women are admired in private, but excluded from the conversation at large, denied profit from the trends and community they helped create. 11 Honoré made a concentrated effort following the murder of George Floyd in 2020 to uplift more Black voices. That's seemingly been reflected in both the brand's social media page and choice of e-commerce models. But for Sims and others interviewed off the record for this piece, it's not enough.
From Amy Schumer to Melissa McCarthy to Meghan Trainor, white celebrities on the smaller end of the plus-size spectrum (like Dunham) are constantly painted as saviors of the body positive movement, even when they publicly share a distaste for that association. Others — like Liris Crosse, regarded as the "Naomi Campbell of Plus" — are swept to the sidelines. Few things have become as predictable as the erasure of Black women from plus-size fashion.
Dunham's five-item collection is inspired by women of the '90s, "like Cindy Sherman and Kiki Smith, who would clomp around in men's shirts and Yohji Yamamoto skirts and unbrushed hair because their very active minds were on other things," she told The New York Times. Throughout the article, Dunham is photographed wearing selected pieces, like a geometrical flower print dress and two-piece blue blazer and skirt combo. Depending on its success, this initial drop may only be the first step in a longer partnership between 11 Honoré and Dunham.
If this situation — and the one that recently occurred upon LOFT announcing its elimination of plus-sizes — is any indication, the plus-size community will be watching closely to see how the brand responds, reacts, and refocuses going forward.