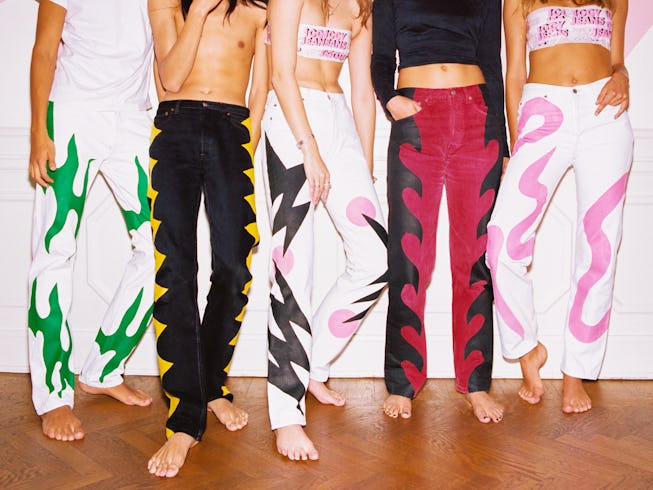 Courtesy of Iggy Jeans/Stockholm Fashion Week
8 Brands We Loved From Stockholm Fashion Week Spring 2022
From emerging designers to established names.
The fashion industry loves sustainability as a distant concept, but when it comes to the tenets of what makes a fashion brand truly sustainable things become increasingly opaque. Enter: Stockholm Fashion Week, where sustainability was seen not only as a talking point, but a source of inspiration and pride throughout each collection. It was present in the designs, among the conversations, and within the overall solution-oriented veneer that blanketed the three-day event.
It began at Stockholm Fashion Week's "Fashion Future's Talk," which invited industry leaders throughout the world into a room (many virtually) to discuss where we've come from, where we're at, and what lies ahead — all while we're still reeling from the ongoing pandemic. Just how bad are things? Anita Balchandi, partner at McKinsey London, shared statistics that refused to sugarcoat the ongoing hemorrhaging of the fashion industry. The most startling: Economic profits across the globe were down 93% in 2020. The future remains grim as fashion's challenges will persist and likely accelerate post-COVID.
In that sense, the tone of Stockholm Fashion Week, one of the first major in-person fashion weeks since the onset of COVID-19 in March of 2020, was more subdued than optimistic. Quite frankly, it would have felt bizarre to resume with "business as usual" given the climate. It did not lack optimism, however, choosing a more pragmatic approach to addressing problems that many in the industry refuse to face head on.
Was there room for joy? That's where the clothes came in. Ahead, meet Stockholm Fashion Week Spring 2022's best crop of emerging and established designers who chose to see the future as an opportunity to double down on their mission-based work of building a better world through fashion.
See our favorite street style looks from Stockholm Fashion Week Spring 2022.