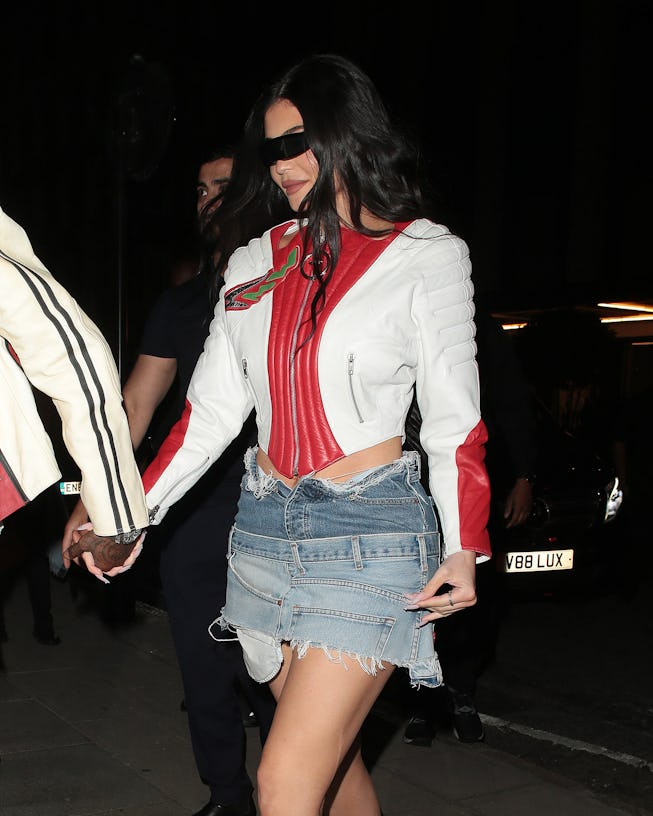 Kylie Jenner's Mugler Moto Jacket — And Other Rare Celeb Pieces — Can Now Be Yours
If you've ever wanted to dress up as your favorite celebrity, time to get out your wallet. Following the news of its star-studded closet sale earlier this month, The RealReal continues to tap the celebrity trend via a new category called "Rare Finds."
In the past, hidden one-of-a-kind treasures were scattered all throughout the online consignment shop, only discovered by those who spent hours digging deep into the pages. Whether you're a vintage aficionado or a celebrity stylist, these throwback designer items are now easily accessible through Rare Finds, which has a dedicated category on the homepage.
The RealReal is kicking off the recently launched section with a curated assortment sourced by renowned collector Keni Valenti, who has consigned over 300 (out of 20,000) styles for Rare Finds. Among Valenti's donated collection are several archival pieces that are exact or similar pieces worn by Kylie Jenner, Tina Turner, Rihanna, and Madonna, among others.
Mugler, Spring 1990
Jean Paul Gaultier, Fall 1990
Alaïa, Fall 1988
Chanel, Fall 1994Photo: Courtesy of TheRealReal
The most notable items from Valenti's search include a flowy black evening gown from Alaïa's Fall 1988 runway, made for and worn by Tina Turner. '90s-era silhouettes are abundant in the mix, with standouts including Jean Paul Gaultier's Cone Bra A-Line ensemble from the Fall 1990 collection. The corset dress resembles what Madonna wore during her Blond Ambition tour.
Kylie Jenner's Mugler moto jacket is also up for grabs — originally the late designer's "Space Age" Quilted Motorcycle Biker Jacket from the Spring 1990 catwalk. Chanel's black-and-white faux fur jacket was once Look 16 from the Fall 1994 line worn by supermodel Yasmeen Ghauri and Brandi Quinones for the accompanying campaign. Karl Lagerfeld's famous fuzzy coat has since been seen on Rihanna and North West in different colorways.
Prices for Valenti's four Rare Finds pieces range from $8,000 to $10,000, available to shop with hundreds of other styles on TheRealReal.com.