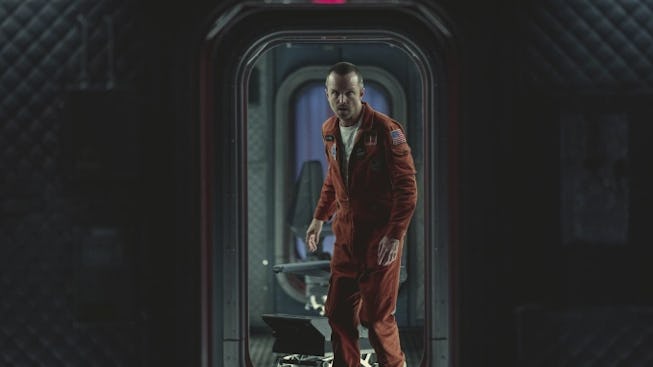 Nick Wall/Netflix
Black Mirror Amps Up Tech Dystopian Nightmares With Season 6 Trailer
The cacophony of dial-up internet has never sounded so ominous.
It's been four years since Black Mirror Season 5, and social media and technology have only gotten more insidious. Now, Black Mirror returns for its sixth season to dole out another set of truly terrifying parables of the digital age — and this season promises to be the series' most cinematic season yet.
The trailer, which dropped today, gives us a hint at some of the terrifying stories — which are scariest of course, because of close to home they are. We hear the sound of dial-up internet, we see skulls smashing through glass, a demented-looking cheerleader storming a church congregation, and houses on fire. The trailer concludes with an appropriate sentiment that all but sums up humanity's relationship with our own black mirrors: "What the f*ck is this?" a teenager says, looking at a TV. "How the f*ck is this?" It's a good question, but one that Black Mirror is unlikely to answer.
Black Mirror has always been known for its star cameos, which have included appearances by Miley Cyrus and Jon Hamm. This season promises another slew of stars, including Salma Hayek Pinault, Annie Murphy, Josh Hartnett, Kate Mara, Michael Cera, Zazie Beetz, and Bodies Bodies Bodies breakout star Myha'la Herrold. The series will also see different directors helming episodes, including Ally Pankiw, who just directed I Used To Be Funny starring Rachel Sennott.
According to insiders, the latest season is supposedly even more cinematic in scope, with each installment being treated as an individual film, though probably not at the same scope as Bandersnatch, the genre-breaking choose your own adventure thriller the franchise released in 2018.
Creator Charlie Brooker spoke with Netflix's Tudum about the upcoming season, hinting at some changes ahead.
"I began this season by deliberately upending some of my own core assumptions about what to expect. Consequently, this time, alongside some of the more familiar Black Mirror tropes we've also got a few new elements, including some I've previously sworn blind the show would never do, to stretch the parameters of what a Black Mirror episode even is," he says. "And bringing it all to life we've got an incredible roster of disgustingly skillful, smart directors working with a cast of actors so talented they frankly have no right to exist. I can't wait for people to binge their way through it all and hope they enjoy it – especially the bits they shouldn't."
Black Mirror Season 6 premieres in June on Netflix. In the meantime, you can rewatch the surprisingly wholesome "Hang the DJ," episode of Season 2, or watch the trailer, below.