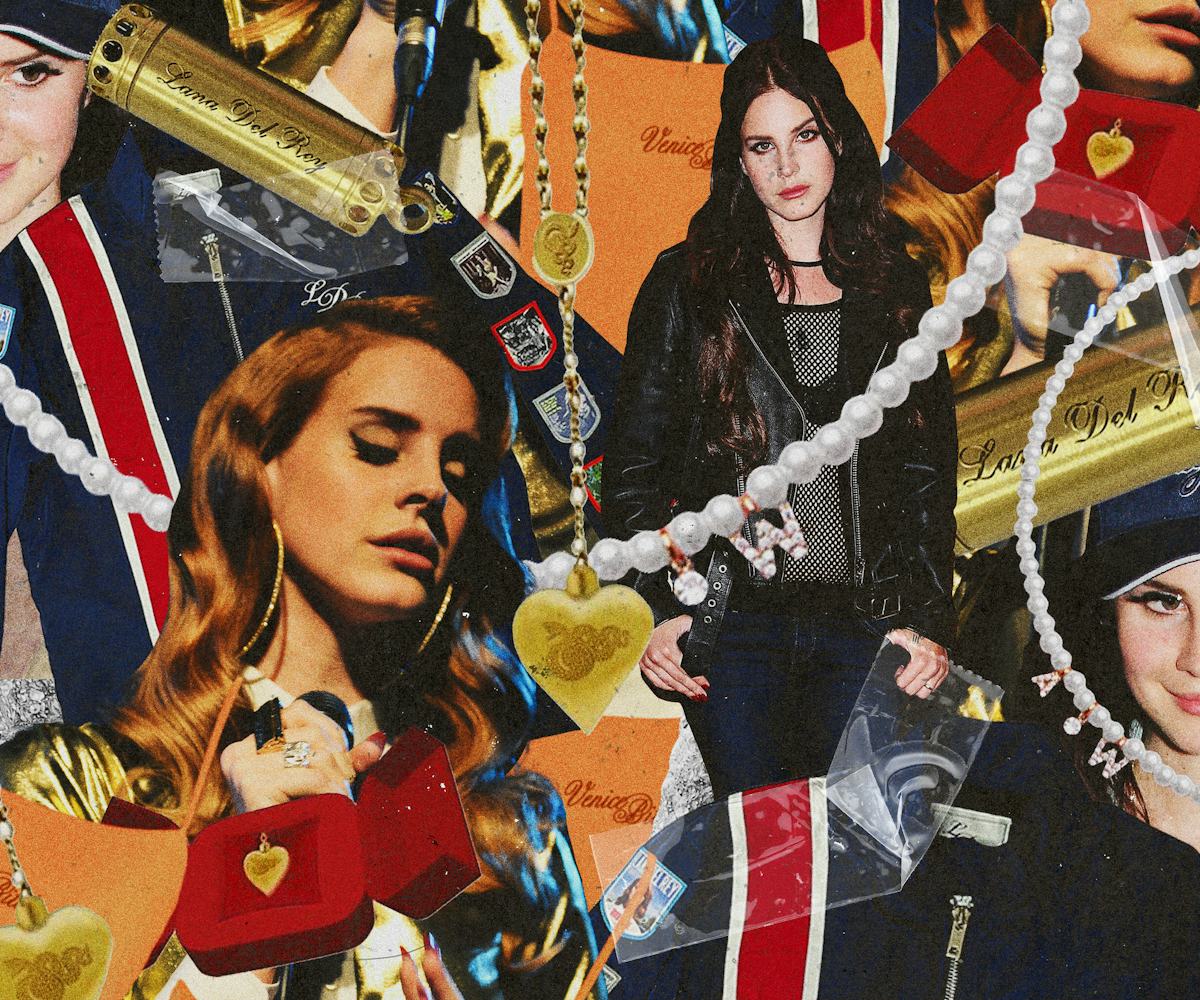 NYLON / Getty Images
Lana Del Rey Merchandise & Selling A Fantasy
From coke spoon necklaces to racing jackets and beyond, no one does merch like Lana Del Rey.
The Lana Del Rey Cult was forged in the feeds of early 2010s aesthetically pleasing Tumblrs, when the musician's take on Hollywood glamour retro pop became hyper-feminine heroin for social media users.
"This is a figure who transcends gender, race, sex, and even language," writer Art Tavana, who's currently writing a book on Del Rey, tells NYLON. "I think her fanbase is united in their shared belief that 'forgive me father for I have sinned' and 'sorry daddy, I've been a bad girl' mean the same thing."
These days, on the verge of Del Rey's ninth studio album, Did You Know That There's a Tunnel Under Ocean Blvd, her stans are more powerful than ever. With plans for world domination, Lana Mania has seeped into TikTok alongside popular hashtags like angelcore, royalcore, and Tumblr nostalgia — this is where content creators live and give virality to Del Rey's unwavering relevance, as '60s-style updos and uwu imagery soundtracked by songs like "West Coast'' or "A&W" flood the feed. One of the main strongholds for these creators is approved by Del Rey herself: her merchandise.
Owning Lana merch is not only a material manifestation of fandom but a form of currency and status among her fans. Del Rey's infamous and limited edition cocaine spoon necklace (which she hinted at bringing back in the comments on her personal TikTok), a nod toward Sarah Michelle Gellar's cocaine cross necklace in Cruel Intentions, is a holy grail item; the necklace, which originally sold for around $50 on Del Rey's online store, is now selling for more than $1,000 on resell sites like Depop and Etsy. In anticipation of Ocean Blvd, the singer curated an "A&W" pearl necklace, a racing jacket, and a brass lighter — all of which sold out in less than 24 hours — before adding an engraved brass pill case and a brass whistle to her shop. What sets Del Rey's products apart from other megastars is how accurately they reflect the true essence of her fans: a little perverse and with a finger on the pulse.
"[Owning Lana merch] comes from the same impulse to collect pricey Barbies and rare trading cards. It's Americana. She's Americana," says Tavana. "She's an artifact from the 'country America used to be,' a simulacra of a place that only existed in our dreams. John Wayne as a daddy figure. We buy Lana Del Rey merch for the same reason little boys and girls used to dress up like cowboys and pretend like they lived in a free country."
Del Rey fan Maddie Heldman finds the singer's merchandise refreshing compared to uninspired T-shirts and tote bags with which artists have inundated the market for years. "I'm always excited when an artist puts effort into creating thoughtful practical pieces that I haven't seen before. I almost want my artists to also function as lifestyle brands, especially large artists like Lana with massive marketing and merchandise budgets who have a fantasy to sell."
Nora-Grayce Orosz has bought Del Rey's many vinyls, sweatshirts, tees over the years, including the highly coveted cropped "Venice B*tch" tank from the singer's Norman F*cking Rockwell era. "It was unique and kind of edgy, cute and cropped. It wasn't just her name plastered on my tits," she says.
Another Lana fan paid around $50 for a replica of Lana's cocaine spoon as an addition to their "vice vessels." "It's discreet enough that most people think it's just a necklace, but comes in handy whenever I'm out partying," they said. "I'm a huge Lana fan and immediately was in love with the novelty and utility."
While Tavana doesn't buy LDR merchandise, he has spent hundreds of dollars on magazines featuring the singer — some which are quite expensive and rare — like the 2012 T Magazine cover, the 2012 Lovecat cover, and the 2011 Dazed cover, which he calls his "Michael Jordan rookie card." Most recently, Lana took the cover of Interview Magazine, which promptly sold out and popped up on sites like eBay for a cool $200.
The Lana fandom runs deep, with some fans staying true for more than a decade. "Lana Del Rey has been one of the only constants in my life, making it very easy for me to create content around her music and lyrics," said content creator Tracy Hawchar, who discovered a "National Anthem" demo on Soundcloud in 2012. "She's like my comfort person, if that makes sense. I also know enough about her to educate the younger stans who are just discovering her music through TikTok now."
For Tavana, however, his fandom feels close to "Warholian" obsession.
"I'm a fan for the same reasons [Andy] Warhol was obsessed with Liz Taylor," says Tavana. "This sounds pretentious because it is. I view her as a work and one of the great sex symbols of her time — sorry! She's also a great American poet who provides a 'question for the culture' each time she sits behind her 15-inch MacBook and composes."