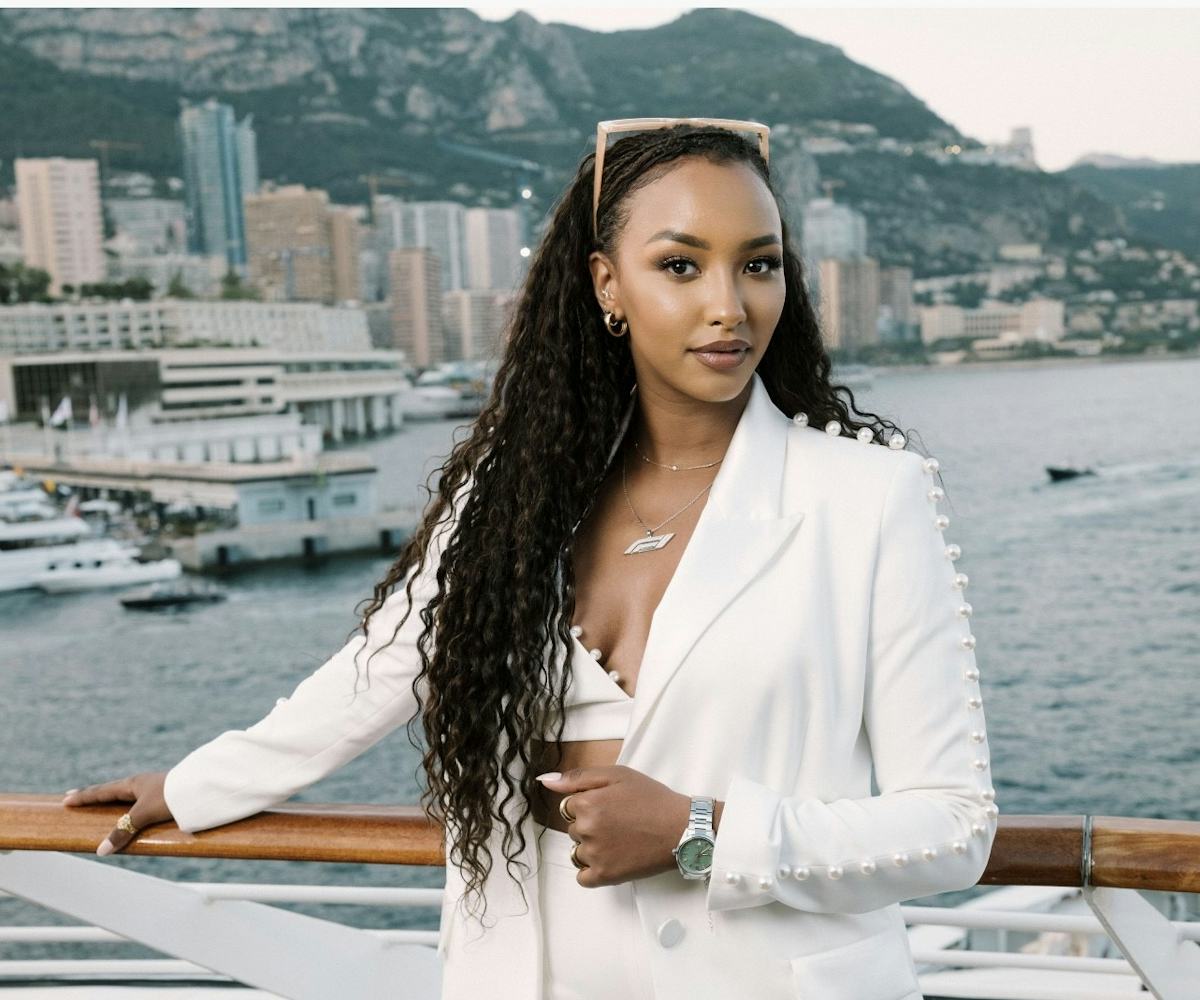 Naomi Schiff Knows How To Dress For A Formula 1 Weekend
The Belgian-Rwandan racing driver and Formula 1 analyst discusses her motorsport career and fashion in the sport.
Naomi Schiff knows it's not typical to see women in Formula 1, let alone a woman of color. But in the past two years, she's broken barriers with her calm yet personable approach as an F1 analyst and TV presenter, interviewing the fastest drivers in the world for a global audience — even in the face of racial abuse. But what sets Schiff apart from others in her field goes beyond her robust online following and sense of style. Before her pivot to on-camera talent, Schiff was once a racing driver herself.
"It was the driving aspect that drew me to the sport," the South African native tells NYLON. "I've always been slightly scatterbrained, and it's quite hard to get me to focus on one thing. In most sports, you can't get away with that because there is a huge team working behind you, a lot of sacrifice and effort going in from all sorts of angles." What makes driving a car different, she continues, is her ability to focus while driving at top speed. "You're the one who gets in the car and has to bring it to the finish line. It's having a singular vision in a super focused moment."
This adrenaline rush carried her through 16 years of a motorsport career. At age 12, she participated in the Southern African Formula Volkswagen; she raced Formula cars at 16 before heading to Europe and winning the Clio Cup China championship. She also competed in the KTM X-Bow GT4 and the now-folded all-female W Series before she felt she was at the end of her time on the track.
"It's very difficult to be successful in motorsport, and not that many drivers in the world have proper professional careers that are sustainable," Schiff says. "I also got tired of chasing after sponsors because you spend your whole life selling yourself to people and then them promising you things. After 16 years of doing that, I was tired of chasing after people for money — it just got exhausting."
It didn't take long for a new opportunity to appear on television to materialize. Since 2022, Schiff has been a co-analyst on the Sky Sports F1 team. In addition to her insightful on-screen commentary, she is known for her impeccable sense of style —a noted advantage as fashion's presence grows both in and outside the paddock.
With only two more races left in the 2023 season and next week marking the debut of the Las Vegas Grand Prix, Schiff is an expert on what to pack for such a special occasion. While Schiff will be missing in action for the Las Vegas race (she's emceeing her BFF's birthday also taking place the same weekend), she's full of advice on how to prepare for the historic event. Read more about Schiff's transition from the track to television, her thoughts on fashion in F1, and outfit ideas for the upcoming race.
On Her Motorsport Background and Transition to a Career as a TV Presenter
For the longest time in my life, there was no space I put myself in where I wasn't referred to as a racing driver. The fact I was going to be losing that potentially was tough to deal with. I think many athletes, when they retire, go through that transition phase and try to find themselves, and it's a bit of an identity crisis. I felt genuinely happy about taking on this role in my post-race career because it kept me talking about driving from the driver's perspective. I have a professional career that pays me relatively well for the first time while keeping me in a sport that I love. I work alongside drivers and people in the industry whom I've looked up to my whole life.
On The Rise of Fashion in Formula 1
Fashion is, and has always been, quite prevalent in motorsport. There were races like Monaco, where they used to have runway shows outside of the race weekend. In the last couple of years, a few things have changed in the sport. You have Lewis Hamilton, the pioneer of fashion in the paddock. Now, some drivers express themselves how they want to through clothes, and a flood of photographers line up to ensure they get that shot. From a regulations perspective, it's changed — the teams pressure the drivers to wear their merch when they walk in, as all those photo opportunities are moments for brands to be more exposed. The drivers seem free to walk into the track wearing what they want. Once they settle in, they change into the team gear, so it's a good balance for everyone.
Lewis Hamilton, Qatar GP 2023Kym Illman/Getty Images Sport/Getty Images
Pierre Gasly, Great Britain GP 2023Dan Mullan/Getty Images Sport/Getty Images
Zhou Guanyu, Mexico GP 2023Kym Illman/Getty Images Sport/Getty Images
On How She Dresses For Each Formula 1 Location
When I started this role, I underestimated how many outfits were required. I can't tell you how much of a side job it is. It was essential to establish my style and how authentic I could remain with myself because I was entering a new space in F1. I try to tip-toe between what's authentic to me and what's appropriate because, at the end of the day, I'm there to do my job as an analyst.
Right now, my style is more street chic, and I'm into utility wear. I try to elevate these silhouettes for events on and off the track. We also have some constraints, too. I'm not allowed to wear open-toed shoes or heels, so I'm finding myself wearing a lot of really chunky boots these days.
It's been great to see other people feel comfortable pushing the boundaries with fashion even further. In this sport, we chase the sun on the calendar. I don't know if it's done purposefully, but many of the locations on the calendar are hot when we get there, so you want to wear something practical and comfortable. Since I'm standing and walking around all day, I need outfits that work both standing and sitting.
On What to Wear to the Las Vegas Grand Prix
A lot of people might not realize how cold it's going to be in Las Vegas. They're forecasting it to be 40 degrees in the evening, and it's a night race, so you'll need layers. Recently, I wore quite a few jumpsuits, and I love them because you can accessorize with a pair of heels or boots — Make sure they're comfortable. After all, there will be a lot of walking, whether you're in the paddock or heading to the fan zones to see incredible entertainment at the venue. Most importantly, don't be afraid to push the boundaries. While I won't be in Vegas this time, it will be glamorous, so sequins and cutouts could work well here — as long as it's functional.
This interview has been edited and condensed for clarity.