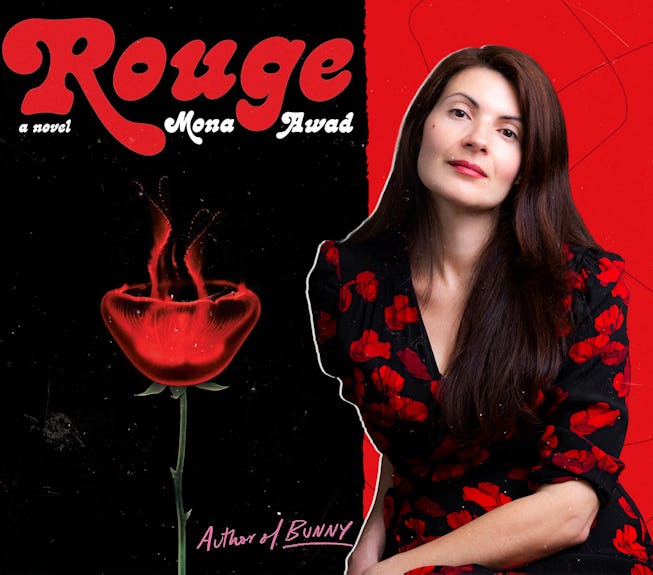 Welcome To Mona Awad's Nightmare Spa
In Mona Awad's Rouge, perfection comes at a steep price.
We may receive a portion of sales if you purchase a product through a link in this article.
The following contains spoilers for Rouge.
In Mona Awad's latest novel Rouge, her protagonist Mirabelle Nour (Belle, for short) puts on her daily skincare routine with the same fervor as Bret Easton Ellis' homicidal investment banker Patrick Bateman. Belle coats herself with chemical exfoliants that sizzle her skin, layers herself with hydrating mists, and dabs on a powerful eye cream despite how it makes her eyes well up with tears. She studies beauty YouTubers as if an exam is looming; there's no lotion or potion that promises radiance that doesn't also have a place on her vanity. Belle, in a way, got it from her estranged late mother Noelle, who also obsessed over her physical appearance and beauty throughout her life. It may have also played a part in her untimely death.
Rouge is a black comedy and dark celebration of the beauty industry at large; a gothic story of grief and obsession and mortality. At its core, it's a modern fairy tale inspired by Snow White: a magic mirror serves as a instrumental agent of chaos; enchanted red slippers beckon Belle to La Maison de Méduse, a mysterious, opulent spa on the edge of a La Jolla cliff where her mother frequented before her passing, and into the clutches of an eerily ageless woman in red; and the fear of a monstrous thing lurks in the depths.
When I meet Awad at the Strand Bookstore a few days after Rouge hits shelves, I'm struck by how well she fits into her own fantastical world; she's willowy, with glowing skin and a pair of patent red Mary Janes on her feet. We walk past Rescue Spa, a luxurious Flatiron spa that shares more similarities with La Maison de Méduse than it will probably ever care to admit. It's there that they sell masks that promise a pause on aging, akin to the exfoliants like the "cult French elixir that's still illegal in some countries" that Belle lets burn her face with a ritualistic devotion. "Oh, that's the good stuff!" says Awad, and for a moment, we consider abandoning our coffee shop destination for a quick pop-in.
Awad has made a name for herself writing sharp novels that are sinister and funny, monstrous and fantastical; Bunny, her 2019 breakout novel, follows an outsider in a highly-selective M.F.A. program who becomes indoctrinated into a small clique of students, who all call one another "Bunny," and partake in dark conjuring rituals off-campus. She's interested in writing about falling down the rabbit hole, to a place of obsession far beyond the reaches of rationality. Rouge was born of Awad's sudden addiction to skincare videos. "I couldn't stop watching them on YouTube. I was buying all the skincare, and then part of my brain was just starting to light up because the behavior was so obsessive that I thought, 'There's something underneath this. What is going on?' Because it's more than just the skincare that's drawing me into this." Who amongst us hasn't been drawn in by the hypnotic, mesmerizing promise of perfection? "There is something about being interested in skincare and dabbling in it that was making my life feel a little bit more magical, making it feel more like transformation is possible."
Awad decided to write about a woman who was obsessed with skincare, but was unclear what form the book would take. Then, came the creepy facial at a fancy spa while she was on tour for Bunny. Awad felt like she was in a horror movie; there she was, alone, with a stranger who wouldn't stop washing her face and trying to sell her $250 stem cell serums. "I felt very exposed. I realized how vulnerable you really are on that table in the dark with this person," she says. "I'd never left a spa as fast as I left that one. When I left, the sun was setting and the sky was just red. I just felt it. I was like, 'Oh, this is it. This is the next novel. There's no question.'"
There's a few notable overlaps between Awad and Belle. As a child of the '80s, Awad was also enamored with Tom Cruise growing up (Cruise plays a surprisingly pivotal role in Rouge; he's also the background of Awad's phone) albeit in a much less damaging way than her protagonist. Both openly acknowledge they are susceptible to the shimmering, nefarious draw of the beauty industry. But more crucially, Awad is also the daughter of a French-Canadian mother and Egyptian father, and Belle's conflicted relationship to beauty as a mixed-race woman comes from personal experience.
"I'd always wanted to write about that experience of having a white mother and having an Egyptian father and how that informs your way of looking at the world. When you come from two very different places, different languages, different religions, how that informs your way of seeing yourself," she says. "Because this book is about beauty, and it takes place in the West, it just felt especially important for this character to have that kind of conflicted relationship with beauty brought on by her mixed ethnicity, and particularly by the fact that her mother is white. And that's where she is getting her first impressions of what beauty is and how beauty is tied to power. That's embodied in the mother's whiteness."
Belle's obsession with the surface is a direct result of her inability to confront the depths: her grief at the sudden loss of her mother; her shame in why Noelle kept her at an arm's length for as long as she did. "It's just so easy to do that, especially when the inside has no shape," says Awad. And as much as Belle is grieving, she's also enchanted; her obsession completely immune to logic and reason. Rouge's prose is hypnotic and detached, and as Belle falls deeper under the spell of La Maison de Méduse, the fear and anxiety that anchor all fairytales starts to take form. (In fact, Awad is an expert in the field; at Syracuse she teaches courses like "The Art of the Fairy Tale" and "Tentacles Longer Than Night," an exploration of horror in literature and film.)
"Fear is so prevalent in fairytales. They come from a place of fear, and then they offer some kind of fulfillment of a dream, but the fear is a huge part of why we have the wish in the first place," she explains. "It's like they come from fear and then they sort of alleviate it with a dream, but the fear is what informs the dream, and the dream is real."
Much like Belle and her red slippers' (the motif a symbol of corruption and loss of soul, Awad tells me, the color both seductive yet a sign of great danger) return to La Maison de Méduse, we find ourselves leaving the coffee shop and entering Rescue Spa after all. Awad is delighted — enchanted, even. "Beauty, when you see it, it always reminds you that everything is ephemeral," she says. "It doesn't stay. Even though Rouge is so much about life, beauty is really about death."