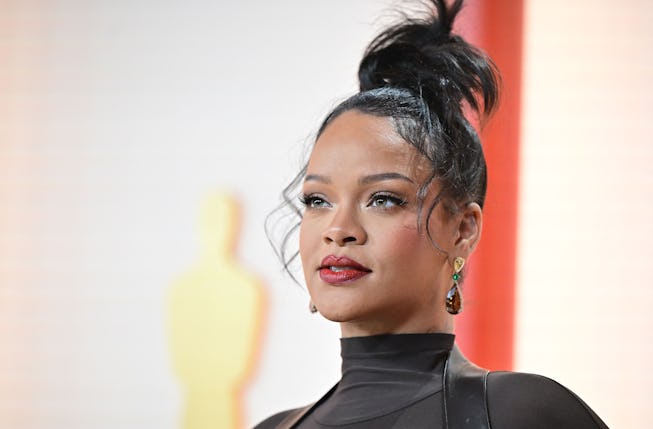 FREDERIC J. BROWN/AFP/Getty Images
Rihanna Drops "Angel White" Bridal Collections For Savage x Fenty
Inspired by Shibari rope-binding, Rihanna is ensuring the honeymoon never has to end.
Like her work in music, makeup, and lingerie, Rihanna came along and changed maternity clothing forever, using cutouts to emphasize the sheer sexiness of carrying a human child inside of you. Now, she's expanding her lingerie and beauty empire to include clothing to emphasize another one of life's biggest moments: a wedding.
A wedding can be surprisingly unsexy: too much planning and expectations. But Rih's take on wedding lingerie emphasizes the sheer (no pun intended) sexiness of it all. Savage x Fenty wedding lingerie knows that just because you're contractually obligated to someone, that doesn't mean you want to stop looking hot. In Fentyland, the honeymoon never ends.
The collection emphasizes playfulness over everything, taking inspiration from Shibari, the ancient Japanese art form of rope bondage, which you can see in the delicate white fishnet that adorns the pieces.
The collection includes a sultry Baroque Bondage Teddy bodysuits, the very playful Baroque Bondage Suspender Belts, stunning Madame X Fishnet Thigh High Stockings, Open-Back Brazilian underwear, and delicate, unlined Balconette Bras — to outfit you for every night of the honeymoon and far beyond. For those of us who aren't getting hitched anytime soon, we may want to consider the benefits of adding a set of all-white lingerie to our drawers.
Rihanna has been so generous with us Fenty devotees as of late. Last month, she announced she is bringing back Fenty x Puma, which ignited the internet with joy from two simple words Puma posted on Instagram: "she's back," with a caption that the comeback is "coming soon." It's unclear if we'll be getting the creepers back, which sold out in three hours in 2015, but fingers crossed for the fur slides. All of this, by the way as she's carrying a second child and performed at the Super Bowl, plus the Oscars. So yes, we can put a moratorium on asking when her next album is. Hello! She is busy and benevolent!
The Savage x Fenty collection is available in "Angel White" and in sizes from XS-5XL. You can shop the collection online now.