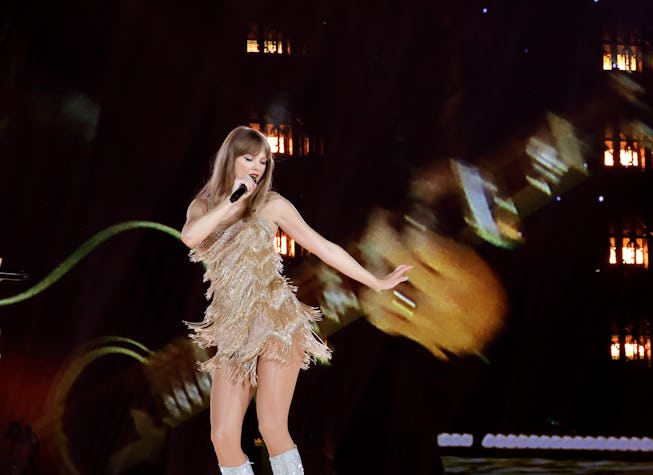 Kevin Winter/Getty Images Entertainment/Getty Images
Taylor Swift's Eras Tour Wardrobe Is A Walk Down Memory Lane
On the Eras Tour, Taylor Swift pays homage not just to the music, but to the clothes of her albums.
Taylor Swift's albums have always represented more than her musical interests: It's one of the reasons for the cult-like devotion behind them. Her albums, or eras, as we're now calling them — thanks to the historically popular, legislatively significant Eras Tour — is an amalgamation of cultural trends, the current zeitgeist around love, and Swift's own life, the events of which often are up for public consumption. Swift's clothing, too, is as essential to the collective memory of her album cycles as her music.
Swift's Eras Tour is a fitting concept for the artist because it's not just a collective spin through the jukebox of her greatest hits; it's a tribute to her chameleon-like qualities. Swift's songwriting is timeless — but the feeling and aesthetic around the album only lasts an album cycle.
Swift's style has always mimicked her albums — it's one of the ways she is one of the most notoriously difficult celebrities from which to separate the art from the artist. For every one of Swift's eras, she has a new look that's supposed to encompass her new personality, which lasts the length of an album cycle. These aesthetics are so widely known that each of Swift's albums inspires its own Pantone color palette, recognizable instantly.
For example, during the Fearless album cycle, Swift rocked long, blonde curls, cowboy boots, floor-length lace eyelet dresses. For Reputation (her best album, controversially) she wore bold black sequin bodysuits; meanwhile, you can't talk about folklore without talking about how it ushered in her cottage-core era.
This plays out in the fan experience as well: When I saw Swift perform the Rose Garden (RIP) in Portland, Oregon in 2011, my friend and I wore cowboy boots and Free People dresses we'd found on the sale rack at Nordstrom Rack to commemorate Speak Now. Two years later, for the Red tour, we took an identical photo, only this time we wore red lipstick and sequin dresses.
But in the Eras Tour, Swift, with the help of her stylist Joseph Cassell, is weaving the flexibility and porousness of her style into the stage act itself —but with an updated twist. Her outfits are not a costume-like retrospective, so much as an homage to everyone Swift has been, and who we all were when we first consumed those albums. Ahead, a look at Swift's Eras Tour outfits.
Lover
Swift went full rhinestone glitter pop star for Lover, wearing a Donatella Versace rainbow rhinestone bodysuit, with bedazzled knee-high boots by Christian Louboutin. Lover was Swift's dreamy pastel period — perhaps best exemplified by her outfit at the 2019 Billboard Music Awards, where she wore a one-shoulder sequin minidress with blue bedazzled boots.
Fearless
It's been almost 15 years since Swift released Fearless, marking the first time she began breaking out of her "Our Song" country roots — a time synonymous with long, loose curls and cowboy boots mixed with a dash pop star glam. For her Eras Tour, Swift wore custom Roberto Cavalli, who created a replica of the dress she wore on the Speak Now tour in 2011 — only in all-gold.
Evermore
folklore and evermore mark Swift's cottage-core pivot, a fitting aesthetic for the lockdown era. To commemorate evermore in her Eras Tour, Swift wore a marigold chiffon gown with corset detailing, the color a nod to the coat she wears on the album cover.
Reputation
Swift had referential fun with the outfit for the Reputation era, tapping Roberto Cavalli to design a look for her boldest and more infamous album: an asymmetrical bodysuit embroidered with sequin snakes. It's an homage to the inspiration for the album — when Swift was referred to as a "snake" after her fallout with Kim Kardashian and Kanye West, inspiring snake-adjacent outfits and bold, black sequins bodysuits and two-pieces on tour.
Speak Now
Speak Now was Swift's ballgown Cinderella Story era — and though the album only gets one song on the Eras Tour, Swift commemorates the chapter with ballgowns designed by Nicole + Felicia and Zuhair Murad, complete with billowy tulle and sequins.
Red
Swift channeled the (regretable) era of 2013 Urban Outfitters, wearing a rendition of the outfit she wore in the music video for "22," which includes (gasp) a fedora, graphic tea, and black sequined short shorts. The real fans will recognize the text on the t-shirt she wore the first night of Eras Tour, which reads, "A lot going on at the moment," a direct reference to the Ashish Gupta-designed shirt in the original video, which read: "Not a lot going on at the moment." Swift then changed into a black and red bodysuit with a floor-length red sequined coat to match the bold theatrics of the album, which contains "All Too Well," one of the greatest songs of all time.
Folklore
There aren't not many live performances for Swift to reference for folklore, the peak of her lockdown cottage-core moment, though she does evoke her 2021 Grammys performance, wearing Alberta Ferretti flowy maxi dresses in lavender and cream that capture the mood of the album: sleepy, contemplative, and ethereal.
1989
For 1989, a time that marked the completion of Swift's transition from country to pop, she again wore Roberto Cavalli, this time rocking a two-piece set that references the one she wore at 2014 MTV Music Awards.
Midnights
Swift's wore Oscar de la Renta to commemorate her latest era, wearing a a pastel purple fur coat and the most glorious piece of all: a midnight blue bodysuit with a hand-embroidered bodice that contains over 5,300 beads and crystals.