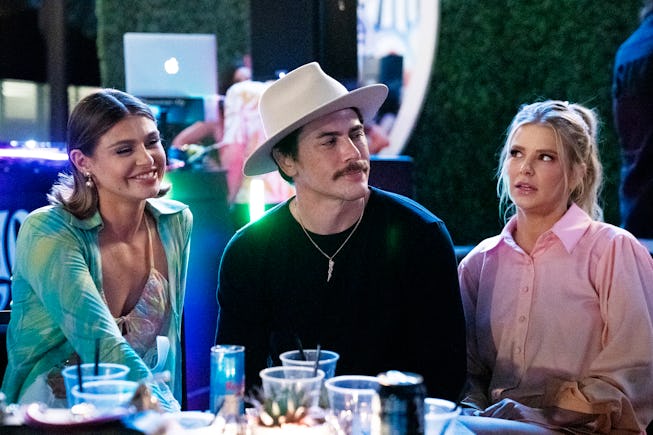 Bravo/NBCUniversal/Getty Images
Vanderpump Rules Is the Only Emmy Nomination I Care About
These are the best days of our lives...
Four months after "Scandoval" had Bravo fans across the globe dropping to their knees in shock and acute agony, Hollywood's elites confirmed what Vanderpump Rules fans have known for over a decade: This is a once-in-a-generation group of freaks. And now, finally, they're nominated for their first Emmy.
Ever since former Real Housewife of Beverly Hills star Lisa Vanderpump convinced Bravo kingpin Andy Cohen to bring cameras to her West Hollywood restaurant SUR (short for Sexy Unique Restaurant, for the uninitiated) the cast has been delivering reality television gold, as a well as future material for forthcoming editions of the The Diagnostic and Statistical Manual of Mental Disorders. There's been narcissistic outbursts, craven grabs for fame, near-constant adultery, and rampant alcoholism. But after nine seasons, punctuated by lockdowns and upward socioeconomic mobility that made their lives too stable for entertainment, Vanderpump Rules was on life support. The show was in desperate need of a Hail Mary storyline, and cast member Raquel Leviss martyred herself the only way a retired pageant queen with a spray tan and bob could: by sleeping with the longtime boyfriend of her best friend, Ariana Madix.
The show's renewed hold on culture at large — and its shiny new Emmy nominations for Outstanding Unstructured Reality Program and Outstanding Picture Editing for an Unstructured Reality Program — would not be happening had Leviss not fashioned herself into a Judas of the San Fernando Valley. The proof is in the numbers: "Scandoval" caused viewership to double, the March 8 episode following the scandal rounded out at 2.2 million views, and each episode, including episodes of Cohen's late night show Watch What Happens Live hit record-breaking numbers.
I am not in the trenches advocating for the reality star; Leviss' betrayal of her best friend was foul, alarming, and eliminated any goodwill she had garnered from years of being the show's resident "Bambi-eyed b*tch." Any potential redemption narrative will take year of rigorous moral inventory to achieve (I don't even think it's worth commenting on what a certified loser Sandoval is in my eyes). But let's be real: There would be no checks coming in from a "Good As Gold" Uber One commercial if Leviss hadn't single-handedly revived the show with her deceit.
Vanderpump Rules cinching its first Emmy nomination feels like a long time in the making, and landing it when the show was ostensibly gasping its final breath makes it all the more historic. "Scandoval" dominated the conversation alongside the final season of Succession; it was as breathlessly celebrated as The Bear, a show I will probably watch in 2025 when everyone has calmed down. Vanderpump Rules, with its little cast of former waiters and bartenders that could, is now running with the big dogs. Now, as Season 11 films this summer, the cast has all the more reason to dial up the emotion — a continuous stream of lucrative paydays, critical acclaim, future seasons, and the best days of our lives could be on the horizon.