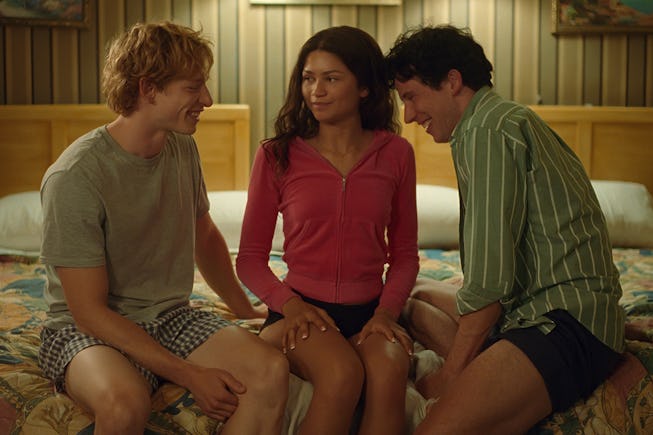 MGM
Watch Zendaya in the Trailer for Luca Guadagnino's 'Challengers'
Take a first look at the tennis love triangle told across several years.
Love and seduction are but a game, and that's especially true in Luca Guadagnino's world — the director famous for, um, complicated yet heartwarming love stories, including Call Me By Your Name and the cannibalism story Bones And All. Guadagnino's latest film, Challengers, takes love to the tennis court, in a love triangle sports-romance movie starring Zendaya, The Crown's Josh O'Connor, and West Side Story's Mike Faist.
The film was first announced back in February 2022, and on Tuesday, we got our first official trailer, which includes Zendaya in a Juicy Couture zip-up and a PG-rated threesome scene set to Rihanna's "S&M." Need we say more?
Zendaya stars as pro tennis player Tashi, complete with a stylish Adidas sponsorship that's sure to inspire all your future tennis skirt outfits, who, along with her husband, Art (Faist), reunite with a former rival, Patrick (O'Connor) at the Challengers tennis tournament — who also happens to be Tashi's former lover and best friend. It's a years-long, romance-sports epic where we get to see two men lusting after Zendaya (because they have eyes) — but even after she marries one, nothing is that simple. It's messy, which is classic Guadagnino.
"I don't want to think much about Challengers," Guadagnino told IndieWire. "I think those three characters in that movie are beautifully complex and really f*cked-up people that I love very much. And a sports film, why not? It's hyperkinetic, and I do films, so it's great."
Come for the romance, stay to see Zendaya kick some serious tennis butt. Guadagnino told Variety that she trained for three months with pro tennis coach and former player Brad Gilbert, who also served as a consultant on the film. Is there anything she can't do? Meanwhile, Guadagnino has temporarily put aside his interest in cannibalism, and is reportedly working on an Audrey Hepburn biopic starring Rooney Mara.
Challengers premieres in theaters in September. In the meantime, you can watch the first official trailer below: