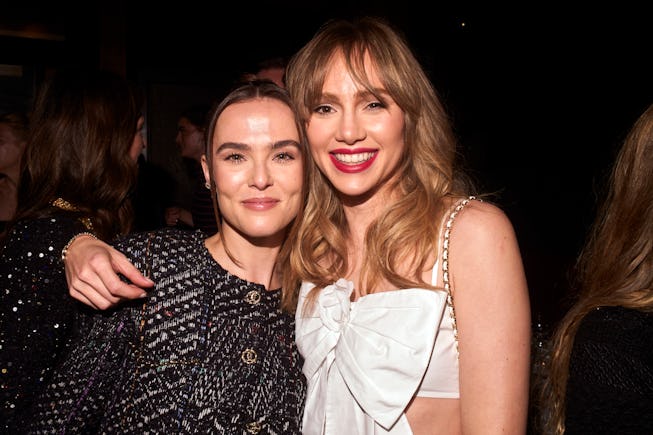 NYLON Party Report Card: Chanel's Tribeca Festival Soirée Is New York's Chicest Dinner Party
Now in its 16th year, the annual dinner at Balthazar remains one of the year's best parties.
Welcome to NYLON's Party Report Card, where we give you the Who, What, Where, Why, and When on this week's hottest parties — plus all the gossip you missed. It's the inside scoop you need to feel like you were on the invite list. Sorry in advance for the FOMO.
WHAT: The 16th annual Tribeca Festival Artists Dinner, hosted by Chanel
WHEN: Monday, June 12th
WHO: Sofia Coppola, Ayo Edebiri, Brendan Fraser, Camila Marrone, Dominique Fishback, Zoey Deutch, Amandla Stenberg, Phoebe Tonkin, Katie Holmes, Greta Lee, Iman, Suki Waterhouse, Lizzy Caplan, Nina Dobrev, Oscar Isaac, Rachel Brosnahan, Stephanie Hsu, Tommy Dorfman, Zazie Beetz, Annabelle Dexter-Jones, Aurora James, Chase Sui Wonders, Clara McGregor, Francesca Scorsese, Havana Rose Liu, Lola Kirke, Jemima Kirke, Nest Cooper, Sofia Black D'Elia, Harley Viera-Newton, and more.
WHERE: Balthazar
WHY: To honor the artists who have contributed original artwork to the festival's award-winning filmmakers.
THE VIBE: There's the First Monday in May, and then there's the First Monday of the Tribeca Film Festival — also unofficially known as Chanel night. Each June, the fashion house holds the week's most-anticipated event: a full restaurant takeover of Soho's beloved Balthazar for a candlelit dinner attended by a star-studded list that just about rivals the Met Gala — except trade the intimidatingly long red carpet for some intimidatingly large seafood towers.
This year's event coincided with one of the first summer storms, leading celebrities to crowd the restaurant somehow more than ever rather than linger outside in the designated smoking area. During cocktail hour, it was hard to maneuver more than two feet without bumping into an Oscar winner (Fraser, fairly incognito in a wide-brimmed glasses and a wider-brimmed hat) or a former NYLON It Girl (hi Chase Sui Wonders, Ayo Edebiri, and Camila Morrone!). Festival juror Deutch made the rounds, delighted by her impossibly tiny Chanel flap bag: "Every time someone asks what's in it, I'm going to make up something wild," she said (in actuality, it had her room key, a lipstick, and ID).
At 8:30 p.m., the dinner portion of the evening began as scheduled, with guests taking their seats, each adorned with a hard cover coffee-table book celebrating contemporary artists. But even over the dinner chatter and passed plates of steak frites, there was still plenty of schmoozing to be had — and conversations to overhear. At what other dinner party can you head to the restroom only to enter mid-conversation as Lizzy Caplan and Edebiri gush over their mutual fandom? By the time the double-C-adorned petit fours hit the tables at dessert, rest assured that plenty of new Hollywood friendships were formed — and maybe a few deals, too.
BEST DRESSED: Jemima Kirke in a just-sheer-enough eyelet dress.
Photos courtesy of Daniel Arnold