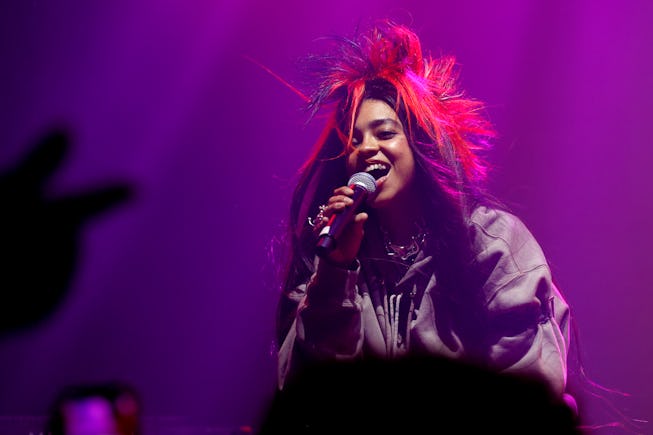 NYLON Party Report Card: Dr. Martens' Warehouse Blowout
Dr. Martens brought a hype night of fashion and music to a Greenpoint warehouse.
Welcome to NYLON's Party Report Card, where we give you the Who, What, Where, Why, and When on this week's hottest parties — plus all the gossip you missed. It's the inside scoop you need to feel like you were on the invite list. Sorry in advance for the FOMO.
WHAT: A warehouse party and concert featuring Mijita, Goth Jafar, and Kelsey Lu
WHEN: Thursday, Oct. 12
WHO: Willow Smith, Kelsey Lu, Goth Jafar, Blizzy McGuire
WHERE: Greenpoint Terminal Warehouse
WHY: To celebrate Dr. Martens' new Made Strong campaign
THE VIBE:
Brand parties can have expensive drinks, 10-minute sets, and bloated guest lists — but at the Dr. Martens party at a drafty warehouse at the edge of Greenpoint, an open bar of orange wine, 1800 margaritas, and Currant Cassis spritz flowed freely; Mijita, Goth Jafar, and Kelsey Lu gave gob-smacking performances; and there was plenty of room to dance.
That was particularly true for Willow Smith, who, halfway through Lu's set — which included a high-powered fan to give her long locks and parrot-colored mohawk a movie star treatment — moved to the center of the crowd to get a better view. Her bodyguard in tow, Smith fan-girled hard over Lu, cheering and taking zoomed-in videos for a good 20 minutes.
The musical highlights of the night included Goth Jafar's remix of "World Class Sinner / I'm a Freak," which is proving itself to be an undeniable club bop and the cultural highlight of The Idol. Lu reprised her heart-wrenching cover of "I'm Not In Love," which she originally recorded for the first season of Euphoria, and gave a gorgeous performance of "Due West" that had at least three audience members in our sightline tearing up.
Ahead of the night's music, VIP guests put their best Dr. Marten-clad foot forward and explored the global preview of 14XX, with an installation showcasing Dr. Martens most iconic silhouettes, reimagined with weather-proof zipper attachments for whatever future road you walk. After hours of dancing and people watching, guests went off into the brisk October evening discussing logistics for a late-night bite — or how to attend when Dr. Martens does it all again on Friday, Oct. 13, this time with sets from Venus X, Hank Korsan, and Pedrose.
BEST DRESSED: Kelsey Lu, in a knotted yellow top and voluminous, tiered skirt, and mohawk
OVERHEARD: "That's Willow Smith? I'm a big fan of her brother!"