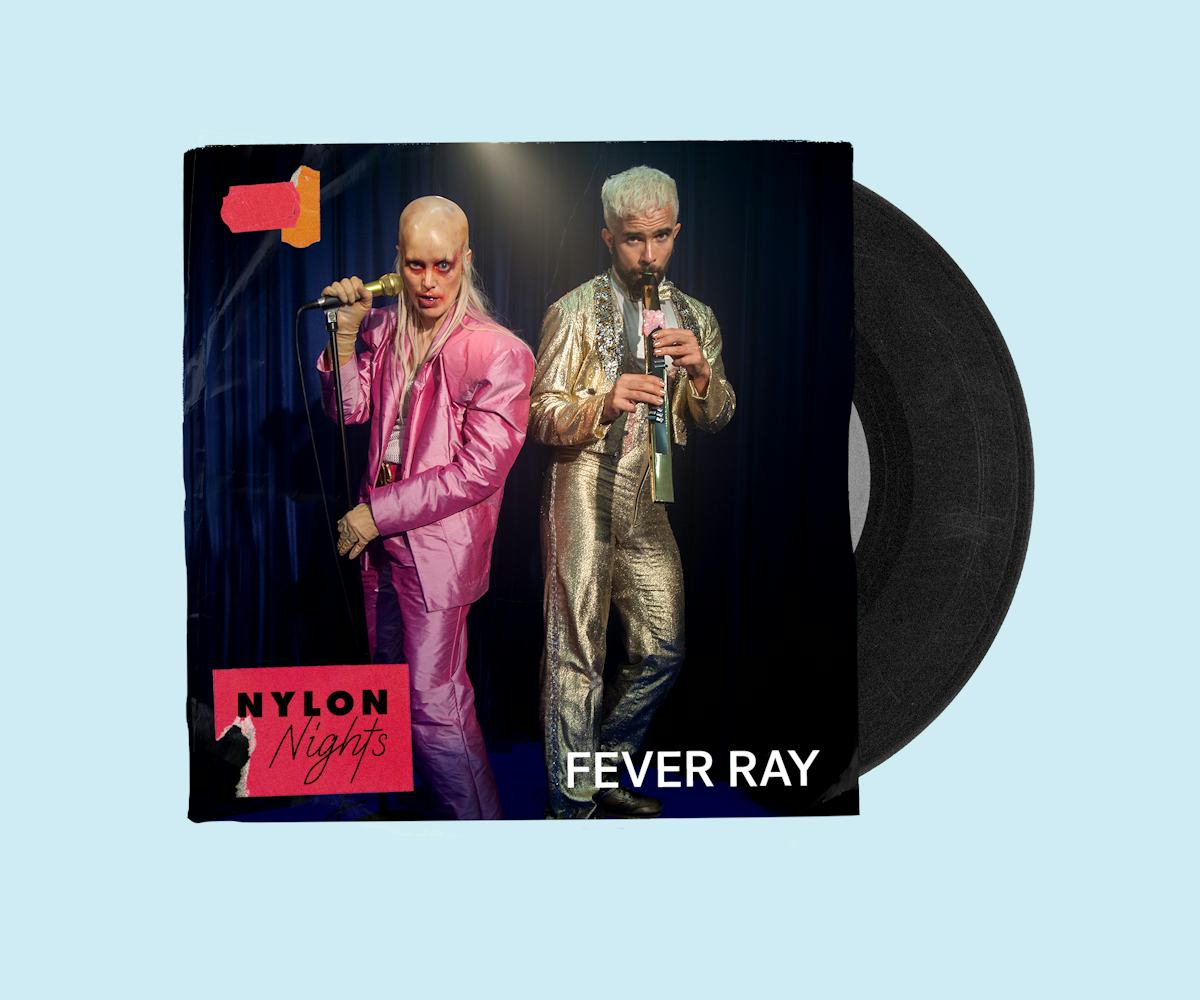 Nylon; Nina Andersson
Fever Ray Share What They're Listening To On Tour
From eclectic jazz to head-banging trance.
Going out? Need a playlist? Then NYLON's NYLON Nights playlist is here for you. Each month we invite a guest DJ to curate an exclusive playlist that will keep you going from pre- to post-game. For May 2023, Fever Ray share what they're spinning on tour.
Tour life can sometimes be a liminal space. Traveling from venue to venue with only the interiors of a tour bus, plane, or van, serving as brief moments of reprieve for months on end is taxing for any artist no matter how seasoned. Oftentimes, a good playlist can help break through the void, offer up a different world and mindset to escape into — like Fever Ray's delightfully striking and meditative pre-tour playlist.
The cult Swedish electronic band is back on the road for the first time since 2018 as they perform their latest album, Radical Romantics, a twitching but tender rumination on love and sexuality, released in early March. The road takes front-person Karin Dreijer and co across Europe, to the U.S., and back to Europe again to make the rounds in the summer festival circuit. For a stint this extensive, there's a need for tuning out and in, which is what Dreijer's carefully curated and exclusive playlist for NYLON does.
Though these are songs Drejier was listening to pre-tour to mentally prepare for the string of shows, we imagine they're great for on the road as well. The 80-minute excursion kicks off with (fitting) "Cruising," a fitful yet soothing eclectic jazz cut from Norwegian producer Bendik Giske. There are no vocals, and his sax playing, erratic but melodic, feels like it could never end. Many of the songs on Dreijer's playlist carry that unbreakable spell; Beverly Glenn-Copeland's "Slow Dance" is another brain-quieting, instrumental interlude; ML Buch's wholly electronic "Can You Hear My Heart Leave" sounds like year 3000 waiting music (in a good way). As the playlist progresses, things ramp up, the dial slowly reaching 100. There's a trance mix from Slovakian DJ Nifra, and a grungy 1978 disco cut from Gina X Performance; you imagine Dreijer's now getting ready to hit the stage.
Per Drejier, these songs are "dreamy," "beautiful," "a great track for driving." We'll take that as the prerequisites for a stellar tour playlist. Listen below, and read on for Dreijer's explanations for each of her picks.
"Cruising" - Bendik Giske
I love this track. It's just so dreamy, light, and heavy at the same time. Very melancholic to me.
"Trocadéro" - Heimat
I'm very happy to have this band as support for a few shows now on our European run, very much looking forward to see them live.
"Of Saints" - GAIKA & Tayhana
This is a gem, I like GAIKA a lot and Tayhana does great beats and sounds.
"Sokohara" - Mariah
This is a great track to drive a car to, epic things happen along the way, atmospheric and fun.
"Slow Dance" - Beverly Glenn Copeland
I really like to listen through the whole album, it's curious and sweet.
"Achilles" - Antena
This reminds me of the '90's, in a good way, dreamy and monotone, repetitive patterns that go in and out of each other.
"Temple" - Thao & The Get Down Stay Down
I love this track. I've been listening to it a lot the past years, beautiful production.
"Words I First Saw" - Valentina Magaletti
I wish to collaborate with them one day.
"Can You Hear My Heart Leave" - ML Buch
I love the mix of sounds and vocals, how they play the kind of cheesy bass.
"Slightly Sophisticated" - Sneaks
They make great music, this is a cool track.
"Twenty Four Seven" - Sylvere
I love the minimal production, and all of a sudden, it's like the sky opens and there's a melody, like a sun beam.
"Tangent" - Ekman
This is also a great track for driving.
"Poodle Power" - Avalon Emerson
This one is great. They've made a remix for my new album that I'm eager to release.
"Tomboy" - Nifra
Nifra's also made a remix for Radical Romantics that I'm very excited to put out.
"Zero" - Melt-Banana
Great guitar tune.
"Boy's Who Don't Wanna Be Boys" - Seth Bogart
Ending the playlist with two binary complaints :-). Love the sound of this track, they're also a great artist who makes beautiful ceramics.
"Be A Boy" - Gina X Performance
A great track from '78. Trans is real, thank you for having me!