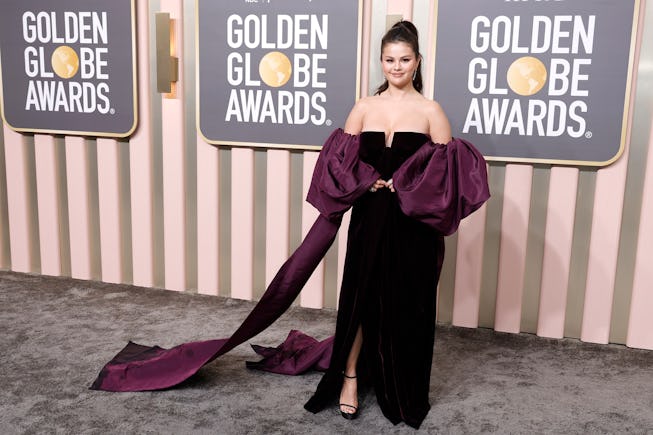 Frazer Harrison/WireImage/Getty Images
Every 2023 Golden Globes Red Carpet Look
All the sparkle and panache taking over this year's red carpet.
After a years long scandal around a lack of diversity and questionable ethics, the Golden Globe Awards have reemerged — and with some very good taste, judging by the nominations, which skew towards the beautifully strange alongside the big blockbusters.
While we eagerly await to see how many awards A24's Everything Everywhere All At Once wins, or to see if Selena Gomez or Jenna Ortega takes home the Best Actress in a Comedy or Musical award, everyone knows that witnessing what everyone wears is just as much — if not more — fun as seeing who wins.
The Golden Globes, like the Oscars, is traditionally a time for old glamour elegance with a twist of the playful. Take Lady Gaga's 2019 baby blue Valentino ballgown that paid homage to Judy Garland, Angelina Jolie's 1999 simple Randolph Duke tank dress covered in silver sequins, or Lupita Nyong'o's red Ralph Lauren cape dress in 2014. Long gowns and big diamonds for the Golden Globes? Groundbreaking! But this year we're also hoping for panache, a surprise accessory, perhaps even a nose ring or two, like Florence Pugh has been rocking as of late.
Follow along as we highlight every must-see look on the 2023 Golden Globes red carpet.