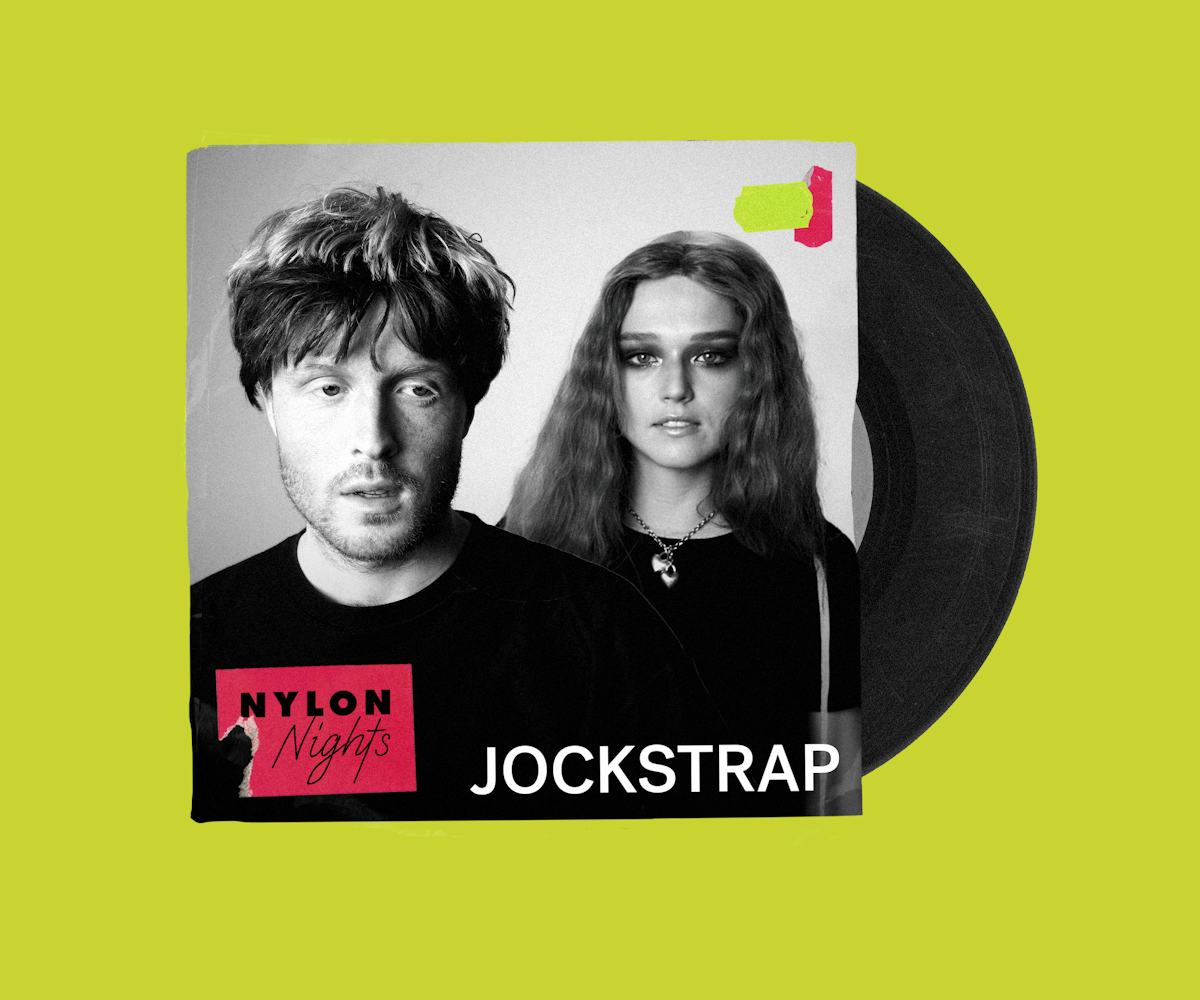 Jockstrap On The Best Songs They've Heard Lately
The UK-based song-makers curate an eclectic playlist for NYLON.
Going out? Need a playlist? Then NYLON's NYLON Nights playlist is here for you. Each month we invite a guest DJ to curate an exclusive playlist that will keep you going from pre- to post-game. For November 2023, eclectic alt-pop duo Jockstrap share the songs that move them.
The eclectic U.K. duo Jockstrap released one of 2022's greatest debut albums. I Love You Jennifer B is a 10-song collection that feels like opening a trick box or miscellaneous drawer. Every song is distinct and idiosycratic: gothic alt-rock, exuberant Bhangra-pop, and other sounds that can't really be neatly described. Critics loved it and it was short-listed for the prestigious Mercury Prize.
Georgia Ellery and Taylor Skye have been releasing music that defy categorization since 2018 when their output was more experimental, theatrical, and classically influenced. (They nabbed a spot on NYLON's 2020 list of rising artists to know). Now, Jockstrap has become one of the most exhilarating and unpredictable bands making music today. For a more recent example of their versatility, take their latest record, I<3QTINVU, which remixes the songs of I Love You Jennifer B into completely new shapes. If you thought you loved those songs before, think again.
In the spirit of that release Jockstrap put together a playlist of songs that move them, a peek into their tastes and what may or may not be influencing some of their creative decisions now. It's a wide-ranging list: The Beatles next to deadmau5, Mitski along with Basement Jaxx and Busta Rhymes. Look at it like a collage of the sounds they found cool and then it all clicks. "I chose this one for its vibes," writes Ellery of "Da," her picks by Yasmin Hamdan. "Middle Eastern pop that reminds me of Madonna."
"Strobe" - deadmau5
Skye: This song has been with me since it came out. For the first years of hearing it I tried to recreate it but I realized it was impossible. Since then I've just been listening to it in awe.
"Now And Then" - The Beatles
Skye: I am balled over by this. The production, being very over-bearing and God-like, the string arrangements, and the ghost-like nature of John's vocals. It reminds me of that film The Lighthouse.
"I Want You - Live At Nippon Budoken Hall, Tokyo, Japan - February 28, 1978" - Bob Dylan
Skye: This is one of my favorite Bob Dylan songs, my dad loves the first line of this song and it has left a big impression on me. This version doesn't have any of what made me first love the song, but it still does it for me.
"Why You No Love Me" - John Mayer
Skye: I watched an interview with John and Zane Lowe where John explains this song. I found it hilarious and it made love the song. It's the sort of song I would listen to when I felt hopeless.
"I Don't Like My Mind" - Mitski
Skye: I really like Mitski's new album. This is my favorite song from it. She always surprises me and I love that about her. The album is great.
"Head" - Maisi, piri
Skye: I think the chorus melody in this song is astonishing. It moved me far more than most things I'd heard when I first heard it. Very emotive.
"Baby (feat. Marina & Luis Fonsi)" - Clean Bandit
Skye: This song I've listened to on the plane a lot. It makes me feel like I'm in a dream where everything is going right. It's a nice place to go to.
"Stoned Soul Picnic" - Laura Nyro
Ellery: I love this one as it's a good summer time vibe from a good times lady.
"Happy Together" - The Turtles
Ellery: This song is etched in my brain from Disney movies. It has such a great riff and verse.
"Oh My Gosh" - Basement Jaxx
Ellery: Another blast from past. I love the cheekiness and Britishness of this one.
"Da" - Yasmin Hamdan
Ellery: I chose this one for its vibes: Middle Eastern pop that reminds me of Madonna.
"Manic Depression" - Jimi Hendrix
Ellery: If I could go on a date with any musician, dead or alive, it would be Jimi. He has such a magnetic pull.
"Gimme Some More" - Busta Rhymes
Ellery: I love this beat and Busta's flow.
"Skating In Central Park" - Jim Hall, Bill Evans
Ellery: I love the sound combo of the guitar and the piano here. And the song, of course. Chef's kiss.
This interview has been edited and condensed for clarity.