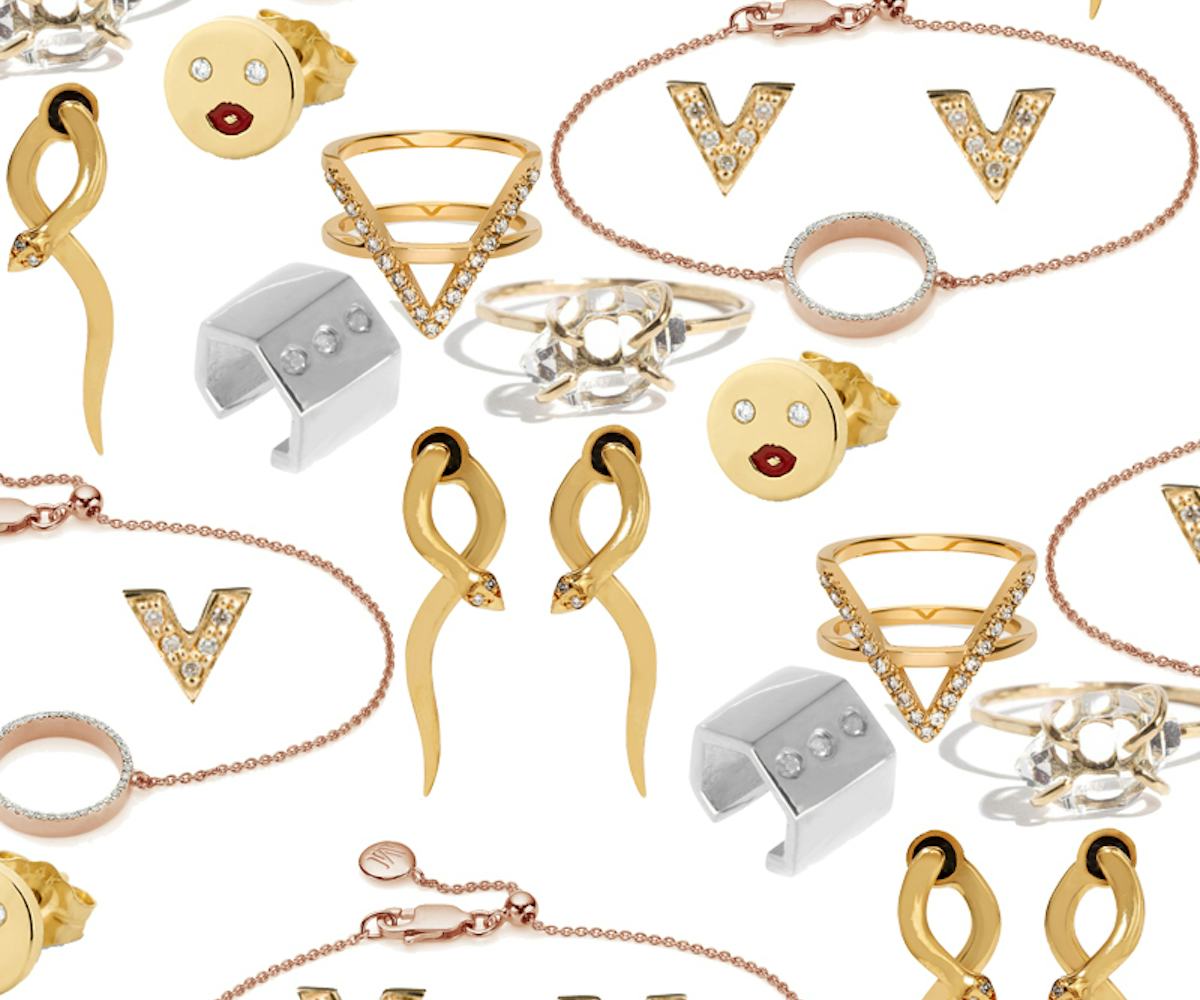 The Coolest Diamond Jewelry For April Birthdays
Because diamonds are a girl's best friend
If you're born in April, you're pretty lucky. Not only is your birthday during a full-on spring awakening, but you also have the luxury of having a diamond as your birthstone.
The diamond represents a number of things for those with April birthdays. In many cultures of the present and past, they have depicted courage and strength, which makes total sense—the word diamond is derived from the Greek word adamas, which means "invincible." It also represents affection, eternity, and everlasting love—which is why it's such a popular gift for your significant other, and symbolic as an engagement ring stone.
While we may ultimately think of luxury when we think of the gem, surprisingly not all diamond jewelry is as pricey as you may think. We rounded up some of the coolest diamond-studded pieces out there, at every price point. 
Click through the gallery below to check out our picks for the best diamond gifts, whether for yourself or for the lucky Aries and Taurus ladies in your life. These 18 pieces are anything but basic. 
Ale Bremer Jewelry, Diamond Diagrid Ring, $78, available at Local Eclectic.   
Alison Lou, Mwa Stud, $375, available at Alison Lou.
ASOS, Bangle With Real Diamond In Silver, $31, available at ASOS.
AUrate. Icon Ring With Whie Diamonds, $800, available at AUrate.   
Azlee, Single Burst Studs, $850, available at Azlee.   
Claire Kinder, Brilliant Pip Ring with Diamond, $220, available at Claire Kinder.
Ela Rae, The Blake, $298, available at Ela Rae.   
IAM By Ileana Makri, Boa gold-plated diamond earrings, $290, available at Net-a-Porter.
Jennie Kwon, Mini White Equilibrium Cuff, $540, available at Jennie Kwon.
La Kaiser, Gold Diamond Trio Pendant, $260, available at La Kaiser.
Loren Stewart, Triangle Arc Pin, $365, available at Need Supply.
Maria Black, Brooks Stud Diamond Earring 18K Yellow Gold, $238.95, available at Maria Black.
Minor Obsessions, Evil Eye Sparkle Pendant, $355, available at Minor Obsessions.
Melissa Joy Manning, Prong Set Herkimer Diamond Ring, $410, available at Melissa Joy Manning.
Monica Vinader, Naida Circle Open Bracelet, $450, available at Monica Vinader.
Shahla Karimi, Honeycomb Ear Cuff with Diamonds, $95, available at Shahla Karimi.
Tara 4779, Arc Choker, $340, available at Tara 4779.
Unearthen, White Diamond Serenade Ring, $810, available at Bonadrag.