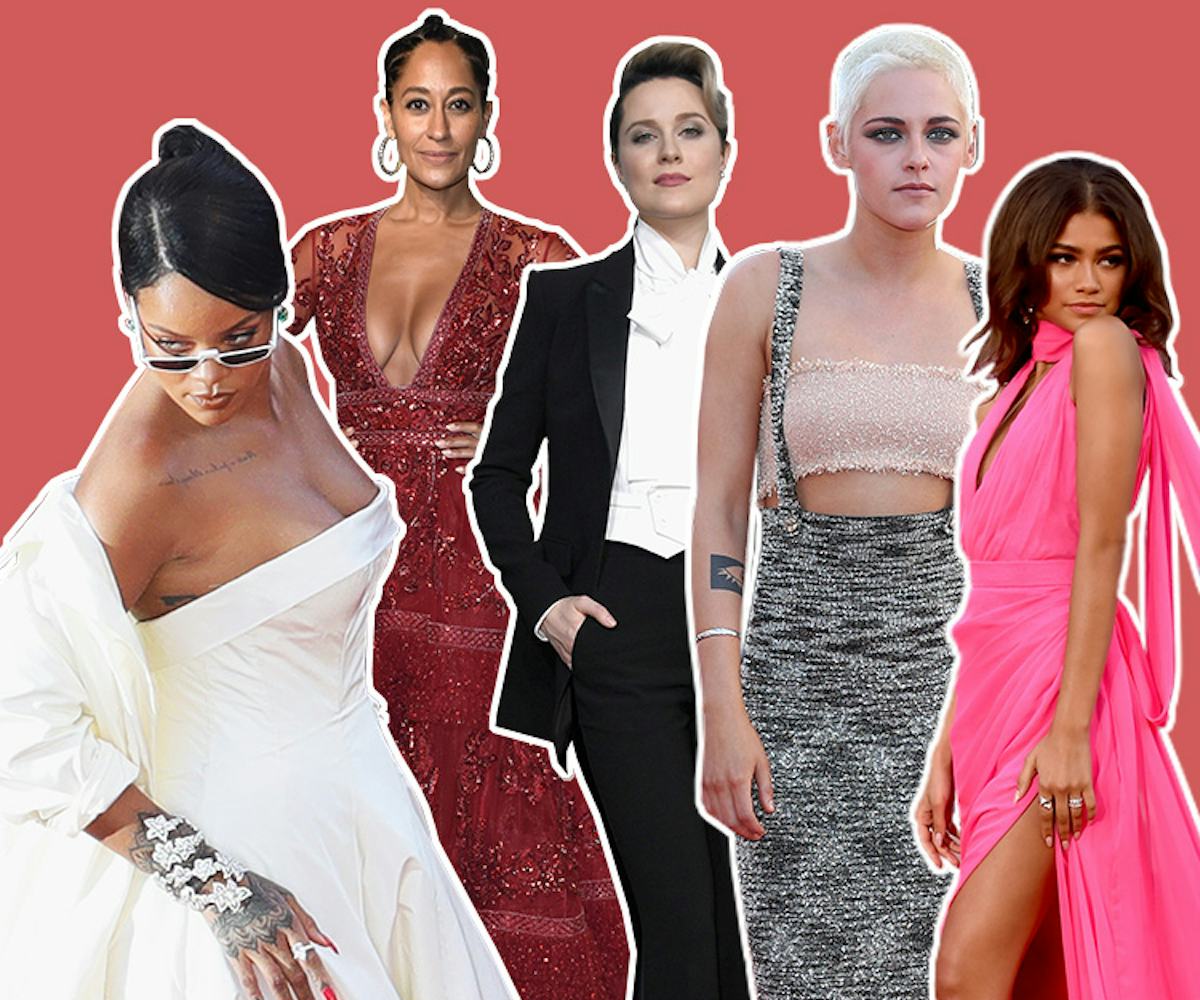 The Best Red Carpet Looks Of 2017, So Far
With appearances from Rihanna, Cara Delevingne, Zendaya and more
While we love seeing models parading clothes down runways all over the world, it's always significantly more fun to see what high fashion looks celebrities decide to wear as they make their way down the red carpet. After all, the red carpet is Hollywood's very own runway. It's where stars are expected to shine sartorially and where their fashion sense takes center stage.
With many of 2017's award shows and major events behind us (see: the Oscars, the Cannes Film Festival, and the Met Gala), we've already seen some pretty stellar looks that we couldn't wait to put in the spotlight. From Rihanna's ball gown and matching sunglasses at Cannes to Evan Rachel Wood's Golden Globes pantsuit, 2017 is proving to be a great year for red carpet fashion. Click through the slideshow below to check out some of our favorite happenings thus far. 
Evan Rachel Wood has been slaying the pantsuit game in the past year. This all-black Altuzarra getup (peep the satin stripe down the side), complete with pussy bow blouse, is one of our favorites of 2017. 
Halsey was very TLC "Creep" during this year's Grammys, and we're never ones to dismiss a good nostalgic moment.
Janelle Monae is regal through and through in Elie Saab Haute Couture.
Cara Delevingne's shaved head made its epic red carpet debut at the Met Gala with a matching Chanel suit.
Elle Fanning's Cannes ball gown was not only stunning but also hand-painted by Vivienne Westwood herself.
Priyanka Chopra proves she knows how to pull off proper and party all in one with this Brunello Cucinelli look. 
Angelina Jolie started the high slit trend back in 2012, and Bella Hadid is making sure it lives on in 2017 with this Alexandre Vauthier gown.
Chinese pop star Chris Lee brought edge to the Cannes red carpet with a top hat and shorts one day, and this ferocious Gucci number the next. 
Kristen Stewart doesn't usually show off much skin on the red carpet, but when she does, we always wonder why she doesn't do it more often. She made a good case in this Chanel number while at Cannes. 
When Solange pops up on the red carpet, it's always a good time especially when she's in head-to-toe Thom Browne.
Only Emma Watson could pull off this Louis Vuitton look that's both casual and high-end.
How Zendaya managed to make an all-neon pink Ralph & Russo moment chic rather than rave-y is beyond us.
Yara Shahidi makes an excellent case for mixing up prints and textures with contrasting Gucci pieces. 
Saved the best and the baddest for last. Because only Rihanna could show up to Cannes, accessorize her Dior Haute Couture gown with a pair of mini sunglasses, and still make this list.
A fashion icon so nice, we simply had to list her twice. This time around in jaw-dropping Comme Des Garçons.