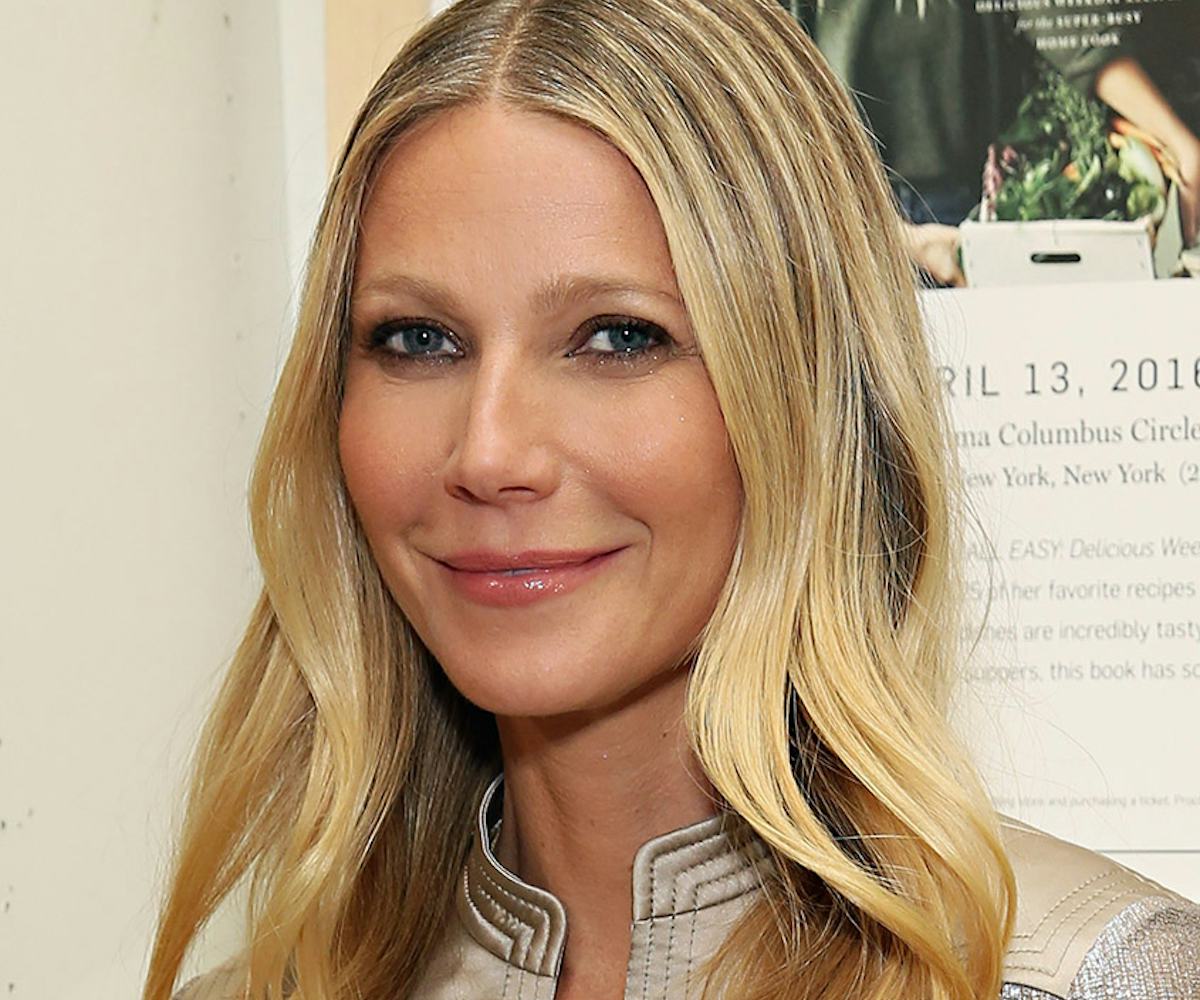 Photo via Cindy Ord / Getty Images
Gwyneth Paltrow's NYC Apartment Is A White Beacon of Artisanal Dreams
As Gwyneth Paltrow, high priestess of all that is artisanal, is leaving New York City for good—its pungent subway breezes and abundance of dollar pizza grease likely threatening to throw her wholesome lifestyle off-kilter—a little bit of the goop Goddess herself has hit the real estate market, in the form of the actress' luxe Tribeca apartment. And oh, it is the goopiest.
With interiors by Roman and Williams—the design team behind the goop MRKT pop-up, the residence is impossibly lofty, favoring not an all-white palette with a contemporary look (how gauche!), but rather one comprised of "light delicate whites, palest lavenders, grays, silvers, and embroidery details." It is an airy place where Paltrow may reside in peace on her living room swing (crafted from an antique Indian door and topped with a cascade of silk pillows) and whisper to herself, "How did I survive starring in that Wes Anderson film, what with its saturated color palette and all?"
An apartment tour posted by goop shows the apartment's foyer, living room, and kitchen, but leaves out any bathrooms (likely featuring crystalline bidets, no doubt) and bedrooms, which we might assume are comprised of cloud-like king beds with sprawling white sheets of 10,000-thread-count small-batch Egyptian cotton—or maybe just a single, cozy cocoon, into which Paltrow may retreat, slumber, and awake, metamorphosing into a rare, yet elegant butterfly each and every dawn.
Many mysteries remain—but for now, we will cherish the few glimpses we have of Gwyneth's former abode.
"Welcome to my home," Gwyneth would mumble as you step delicately into her apartment, and you trade your shoes for a pair of silken babouche slippers. "It's all good here," she would say. You would believe her every word.
There is no TV here—this should not come as a surprise. The only true way to practice mindfulness is to slip into a state of serenity, gently swinging on antique Indian door in your living room.
Inside this kitchen, you will find 437 different jars of smoothie add-ins, all neatly tucked away—200 of which come from a small, secret island in the Galápagos, of which only Paltrow knows the name.
No, no. These glasses here are not for drinking water or wine or anything of the sort. These are vessels for the purest angel cloud vapor, perfect for staying hydrated all day.
Sometimes Tracy Anderson will come here and rock, and rock, and rock herself into a state of calm. She is safe here. This is a sacred space.
"We must always stay in touch with nature," Gwyneth would say, gesturing to her customized wall art with the grace of a ballerina. "Nature is our first home, and that's why I brought it into my home."