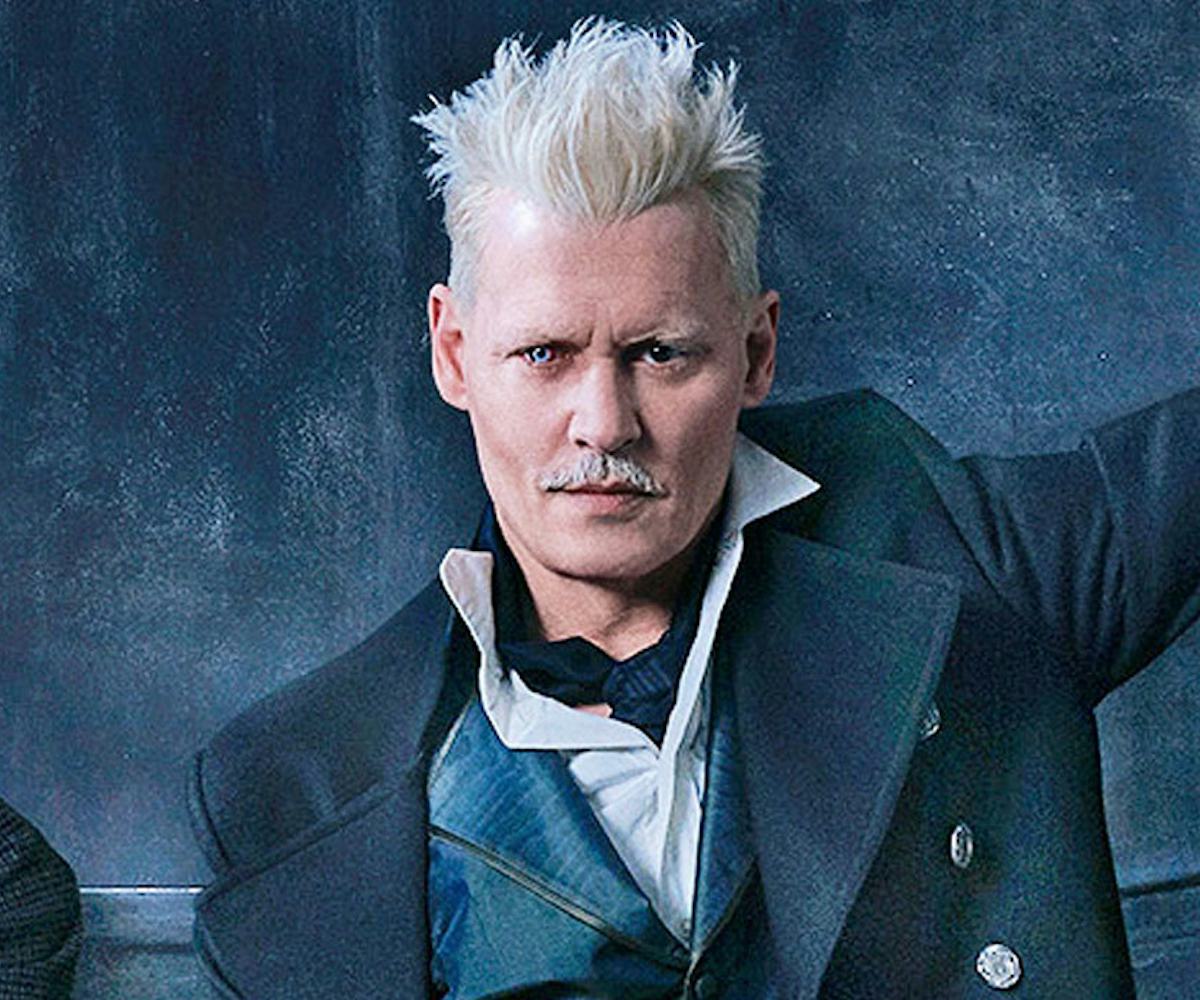 Photo courtesy of Warner Bros.
Johnny Depp's 'Fantastic Beasts' Role Is Troublesome, Indeed
How do we cast the expelliarmus spell again?
Johnny Depp's mug may not be as recognizable if you quickly glance at the first cast photo of the forthcoming second installment of the Fantastic Beasts film franchise. His hair is spiked and bleached, and he's got one blue contact in. He's also all the way to the right of the frame. Regardless, Depp is there, and Harry Potter fans aren't taking kindly to his presence. In fact, they're petitioning Warner Bros. to recast him entirely. 
Depp is set to reprise his role as dark wizard Gellert Grindelwald. And considering the new movie is titled The Crimes of Gellert Grindelwald, you can expect his role is going to be a hefty one with a lot of screen time. Now, this should be all well and good, but Depp's now-ex-wife, Amber Heard, has said multiple times he's abused her both emotionally and physically. Depp's former business manager, too, has backed up Heard's statements. Though Heard and Depp released a joint statement saying, "there was never any intent of physical or emotional harm" during their relationship, fans are still condemning the decision to keep Depp in the cast.
Which, yes, makes a lot of sense. As more and more victims of abuse come forward in Hollywood, more and more predators are being punished. Louis C.K.'s new movie isn't coming out and Harvey Weinstein was ousted from his own company. Kevin Spacey was dropped from House of Cards and Ridley Scott reshot all of Spacey's scenes, with Christopher Plummer as his replacement, in All the Money in the World one month before it's scheduled release! Why, then, is Depp still brooding at us from the Fantastic Beasts cast photo? The new movie doesn't even come out until November 2018! If Scott can essentially redo an entire movie in a month, Fantastic Beasts director, David Yates, should be able to do the same with Depp in a year. 
The likelihood of this recasting actually coming to fruition is slim. Yates has previously said, "The whole principle of casting the movie was to go with the best actor. Go for the most inspired, interesting, right fit for that character." Although, who knows? With enough voices calling for his removal, something wicked this way may not come after all.