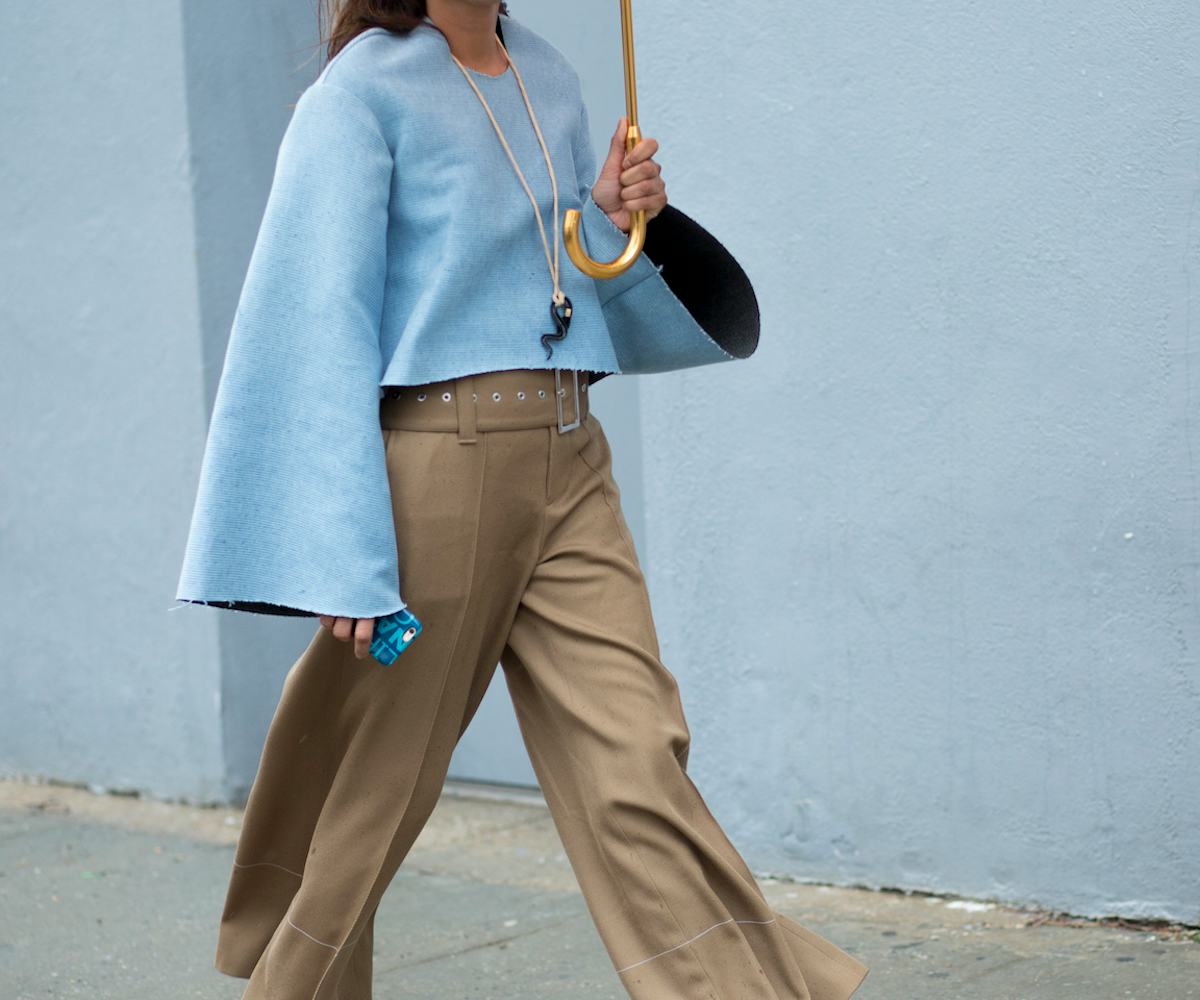 Photographed by Jack Maffucci.
Rainy Day Street Style Outfit Inspo From NYFW, Day Six
you can stand under my umbrella-ella-ella-eh-eh
There's this really wild rumor that fashion people melt if they get water on them.
Just kidding! There isn't a rumor that fashion people melt if they get water on them. That's ridiculous, because if it were true, there would be a ton of high fashion, very good-looking puddles scattered across Manhattan's west side. As of this morning, there were no such puddles to be found. With that said, the clouds did come out to play and rain down on New York Fashion Week's parade yesterday. Nothing is chicer than walking around with a nice umbrella, though. It's, like, London's favorite accessory and everyone loves them some British invasion. I digress. Day six of NYFW may have been wet, but it made for quite an array of rainy day style stalking. Suddenly, the clothes people wore had to be functional, as opposed to just fashion-forward. Unsurprisingly, no one let the rain ruin their street style show. See for yourself ahead.
This Way For More New York Fashion Week Street Style:
"Is that pollution or rain clouds?"
NYFW has Hood By Air; this individual has a hood of air.
If you look closely, you'll notice the shoes match the coat. Talk about a master class in coordinating.
Of course fashion would find a way to make those metallic, thermal blankets marathon runners wear chic.
Keep your umbrella close and your iPhone closer.
TFW the sidewalk is your runway.
Can we stand under your umbrella? Eh? Eh?
Let's hope she closed her bag before the rain came down.
This look means business.
E is for EVERYTHING! Yes, queen! Give us layered denim and leather. Slay us with that scarf.
We're game if you're game, Charlotte Groeneveld.
Rain or shine? More like rain AND shine...amirite?!
Knit to perfection.
BRB. Running to the nearest craft store and buying all of the pom-poms to make something like this.
Checkmate!
BFF means hanging onto each other when it gets cold outside.
When you have a fashion show at 2pm, but a matinee showing of Kinky Boots at 3pm.
Man Repeller's Leandra Medine repelling rain. How meta.
Gotta protect your neck somehow.
Living for the Tweety bird, but thriving off that Totoro phone case.
Wait, didn't we just see Leandra Medine with this umbrella?
Talk about a utilitarian jacket.
When in doubt, poof it out.
Aesthetic AF. Like, actually obsessed with everything in this photo.
"Now that it's raining more than ever..."
She's calling us to remind us to invest in more neckties.
Canadian tuxedo has never looked better.
February showers bring NYFW flowers.