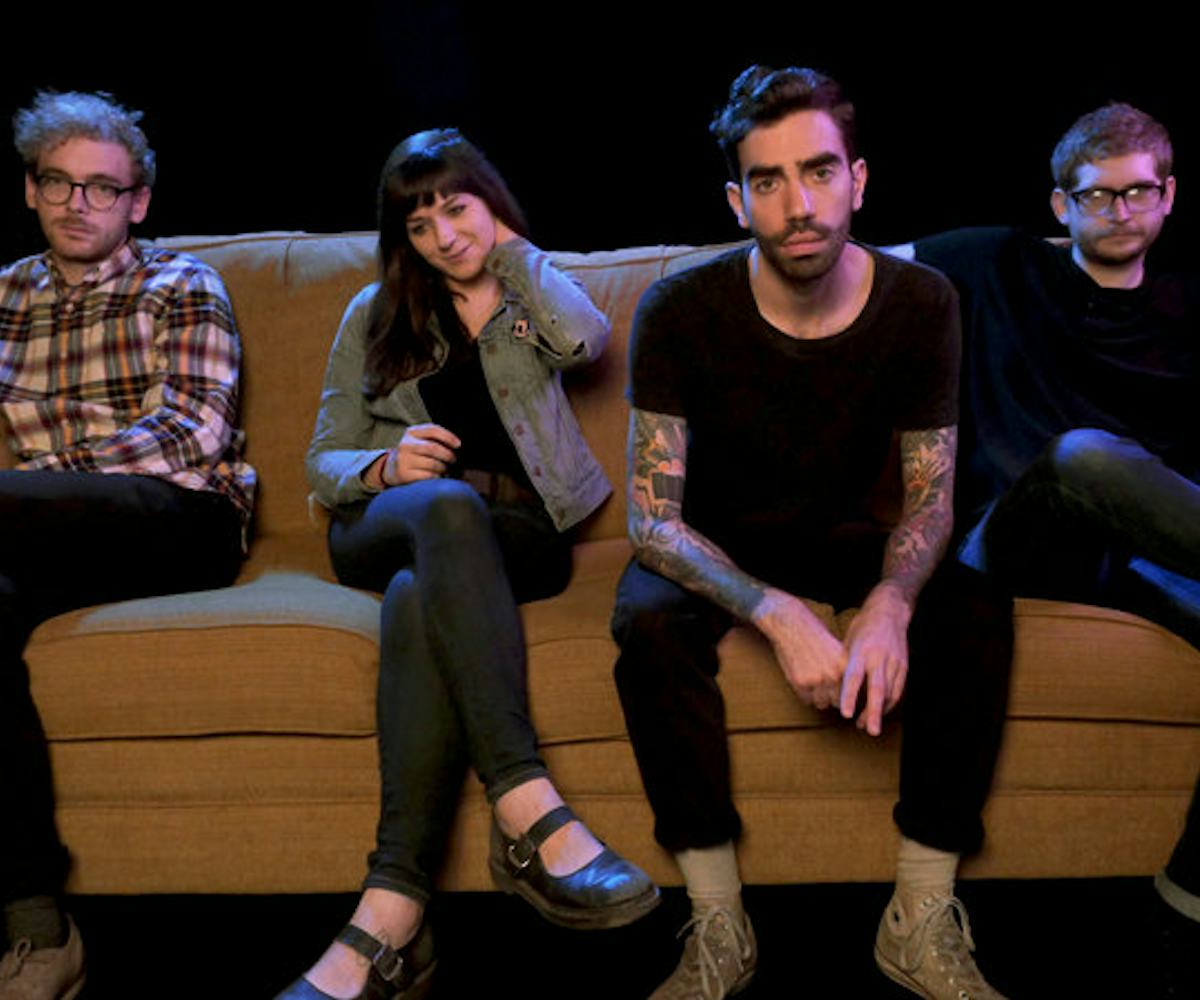 Photo courtesy of Pity Sex.
Let Pity Sex "Burden You" With Their New Single
long live '90s rock nostalgia
When you listen to Pity Sex—the band—all the other noise around you starts to fade out. You'll feel like you're drowning as you're hit with '90s indie rock nostalgia, but in the best way possible. Comprised of Sean St. Charles, Brennan Greaves, Britty Drake, and Brandan Pierce, the band broke out of their local Ann Arbor scene with the release of the Dark World EP, followed by their debut Feast Of Love album in 2013. Today we're premiering "Burden You," the latest single off their upcoming album White Hot Moon due out on April 29 via Run For Cover Records. (Prior to this release, the band dropped "What Might Soothe You?" which you can watch in full here.) Drake explained that "Burden You" is a love song about "the burden of loving someone when it's not convenient." As always, Drake and Greaves' voices counter each other between the fuzzy guitar tones.
Last year, Drake was studying undergrad at The University of Michigan. Now that she's graduated with a Bachelor's in Biopsychology, Cognition, and Neuroscience, she currently works "full-time in one main lab, and part time at two other labs at the University." She's also studying for the GRE and applying to graduate schools. "It is/was definitely difficult to balance the band/work/school as well as my additional extra-curricular activities," she said in an email. "But I like to stay busy. This involves a lot of overnight flights and 14 hour days, but I spent 90% of my childhood sitting inside playing the Sims and eating potato chips, so I feel like I have a lot of time to make up for."
While you stream Pity Sex's brand new single, read our Q&A with Britty Drake!
How did the band come together?
Before PS, the guys were in a hardcore band called Dire Wolf. I booked shows in my basement about two hours away from Ann Arbor, and I asked them to play one. We met and became friends at that show, and I started attending/playing shows on their side of the state more frequently. When I moved to Ann Arbor for school, we all moved into a house together. They'd just started the band and asked if I would like to join. My old band was inactive due to my move, so I gladly joined.
Why is the band named Pity Sex?
Our friend John Hein (who is now a Ford model) came up with the name. Let it be known that I was not involved.
I've always loved the artwork and color palette (faded pastels) you choose for your records. How are those designs decided?
Brennan came up with the first design. We loved it, so we decided to carry on the theme and collaboratively came up with the
FOL
cover.
What can you tell us about White Hot Moon? How is it different from the previous albums?
That's a great question, but I don't know if I have an answer. I think it's similar to
FOL
. Maybe a bit more mature? I don't think I can give an objective answer. 
How would you describe Pity Sex's aesthetic to someone that's never heard of your band?
We sound like something you might have heard on the radio in the '90s. Think: Dinosaur Jr. mixed with The Cranberries. 
What is the music scene in Ann Arbor like?
It's unique because the city is so transient (everyone lives here for four years and then moves away). In my opinion, Detroit is where it's at. 
What are some of your musical influences?
My personal influences include The Cranberries, Jewel, anything Jenny Lewis, The Promise Ring, Black Tambourine, The Cure, and all '90s radio music. 
I read that all of you are vegans, so what made you want to commit to that lifestyle?
For whatever reason, I was born with a natural affinity for animals, and I value their lives/rights more than my appetite (which is really saying a lot). I stopped eating animals when I was about four (my family got a cat). That was the first time I cognitively processed what meat 
is
. Shout out to my dad for always cooking me special meat-free dinners. Once I learned about the common dairy/egg farm practices, the step to veganism was a no-brainer. 
What are some of your goals as a band?
I have no idea. We didn't anticipate any success, and I am still blown away by the opportunities offered to us. I don't want to set any salient goals for the band because I think most of our success is owed to the fact that we all have lives outside of the band. I don't want to speak for everyone else, but this band is certainly not a career for me. It's a huge part of my life, but I don't do it because I have to. I do it because I want to. 
What other bands should we be listening to right now?
Forgive me if my list is somewhat behind the times, but these are the bands I'm obsessed with right now: Mitski, Eskimeaux, Bully, Happy Diving, Honeyblood, and Michael Bolton. 
Read these next:
Riley Keough Is Our March Cover Star
Blooms Will Give You Major Banks Vibes
Drake As Muse: A Thoughtful Discussion
KLOE Will Suck You Into Her "Teenage Craze"