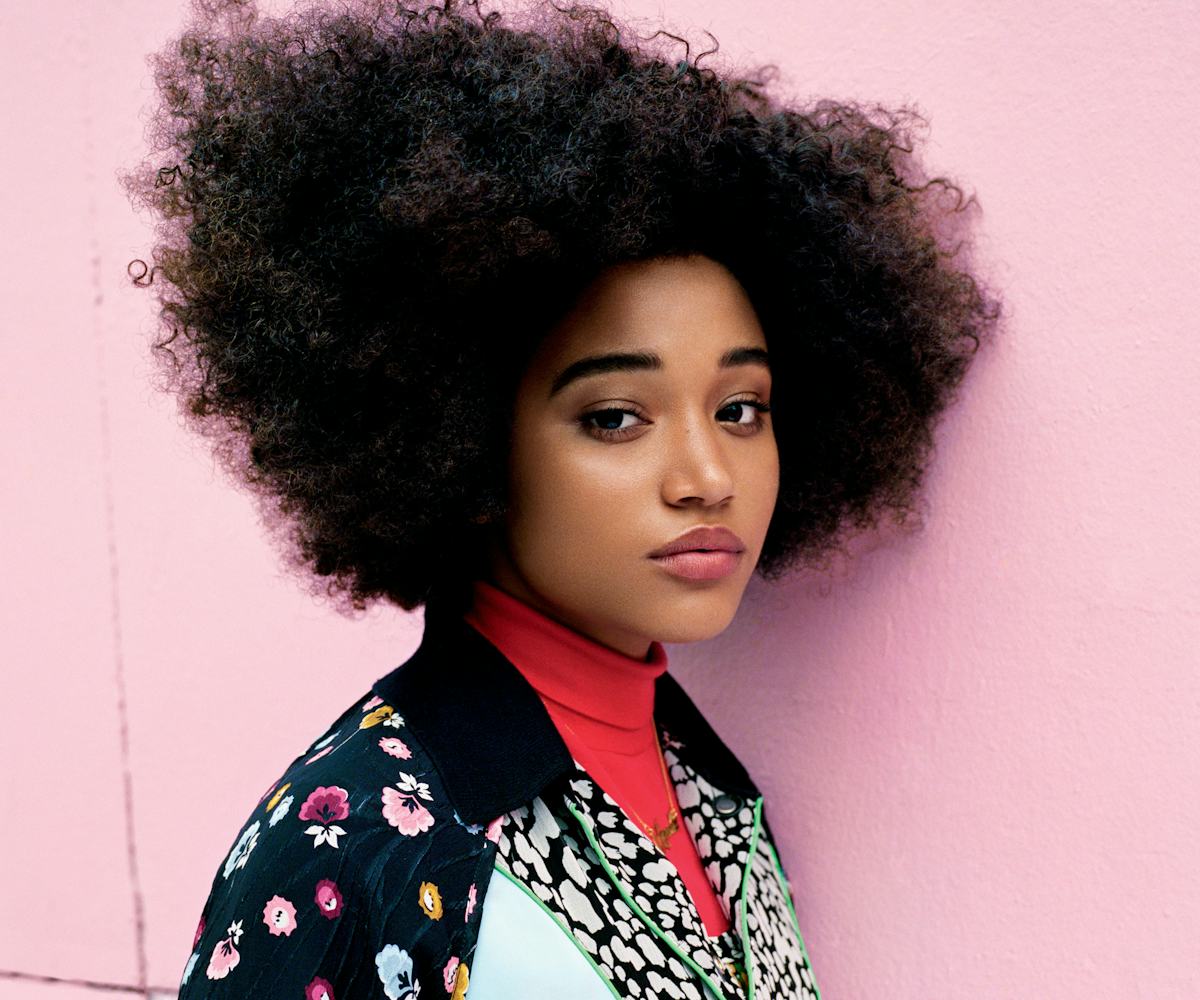 Photographed by Ben Toms
Solange Knowles Interviews Amandla Stenberg For Her Latest Magazine Cover
believe in the power of black girl magic
Can you feel the black girl magic in the air? It's everywhere! Yesterday, we were over the moon about Essence's February issue featuring #BlackLivesMatter activist Johnetta Elzie. This morning, Teen Vogue revealed Amandla Stenberg as the face of their February issue, but this is no ordinary cover story—it's written by Solange Knowles! Last night, Knowles posted the folowing excerpt from the piece on her Facebook page:
"Here we are, connecting as two nonconforming black girls. Connecting as two trailblazers who recognize the borders that have been built around us as we steadily tear them down, dancing through life while coloring outside every line. Connecting as two lovers of music, art, and the color orange. Connecting as two chicks who are over talking about our hair—although we know it's badass! Connecting as two descendants of powerful queens who made the journey before us and whom we hold in the highest regard. I may not have prepared, but I sure as hell felt inspired by our honesty with each other and ready to take on the world—sprinkling black girl magic in every crevice of the universe."
Prior to the story, Knowles and Stenberg's paths had never crossed. Despite that truth, Knowles always felt a deep connection to the young revolutionary in her heart. "There's a secret language shared among black girls who are destined to climb mountains and cross rivers in a world that tells us to belong to the valleys that surround us," she states in the introduction. Throughout the engaging piece, Knowles and Stenberg discuss a variety of thought-provoking topics like hair politics, cultural appropriation, the concept of girl power, and what it means to be black in a constantly redefined world.
"I think that as a black girl you grow up internalizing all these messages that say you shouldn't accept your hair or your skin tone or your natural features, or that you shouldn't have a voice, or that you aren't smart," said Stenberg. "I feel like the only way to fight that is to just be yourself on the most genuine level and to connect with other black girls who are awakening and realizing that they've been trying to conform."
Stenberg also opened up about the negative reactions she received for being cast as Rue in The Hunger Games because she was black. The experience was a wake-up call and ultimately grounded her in fully embracing her blackness. "That was the first moment I realized being black was such a crucial part of my identity in terms of the way that I was perceived and how it would affect any line of work that I wanted to pursue," she said.
With the theme of the issue revolving around "power girls" and "the new faces of feminism," it's refreshing to see women of color included. Read the entire piece here and click through the fly photos in the gallery, above. (Luka Sabbat is in some of the shots!)