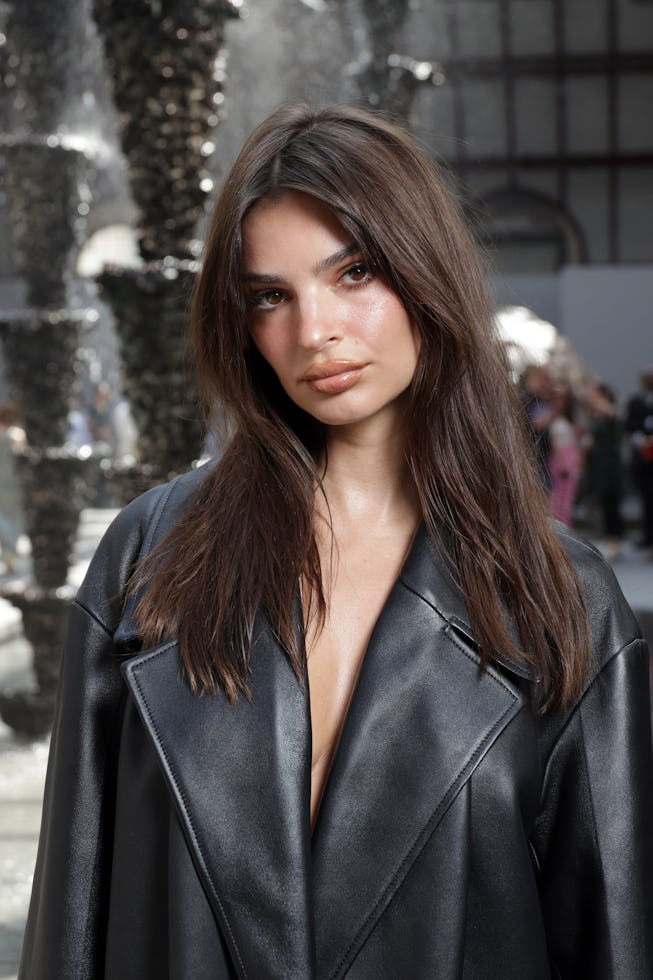 Pascal Le Segretain/Getty Images Entertainment/Getty Images
Emily Ratajkowski is Officially A Redhead
She said that sometimes she just needs "a change".
Since filing for divorce in 2022, Emily Ratajkowski has been eager to switch up her hairstyles. She got breakup bangs at the end of last year, cut micro bangs for this year's Met Gala, and experimented with pink hair (temporarily). Now, Emrata has joined her friend Julia Fox on the red hair train, revealing a new copper hair color on TikTok this morning. "Soemtimes ya just need a change you kno?" she wrote as the caption.
In the video, Emrata stands on a New York City subway car, holding the pole in a strapless black dress with casual white sneakers and a light green Prada bag. Her hair is down and loose for an effortlessly mussed look, with her long bangs sweeping the top of her eyelashes. Her new hair color is a sun-kissed copper, a few shades lighter and warmer then her usual best known brunette hair color.
Emrata may have foreshadowed her hair change on her Instagram stories earlier this year, posting a fiery red wig in March. The super close-up Instagram story showed the model with bright red bangs, though for her real life transformation she decided to opt for a more subtle and natural redd hue. Even still, she's been known to adopt the sentiment of trying before buying when it comes to hair, wearing a French bob wig at the Marc Jacobs show earlier this year and faux bangs at the Cannes Film Festival in 2022.
Clearly sensing her fans' trust issues when it comes to her and temporary hair changes, Emrata wrote the text: "Not a filter, red for summer" over her TikTok video. While red is often trending during the colder months (we saw Doja Cat, Kendall Jenner, and Sydney Sweeney do it last year), Emrata's new hair shade is very much real and will no doubt make an appearance all summer long.