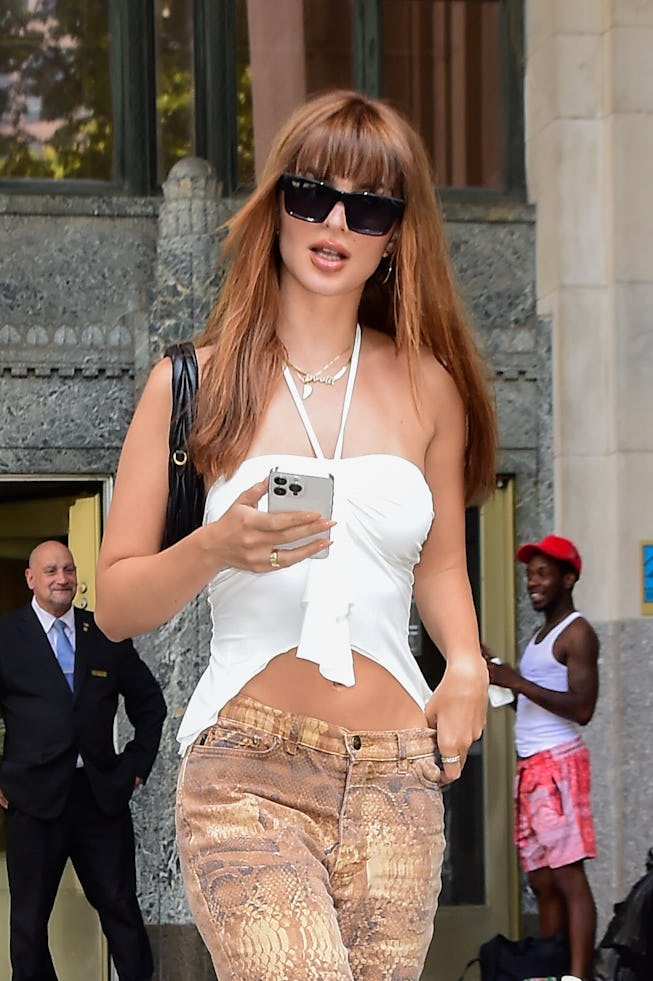 Raymond Hall/GC Images/Getty Images
Emrata's Reptilian New Manicure Predicts Fall's Next Big Nail Trend
Lately, it seems Emily Ratajkowski has been in the late summer mood to switch up her look. After debuting a new copper hair color in July, now she's posting about a fresh new manicure trend on Instagram, calling her current nail look, "serpent nails". The manicure matches her recent hair color change in autumnal shades of deep red, brown, and black. The mismatched design includes aura nail designs and snake print patterns.
Emrata posted her new manicure in an Instagram photo dump, with the caption "blackberries cows serpent nails and sly". Alongside a candid photo of the model laying down, there's another image where she also held her two hands up to her face to show off the design. She also posted a close up photo of holding blackberries on the farm with the fruit matching her manicure.
Since filing for divorce in 2022, Emily Ratajkowski has been eager to switch up her hairstyles as of late. She got breakup bangs at the end of 2022, she cut micro bangs for this year's Met Gala, experimented with pink hair (temporarily), before dying her hair copper for real. Now, it seems Emrata's new love of the color red is influencing her nail art choices.
With deep warm tones and a surprising design, Emrata's new nails might just be the perfect fall manicure. After crocodile nails were trending last year, it seems this year is the time for the serpent design to take over. In fact, the hashtag #SnakeNails already has over 34 million views on TikTok. Expect to see more serpent nails (from Emrata and everyone else) in the near future.