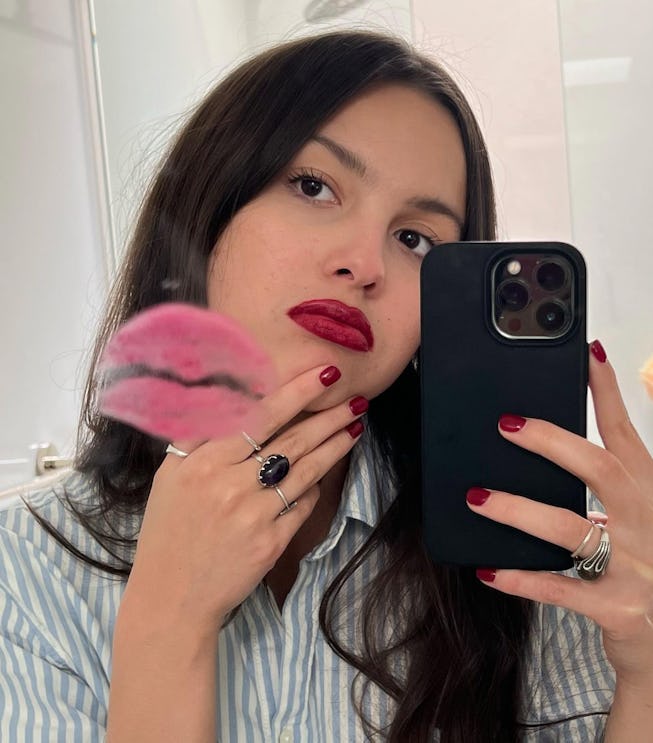 Fall 2023's Biggest Makeup Trends Are Bold & Bewitching
From spider lashes and dark aura eyeshadow to vampire-red lips.
We may receive a portion of sales if you purchase a product through a link in this article.
When it comes to makeup, it always seems that less is more for summertime — lighter foundation, thoughtful pops of color, and little or no eyeshadow. Come fall, the change of seasons can reinvigorate the love of bolder beauty. When you no longer need to worry about makeup sliding down your face on a sticky subway platform or anticipate jumping in a pool at any moment, taking the time to put on a full face makes much more sense.
With more time and less fear of makeup meltdown, fall is a great time to try out new colors, new products, or teach yourself new techniques. For Fall 2023, think about embracing makeup in more exciting and experimental forms. This season's major trends are all about going to extremes, from pumped-up lashes and a glimmering new take on a smoky eye, to expertly shaped brows and vampiric lips.
Ahead, we've rounded up Fall 2023's biggest makeup trends for you to try — if you dare.
Fall Makeup Trend #1: Dark Aura Eyes
"Aura nails were a summer hit," says makeup artist Jeanine Lobell, so this fall she expects to see the duo-color trend make its way into our eye makeup looks. Specifically, she anticipates dark aura colors like "striking silver-to-black or even navy-to-bright-blue combinations." The technique is surprisingly simple: use a darker shimmer shade all over the lid to the crease, creating a shape out towards the temples and on and lower lash line, then apply a coordinated brighter shimmer shade on the center of the lid to create the halo effect.
Fall Makeup Trend #2: Blood-red Lips
Olivia Rodrigo is officially in her "Vampire" era, which means everyone else will soon follow suit. Ditch summer's coral red fuchsia lipsticks for a fall-favorite dark red shade and unleash your inner Twi-hard.
Fall Makeup Trend #3: Skin Care/Makeup Hybrids
"A trend that's going strong, and I think will continue to dominate in Fall 2023, is skincare being incorporated into typical makeup products," predicts makeup artist Vincent Oquendo, citing the pandemic as the impetus for self-care seeping into every aspect of beauty. He recommends Tula Skincare Radiant Skin Brightening Serum Concealer ("it's almost like a medium-coverage concealer and skin care had a love child"), which helps conceal dark circles and brightens over time. The best way to reap the benefits of these types of products is to opt for the ones that cover the most surface area — try skin tints, primers, and concealers.
Fall Makeup Trend #4: Barbie Pink Blush
"Barbie vibes are still in, so expect pink to remain a dominant hue," says Lobell. Hot pink blush is going to be everywhere, but you can adapt it to your own skin tone and preferred level of intensity. For major makeup lovers, bright blush draping (applying heavy blush on your cheekbones and temples) will deliver the drama you crave. For the ultimate natural flush, makeup artist Nikki DeRoest suggests "mixing a drop of your foundation in with your liquid blush to make it look like an enhanced version of your complexion." She loves Ciele Blush & Protect SPF 50 Liquid Blush in the shade Giselle.
Fall Makeup Trend #5: Spider Lashes
The most exciting new mascaras on the market are designed to give your lashes more volume than ever before. Natural-effect, lengthening formulas are out, and thicker, bolder, and even spidery lashes are in. If you're erring on the side of clumpy, you're doing it right.
Fall Makeup Trend #6: Super Glossy Skin
To glow isn't enough when you want to shine. This season, we're upping the ante on highlighter from a subtle sparkle to mirror-like reflecting power. "Like many of my fellow makeup alums, we love a good highlight, but I think most of my clients are craving a very fresh glossy skin look," explains Oquendo, who says he sometimes uses Rhode Glazing Milk Essence to add extra gloss to cheekbones. Shimmer-free highlighters and balms are also ideal for creating that supernatural dewy shine.
Fall Makeup Trend #6: Faux Laminated Brows
Brow lamination treatments had their moment, but now people are craving the look without sitting for a brow perm at the salon. The solution? "Lamination light" gels and pomades that can fluff up brows and hold them in place all day. If your brows need more help in the shaping department, using a super-precise brow pencil or pen can help draw the tiniest hair-like strokes in keeping with the laminated brow look.
Fall Makeup Trend #8: Grunge Glam Liner
"We are seeing a lot more bold eye looks for fall, but keeping it unconventionally glamorous," says DeRoest. "It's all about a nod to the '90's supermodel — being out at the club all night and then going to castings the next morning with a lived-in, grungy eye." She says the easiest way to get that perfectly imperfect look is to use creamy eyeliners and shadows that move a bit and crease naturally during the day. (For those who are impatient, "I love using a touch of any clear lip gloss on top of finished eye looks to speed up the process of making it look lived in," she says.)