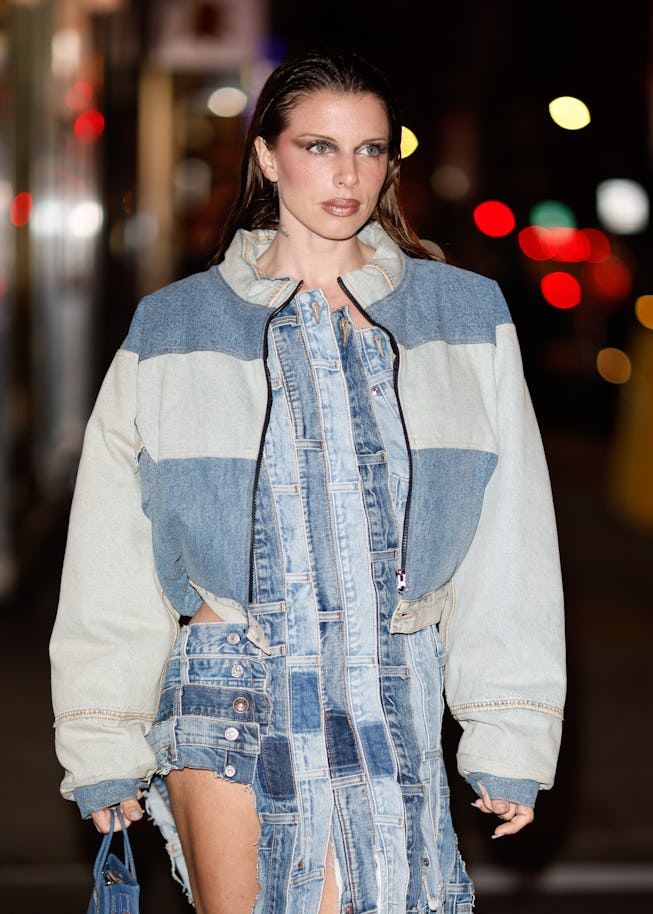 Rachpoot/Bauer-Griffin/GC Images/Getty Images
Julia Fox Now Has Bright Red Hair
The actress has dyed her usually bleached eyebrows to match.
At this point, we should all be extremely used to a Julia Fox hair change, especially during fashion week. The actress opted for grey hair (again) at the Seks FW party earlier this week, and was spotted Wednesday on the cover of Elle with bright yellow hair and bleached brows. With an undying commitment to shaking things up beauty-wise, Fox has tried out yet another new look, arriving at the Willy Chavarria show on Wednesday night with bright red hair.
Fox paired the new 'do with a sheer black football shirt, baggy shorts, and shiny black heeled boots. She wore her hair straightened and pushed behind her shoulders, and matched her usually bleached eyebrows to the crimson shade, along with red eyeshadow and lipliner. Speaking to Paper Magazine after the show, Fox said she cried during the presentation.
While Fox is known for her bold beauty choices (hello heavy goth glam eyeshadow), she's recently been sticking to her brunette hair and bleached eyebrow combo. Fox has even previously said that bleached brows give her a "sense of anonymity" and even called them a "man-repellant". "They absolutely hate it," she says at the end of a TikTok tutorial. "My son's father gets so triggered by these eyebrows so that's why I continually do them."
Swapping her bleached brows for a bold new look, we can only assume this means that Fox is ready to step back into the spotlight (although she never left) and get even more experimental with her hair and makeup. With Ice Spice also swapping her signature orange hair shade for a brighter red at this week's Coach show, the red hair trend this year is officially set to be brighter, deeper, and redder than it's ever been before.