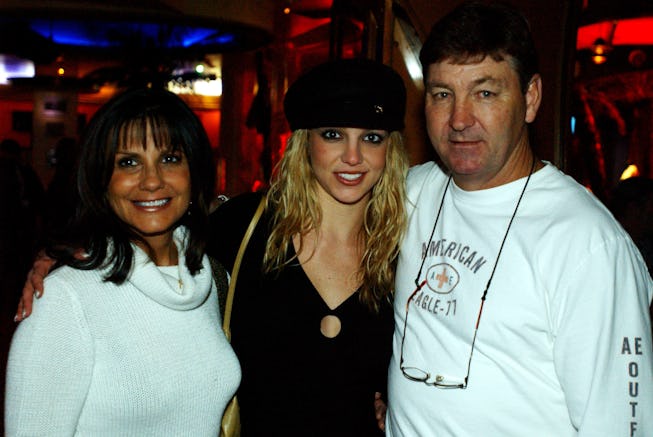 Getty
Britney Spears' Dad Has Requested An End To Her 13-Year Conservatorship
In a surprising move, Jamie Spears has petitioned a judge to end Britney's conservatorship.
Update, September 7, 2021:
Britney Spears' father Jamie has reportedly asked a judge to end her conservatorship, Variety reports.
It's a surprising development in the complicated case. Jamie reportedly petitioned probate judge Brenda Penny on Tuesday to end the 13 year conservatorship that he is in charge of, and that Britney herself has asked to be freed from.
"Ms. Spears has told this Court that she wants control of her life back without the safety rails of a conservatorship," Jamie's attorney, Vivian Thoreen, wrote. She wants to be able to make decisions regarding her own medical care, deciding when, where and how often to get therapy. She wants to control the money she has made from her career and spend it without supervision or oversight. She wants to be able to get married and have a baby, if she so chooses. In short, she wants to live her life as she chooses without the constraints of a conservator or court proceeding."
"As Mr. Spears has said again and again, all he wants is what is best for his daughter. If Ms. Spears wants to terminate the conservatorship and believes that she can handle her own life, Mr. Spears believes that she should get that chance," Thoreen wrote.
A hearing is scheduled in three weeks, on September 23, to determine whether Jamie should be removed as the conservator of Britney's estate. Britney's attorney, Mathew Rosengart, petitioned the court to move the date up to August, but the courts denied it. Last month, Jamie offered to step down from the conservatorship, but only after a negotiated settlement.
According to Variety, the new filing suggests that the court may be able to end the conservatorship without a psychiatric evaluation, which Britney had requested not to have.
"Mr. Spears believes that Ms. Spears is entitled to have this Court now seriously consider whether this conservatorship is no longer required," Thoreen wrote.
————-
Britney Spears' father, Jamie Spears, has agreed to step down as her conservator, TMZ reports.
Spears' requested that the courts remove Jamie — whom the pop singer has accused of financial and emotional abuse — as the head of her conservatorship.
According to TMZ, Jamie's lawyer filed legal documents in which he says, "There are, in fact, no actual grounds for suspending or removing Mr. Spears as the Conservator of the Estate ... and it is highly debatable whether a change in conservator at this time would be in Ms. Spears' best interests."
He added, "Nevertheless, even as Mr. Spears is the unremitting target of unjustified attacks, he does not believe that a public battle with his daughter over his continuing service as her conservator would be in her best interests. So, even though he must contest this unjustified Petition for his removal, Mr. Spears intends to work with the Court and his daughter's new attorney to prepare for an orderly transition to a new conservator."
The filing is a bit Cuomo-esque, as Jamie defends his actions despite agreeing to step down, saying that he rescued Britney during her time of emotional distress when he first took over her life. "Not only was she suffering mentally and emotionally," the document says, "she was also being manipulated by predators and in financial distress. Mr. Spears came to his daughter's rescue to protect her." Jamie reportedly also attacked his ex and Britney's mother, Lynne, saying she's not helped Britney at all over the last 13 years.
Per TMZ, the document goes onto say, "Regardless of his formal title, Mr. Spears will always be Ms. Spears' father, he will always love her unconditionally, and he will always look out for her best interests."
Britney's lawyer, Mathew Rosengart, told TMZ in response to the filing: "We are pleased but not necessarily surprised that Mr. Spears and his lawyer finally recognize that he must be removed. We are disappointed, however, by their ongoing shameful and reprehensible attacks on Ms. Spears and others."