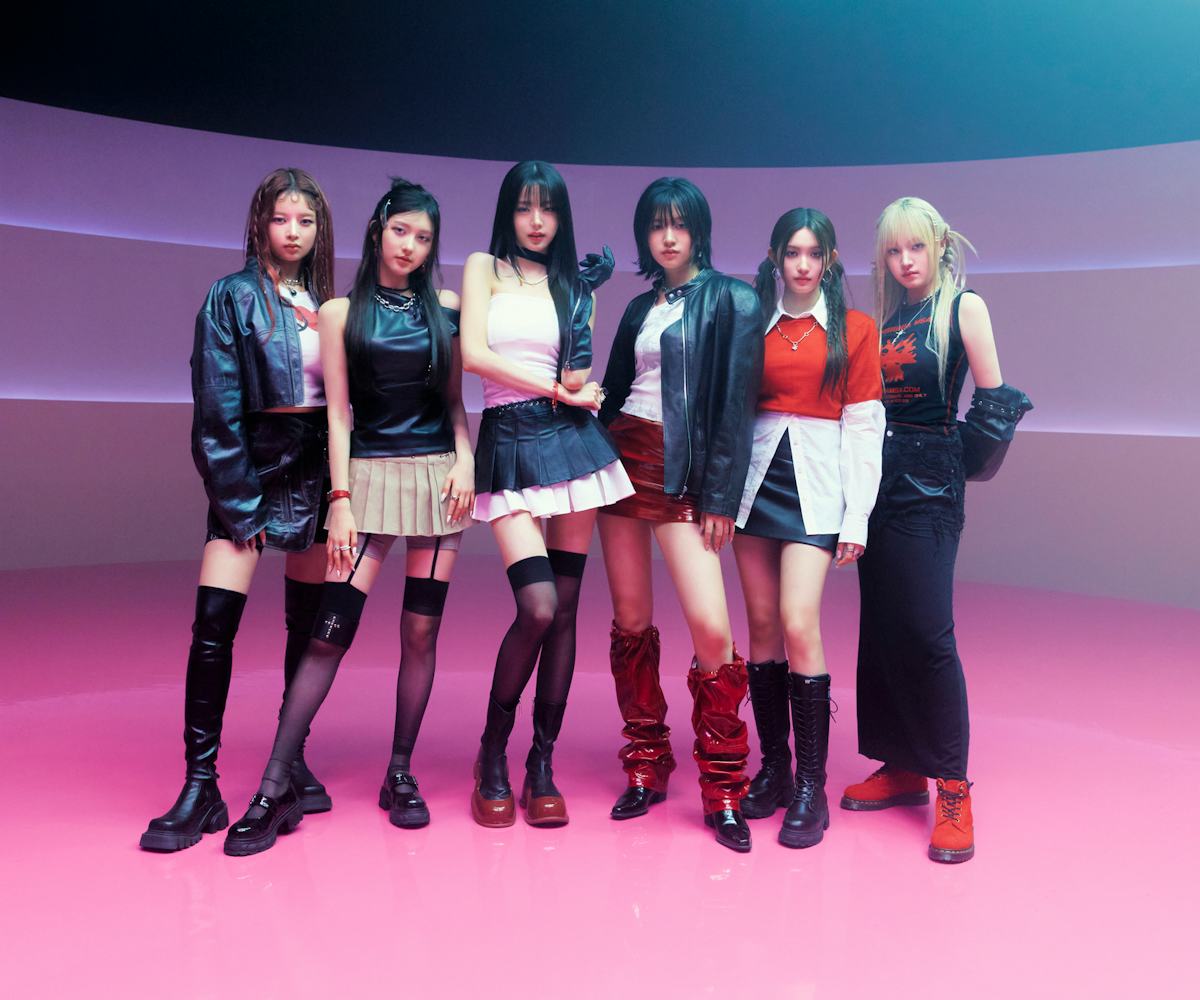 IVE Addresses Their Critics
The fourth gen girl group has long been rookies ready for takeoff. Now, it's shedding that title with an EP that clapbacks on public perception.
When IVE made its entrance in the last days of 2021, its potential to rise above the rest felt indisputable. In the music video for their debut song, "Eleven," the six members – Gaeul, Yujin, Rei, Wonyoung, Liz, and Leeseo – posed in front of a glittering trophy as a somewhat cheeky premonition. But it also turned out to be a very real one for the fledgling group, who so early on already seemed to possess charisma and an unexplainable dynamic presence in spades.
Up until now, the fourth gen South Korean girl group has been referred to simply as newbies ready for takeoff. But with nearly two years of releases tucked into their belts, IVE is ready to shed that label. On their latest release, the K-pop sextet is slowly peeling back the rookie title with a courageous project that clapbacks on public perception.
Following their first full-length album, I'VE IVE, released in April, the newly-released mini album, I'VE MINE — a wordplay on the group name and the English phrase "I have mine" — is a six-track compilation of explosive tracks seamlessly intertwining their signature sound, punchy rhythms with flowery hints, with experimental twists. Atop the hypnotic melodies and dreamy, candy-colored visuals, the project thematically nods to their growth by addressing critics head-on, not just as beloved musicians, but as teenagers and 20-somethings who are evolving in front of millions watching.
On an early Monday October morning in New York City but a very late night in Seoul, Gaeul, Yujin, Rei, Wonyoung, Liz, and Leeso, are sitting neatly in a conference room dressed in exactly what you'd expect: cozy sweats. Despite a jam-packed schedule, with Wonyoung and Yujin hopping around Europe for fashion month, it was clear even over Zoom that the members have perfected a professional demeanor. They dance around some of the deeper questions asked, and in the cracks of our 35-minute conversation, their youthful quirks are apparent — Gaeul and Leeseo fidget and play with their fingers beside each other, which I point out, bringing a brief levity to a somewhat uncomfortable conversation.
Photo: Starship Entertainment
Currently signed under Starship Entertainment, IVE was set up for success even before its inception. Members Wonyoung and Yujin caught the attention of K-pop netizens early on with their standout performances on the popular 2018 South Korean idol competition show, Produce 48: Wonyoung, then 14, for her stunning appearance (or, as the industry term goes, "visuals"); and Yujin, then 15, for her easy-going persona and versatility. The two ranked in the top five out of 12 (Wonyoung in first and Yujin in fifth) and were enlisted in the temporary group IZ*ONE for two-and-a-half years. Unlike other project groups at the time, this was a catalyst for their futures like no other, and where the duo would end up post-IZ*ONE attracted lots of fans and curious eyes.
When 2021 rolled around, they joined the four other newly-announced members in Starship's next girl group, IVE, revealed through a series of glossy images and teaser clips. IVE rapidly amassed a slew of accolades highlighting its accomplishments as rising stars. Earlier this May, I witnessed the group's prominence first-hand in the buzzy streets of Seoul; their faces were plastered in advertisements everywhere and their songs blared back-to-back at cafes.
But beneath the surface of a polished group of young pop stars, who range from 16 to 21 years old, comes an unfortunate compromise in the limelight. Korean female idols have historically lived as hyper-visible punching bags to enforce societal expectations, and even the tiniest of slip-ups can be reputational dealbreakers. By this point, IVE is well aware of the scrutiny they court — from doing anything as innocuous as posting a selfie or performing on stage — like most young women their age. In many ways I'VE MINE functions as a letter to their peers in the industry, and in the world.
"The songs in [I'VE MINE] concentrate on three different sets of eyes: how you see me, how we see us, and how I see me," says Wonyoung to NYLON about the record, which she describes as a much-needed message of self-love. "Rather than about love or anything else, it's more about 'me.'"
Pre-release track "Either Way" heavily touches on the first set of eyes: how outsiders see them. "Sometimes I can't even understand the looks I get/ It feels unfair at times," sings Wonyoung in Korean on the verse before Liz jumps in: "I talk about the countless versions of me made from misunderstandings/ All of them are 'me' in the end."
Upon release, fans flooded the song's YouTube comment section in support of their vulnerable admissions, which may seem small and generic to outsiders but strike a very real chord to K-pop insiders. But when asked about examples of remarks that negatively affected them recently, the members tread lightly, perhaps knowing that their industry can be an unforgiving place to overshare. "Recently, something I've seen is that some fans like my hair short, like it is now, and others long," Yujin carefully admits. "Some of those comments hurt me because I think that both of them are 'me.'"
Photo: Starship Entertainment
Other parts of I'VE MINE center on the innocence of girlhood, focusing on "friendship and love between people like lovers," Yujin says. Standout track "Off The Record" underscores the hush-hush confessions between friends. On the bubbly song, Leeseo and Rei channel the nostalgia of sleepovers: "It's time, it's 2 a.m./ Lower your voice to a whisper/ As the night sets deeper/ I feel like we can be more honest." While Yujin and Gaeul demand complete BFF transparency: "Take off your innocent mask/ Reveal your darkest desires/ There's no way you don't have any/ Now, we're in private mode."
IVE joins a greater movement at play: the disruption of the status quo by young female K-pop stars. From G-IDLE to Le Sserafim, newer generation girl groups are pushing back against outdated narratives with their own, truest stories about what it's actually like being a young woman today. Even NewJeans introduces stories from a distinctly nuanced, super-girlish perspective. IVE sits at the middle of this evolving conversation, and I'VE MINE serves as the beginning of their mission to chip away at the ice. Liz and Rei say it best on their braggadocious title track, "Baddie:" "The rules don't matter, they don't apply to us/ Trends come back around but I'm already ahead/ I wanna break, I wanna kick/ I wanna have fun and be loud."
In the coming months, the band is going to dive into intense promotion for their new project, which has their global tour Show What I Have at the top of the list — an occasion that'll no doubt catalyze a new period of growth. But I remind them that, fame and fans aside, there must be something else they want to hold on to while transitioning out of their youth.
"For me, I want to keep my passion," Yujin says. "I think passion is the most important thing in my life and in my job." Liz, Rei, Leeseo, and Gaeul agree they want to maintain a tight-knit connection with those closest to them. "I want to keep my family and my loved ones," Rei says. "I also want to make sure to channel thankfulness for those around me and for myself as well."
But it's clear most of all that it's their fans' support that means the most important to them. "I'm grateful for those who love and want to protect us," Wonyoung says. "But just like them, I really want to protect them as well."