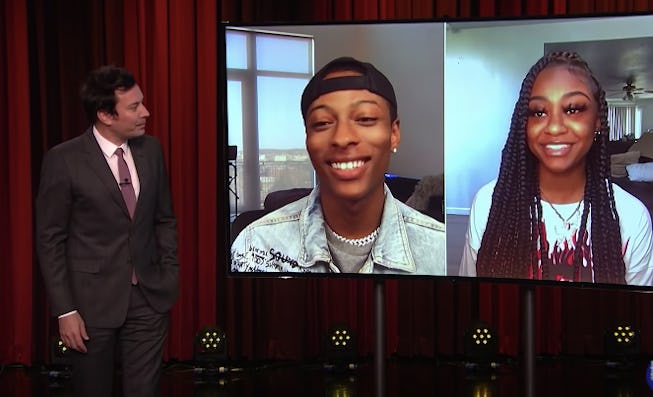 Screengrab via YouTube
Jimmy Fallon Finally Spotlights The Original Creators of Viral TikTok Dances
Following backlash to Addison Rae's recent 'Tonight Show' performance, the late night host attempted to set things right.
There's a long history of white people getting credit for the hard work of people of color. So when Jimmy Fallon brought on TikTok mainstay (and star of the upcoming She's All That gender-swapped remake, He's All That) Addison Rae to perform eight viral dances from the popular platform — the majority of which were originally created by Black people — the late night host was met with swift backlash. Why should an already wealthy white girl be given a platform to show off moves she isn't even responsible for, many wondered.
So in an effort to course-correct for his misstep, Fallon used a recent episode of The Tonight Show to turn the camera (or, in this case, the Zoom webcam) over to the actual creators of these popular dances, giving several of them their own opportunity to talk about their inspirations and perform their viral routines on a national stage.
"On our last show before break, we did a bit with Addison Rae where she taught me eight viral TikTok dances," the Emmy-winning host said at the top of the segment. "Now, we recognize that the creators of those dances deserve to have their own spotlight. So right now, some of the creators will join me to talk about how their dance went viral and then perform the dance themselves."
Though the segment didn't feature the creators of all eight original dances, Fallon did manage to book the minds behind five of them (nine people in total, since several dances were created by duos or trios). Mya Nicole Johnson and Chris Cotter, who created the dance to Cardi B's "Up," got excited talking about the fact that Cardi B reposted their routines on various social media platforms while "Corvette Corvette" creator Dorien Scott expressed his dream to one day play a live-action version of Spider-Man: Into the Spider-Verse's Miles Morales. Fur-Quan Powell (aka FlyBoyFu) reflected on recording his catchy "Laffy Taffy" remix and Camyra Franklin shocked Fallon when she confessed to choreographing the dance in five minutes while she was on the schoolbus. Of course, Keara Wilson was also there to talk about the inescapable impact of her #SavageChallenge, even opening up about how she initially struggled to master the ending.
Check out the full clip below.