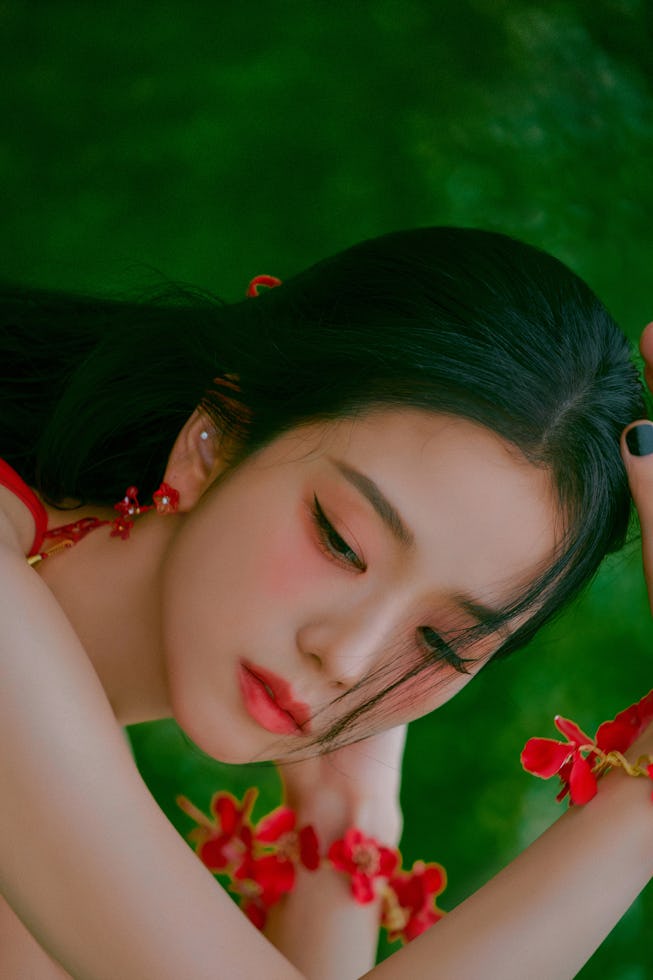 On 'Me,' Jisoo Blossoms Into Her True Self
The lyrics of "Flower" & "All Eyes On Me" tell a story about a broken-hearted girl who finds untouchable confidence.
Despite embarking on a world tour, prepping to headline Coachella, and fulfilling multiple outside responsibilities (like being Dior's global ambassador), Jisoo still made time for her solo debut as the fourth and final member of Blackpink to do so. It follows months (actually, years) of anticipation from fans and her own self-doubt as she told Rolling Stone last summer that she was still unsure of her decision. "The music I listen to, the music I can do, and the music I want to do—what should I choose?" she said. "What do people want from me? There's a chaos of conflicting questions."
Her worry, however, was unfounded on her first-ever single album, Me, debuting Friday, March 31. On its two songs, "꽃 (Flower)" and B-side track "All Eyes on Me," Jisoo sounds more assured than ever, proving she was ready after all. Over approximately six minutes (and an accompanying music video), Jisoo pieces together a narrative of overcoming told through the lens of a break-up and a subsequent reclamation of herself.
The music video to "꽃 (Flower)" opens with the 28-year-old wandering around her hotel room, surrounded by vases of light pink florals. It seems someone, or something, grabs her attention, before the video cuts to the "next day" or "Chapter 1," the morning after an assumed breakup. She roams around the building dressed in elaborate gowns while lost in her thoughts.
Sonically, the song is a pop rollercoaster with elements of traditional Korean melodies and snappy beats that spotlight Jisoo's charmingly husky voice. She gets brutally honest while reflecting on her relationship, describing its beginning as a spark he simply couldn't handle: "Fly away like a blue butterfly/ It's all on you that you didn't hold on/ Even the times that we were in full bloom/ A lie, lie, lie to me," she sings in Korean.
The rest of the three-minute-long song embraces her vulnerability as she eventually blooms into a red flower and lets go completely of her now past: "Crimsonly burned down you and I/ I'm okay, would you be as well?" She ends on the chorus: "There was nothing left but the scent of a flower."
In the music video, following "Chapter 2: Same Time" and "Chapter 3: Same Place" which display a new-found side of herself that she's unlocked, Jisoo symbolizes that end by donning a funeral black lace gown and ripping the rosette choker from her neck to signify she's in full control.
If "꽃 (Flower)" is Jisoo getting over a man who didn't treat her right, "All Eyes On Me" is the anthem of a woman who now knows her worth and what she deserves. The dance-pop record immediately kicks off with Jisoo making reasonable asks and outlining relationship expectations in the first verse: "One is not enough, look into my eyes/ I don't want half, just look at me only/ That's a given, it's not so greedy." The musician isn't afraid to bask in her honest emotions and desires, singing in Korean, "At the end of my love, the blue-check heart is verified/ I'll show it to you now."
She sums up her needs in the pre-chorus, "Make me feel alive/ Don't fill it up with meaningless words/ Focus on me now/ So that I can know your mysterious heart," before shouting, "All Eyes on Me," cueing upbeat dance instrumentals.
Jisoo embraces her strengths as a vocalist through easygoing flows and insatiable lyrics as she helms a tale about a broken-hearted girl who overcomes and leaves with untouchable confidence.
Her confidence, not only in who she is but also in what she wants, is apparent here. So much so that Jisoo's words exemplify her risk-taking nature. The singer nudges her partner to the edge of a cliff, singing, "Hold your breath and watch me, I'm a movie/ You prove it only with your eyеs/ What the hell is therе to lose?/ Trust me and run, see bungee."
With "꽃 (Flower)" and "All Eyes on Me", Me is an exploration of Jisoo's romantic affairs but most importantly, her career and self-development as a person. Jisoo embraces her strengths as a vocalist through easygoing flows and insatiable lyrics as she helms a tale about a broken-hearted girl who overcomes and leaves with untouchable confidence. She's guided best through the art of letting go, as she says on "꽃 (Flower): "Now goodbye, goodbye/ Never looking back/ A leaf named hesitance/ Falling away from you by a spring shower."
Jisoo is the last to release her solo debut but it's well worth the wait. Nearly seven years into her career, fans are finally able to see that Blackpink's so-called "most overlooked" member, too, can expand into her own world of storytelling. It might seem on first listen that the only thing on Jisoo's mind is post-breakup revenge, but rather than shuffling through what was or could've been, she opts to enter a new chapter feeling more alive than ever. Jisoo may be going through heartbreak but knows at the end of the day it's all temporary, and the best revenge is one that prioritizes her own self-growth.