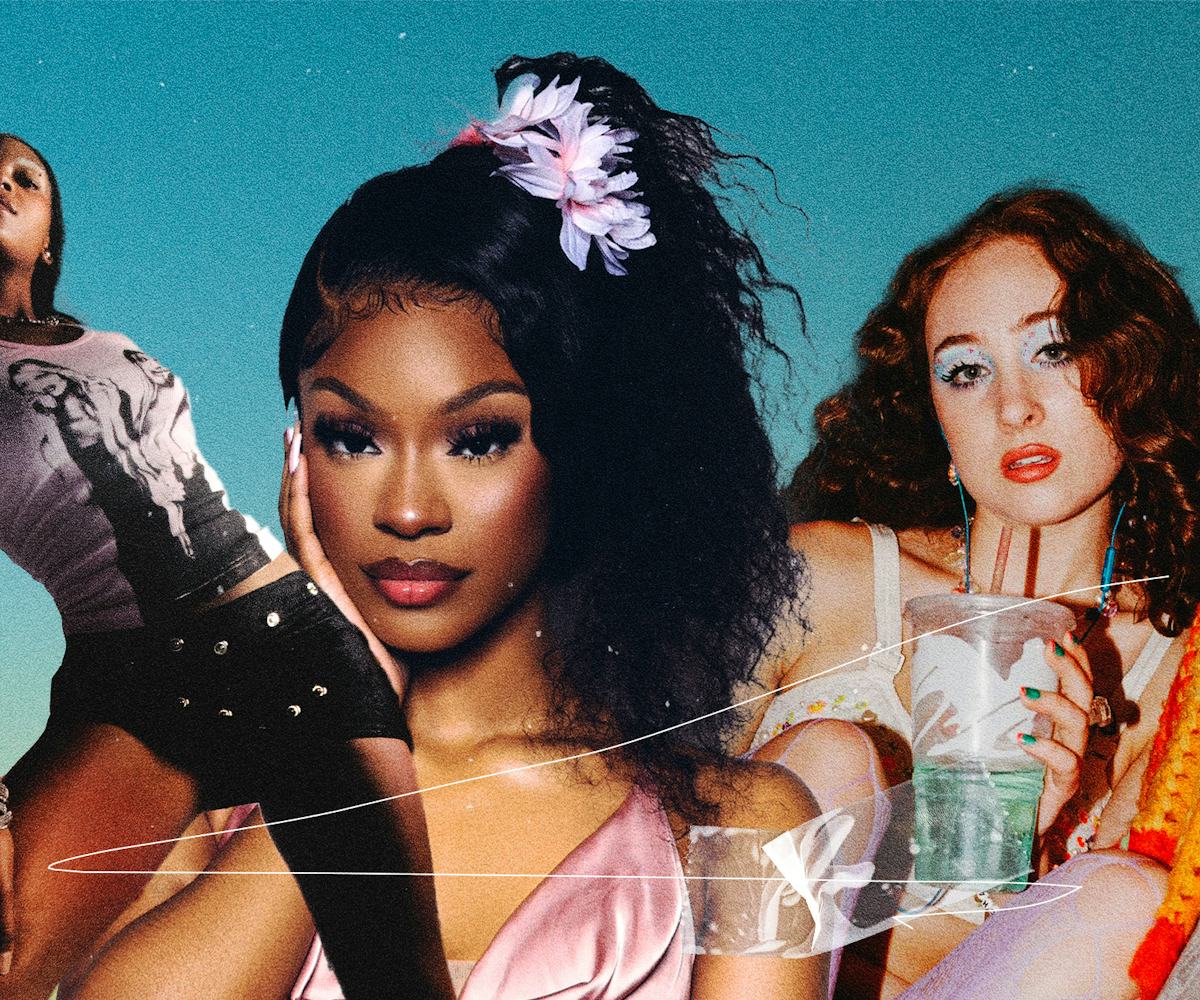 Yulissa Benitez/Ryan Clemens
14 New Musicians & Bands To Know In 2023
Get ready to be obsessed.
Several of the best songs of 2022 came from new artists. Try to remain unmoved by the hip-shaking slink of The Dare's "Girls" or the shapeshifting splendor of NewJeans' "Hype Boy" (it's impossible). Others like Hemlocke Springs and Chappell Roan achieved viral success with deliciously singular records that didn't sacrifice an iota of their idiosyncrasy for the sake of appeasing the algorithm.
Out of the sizable crop of new artists who debut each year, below, NYLON has selected 14 of the most undeniable ones. From the K-pop group subverting the genre's maximalist ethos to Atlanta's most charismatic alt-rapper since Playboi Carti, read on for a primer on who they are, what they make, and how they'll conquer 2023. For full effect, stream our playlist of their best songs on Spotify.
Hemlocke Springs
Who: The 20-something Hemlocke Springs is a boundary-pushing pop maverick who put a career in medicine on hold to deliver two of 2022's most beguiling songs. She held onto her breakthrough single "Girlfriend" for years, even considering it straight-up "bad," but once it hit TikTok the track found a rabid audience. The only criticism that's really stuck? Her songs are too short.
What: With only two released singles, the future is boundless for Hemlocke Springs, whose off-kilter approach to vintage pop lives at the cross section of "Love My Way" and "Goodbye Horses." (She's also been likened to Grimes, who just so happens to be a fan.)
Where to start:
What's next: A new single (and video) called "Stranger Danger" is due out in mid-January.
Chappell Roan
Who: The Missouri-born, L.A.-based singer-songwriter with a powerhouse voice has opened for Olivia Rodrigo and Fletcher. Roan blends the aesthetics of '00s pop and 20th century radio country to create something at once familiar and fresh.
What: Everything from soaring, MUNA-esque synthpop (breakout hit "Pink Pony Club," the soaring and swooping "My Kink is Karma") to Lana Del Rey-style West Coast elegies (the ill-defined relationship anthem "Casual," early single "California").
Where to start:
What's next: Her first string of shows as a headliner, the Naked In North America Tour, runs from Feb, through March 2023.
NewJeans
Who: A promising K-pop quintet whose self-titled first EP made them one of the breakout groups of 2022's later half and land on NYLON's favorite music of 2022 list.
What: Their first crop of songs runs the sonic gamut from Justin Timberlake/Timbaland-style aughts pop ("Attention") to Gen Z hyperpop ("Cookie"). As The New York Times observed, NewJeans is bringing an understated chicness to the Korean music scene with slick, effortless songs that make creative use of space.
Where to start:
What's next: OMG, the group's new single album, was released on Jan. 2. They've also declared 2023 the "Year of NewJeans," and with their torrid momentum it's hard to dispute the proclamation.
Blondshell
Who: Inspired by Elliott Smith and Patti Smith, Blondshell's Sabrina Teitelbaum is a keen-eyed lyricist in the vein of Courtney Barnett and is complicating the "sad girl" cliche by imbuing it with a dose of righteous indignation.
What: Nineties alt-tinged indie rock that meshes the rawness of grunge with evocative scene-setting (the sights and sounds of doomed love on "Olympus") and perfectly written, flawlessly delivered one-liners ("Momma, I'm adjacent to a lot of love," Teitelbaum sings on "Kiss City").
Where to start:
What's next: Blondshell is touring with Suki Waterhouse in early 2023 and has a bevy of festival dates lined up for the spring including The Great Escape and the Primavera slate. Her debut album, produced with Yves Rothman, is expected in 2023, too.
Hello Mary
Who: This scintillating trio already hailed as "the next great New York rock band" by Rolling Stone is composed of 22-year-old drummer Stella Wave, bassist Mikaela Oppenheimer, 18, and lead vocalist/guitarist Helena Straight, also 18.
What: "Ginger," the band's breakout single, boasts a thrilling quiet-loud dichotomy that jumps from '90s garage rock to Strokes-ish downtown New York alternative. The string of singles from their upcoming LP skew more reverb-drenched and psychedelic, with "Looking Right into the Sun" and "Spiral" serving as intriguing indicators of a more kaleidoscopic Hello Mary.
Where to start:
What's next: Hello Mary's self-titled debut album is out March 3.
Mercury
Who: The 21-year-old vocalist born Kennedy Malone is a preternaturally cool Atlanta rapper (and skateboarder).
What: Mercury told Pitchfork her influences include Young Thug, Three 6 Mafia, and Kid Cudi, all of which come across in her discography thus far. But she's far from derivative, imbuing her stuff with the spirit of Atlanta mavericks like Father (on "needalight") and punk rap provocateurs like Rico Nasty (on "wyha"). She even flips Queen's "Bohemian Rhapsody" with winningly weird results (on "freddie").
Where to start:
What's next: Mercury just released her EP, fear mercury, on Dec. 7, her second impressive project of the year. She also released a mix of her favorite 2022 musical discoveries for CRACK to cap off the year.
Biig Piig
Who: Ireland-born, London-based vocalist Jessica Smyth has a penchant for breezy, laid-back raps and earworm melodies. Under the name Biig Piig, she's been building a devoted fan base since 2017's "Vice City" and most notably released 2018's terrific Big Fan of the Sesh, Vol. 1.
What: Smyth's understated vocals work in a variety of musical contexts from shimmery neo disco ("This Is What They Meant") to minimalist trip-hop ("FUN") to Spanish-language trap ("Cuenta Lo"). The sounds of her 2022 singles skew more lush and uptempo, but there's no guessing where the rest of her forthcoming project will go.
Where to start:
What's next: Biig Piig's debut mixtape, Bubblegum, is out Jan. 20.
Shirley Hurt
Who: This Toronto singer-songwriter has one of those stunning Joni Mitchell-like voices that entrance you from the first note. Her songs are methodical and often devastating, but never without a hypnotic quality that keeps you pressing repeat.
What: Elegant, occasionally elegiac folk music that crackles thanks to intricate arrangements and the odd burst of woodwinds. Like Moses Sumney, Hurt's bewitching voice is at its most captivating on songs like "Problem Child" and "All Looks the Same to Me," where it feels as if she's whispering in your ear. Her bigger songs recall the delicate grandeur of Julia Jacklin, Haley Heynderickx, and Indigo de Souza.
Where to start:
What's next: Unclear. Her self-titled debut album just came out in December, and it's an LP worth spending a few months getting lost in.
Monaleo
Who: The next fiery star from hip-hop hotbed Houston, 21-year-old Monaleo always raps like the rent is due, and deserves to be mentioned among the most exciting names in southern music.
What: Known mostly for ferocious, downhill rapping on songs like "Suck It Up" and "beating Down Yo Block," Monaleo showcases a capable singing voice on her lovelorn NoCap collaboration "Miss U Already." Brash bars are still central to her appeal ("These is facts—any bitch could vouch for me / I can't break no bread if you wasn't sleeping on that couch for me"), but she's honed her overall songcrafting abilities to the point that she's ready to release a full body of work.
Where to start:
What's next: A debut album is coming in 2023, per The Guardian.
Colleen Dow
Who: Colleen Dow is an indie solo artist and the frontperson of thank you, i'm sorry, one of the Chicago alternative scene's best kept secrets. Dow's 2022 EP, Inside Voices, is a facund thesis statement capturing dreamy chord progressions and idiosyncratic lyrics.
What: Dow's solo catalog is filled with gossamer bittersweet pop rock that utilizes homespun drum machine patterns and delicately layered guitars and synths to create the feeling of a warm, enveloping quilt. Inside Voices is filled with confessional lyrics delivered with palpable emotion, but also considerable restraint in Dow's conversational style. "But you're probably mad/ And I get it, I do/ I wish my bad habits didn't affect you too," they sing on EP opener "Bummer Summer."
Where to start:
What's next: They've got studio sessions planned for the top of 2023 with a record hopefully coming later in the year.
Adanna Duru
Who: The TikTok mastermind behind the hilarious "Music @ white clubs be like" series Adanna Duru has a voice that's dynamic and powerful enough to cover SZA and sing sly, seductive slow jams, too. Duru appeared on both American Idol and The Voice, but the irreverent sense of humor she's shown on social media has helped her develop a fanbase and distinct identity.
What: Duru's original discography is scant, consisting of the simmering "Boogie" and the hypnotic, hip-swing "POP!" But the two tracks showcase plenty, with the former highlighting her honeyed voice and the latter proving she can pen a lighter-than-angel-food-cake summer smash.
Where to start:
What's next: Duru's next EP, The Nappy Hour, will be released in 2023.
mui zyu
Who: mui zyu is the solo project of Eva Liu, lead singer of the acclaimed British outfit Dama Scout. As mui zyu, Liu paints rich, visceral lyrical portraits ("Don't look, honey, stay inside the rice bowl/ Eat them all or you will be alone," she sings on "Yolk").
What: Evocative, experimental pop filled with burbling percussion and unnerving textures, mui zyu's music further reduces the deconstructed indie stylings of Dama Scout and builds something new with a Björk-ish, avant-garde edge.
Where to start:
What's next: mui zyu's Rotten Bun for an Eggless Century, is due out Feb. 24.
Sobs
Who: This Singaporean indie rock trio can sound like The Cranberries, Alvvays, and Real Estate depending on the mood that strikes them.
What: Members Celine Autumn, Raphael Ong, and Jared Lim craft gossamer tunes with lo-fi sonic landscapes and top 40 hooks. It's not hard to imagine them becoming one of those bands routinely racking up eight-digit streaming numbers despite minimal industry support.
Where to start:
What's next: The band's North American tour in support of Air Guitar goes from February through March 2023, including a stretch of SXSW shows that could turn Sobs into a stateside sensation.
The Dare
Who: The Dare, the latest musical project of downtown NYC cool kid Harrison Smith, is your favorite celeb's (from Kaia Gerber to Charli XCX) newest obsession.
What: Perhaps the purest incarnation of the indie sleaze revival, The Dare's only single to date, "Girls," sounds like LCD Soundsystem's "Daft Punk Is Playing At My House" meets Nine Inch Nail's "Closer." It's gleeful, seedy fun filled with absurdist lyrics ("They say I'm too fuckin' horny/ Wanna put me in a cage/ I'd probably fuck the hole in the wall/ The guy before made") and shouted vocals that ping pong around your head.
Where to start:
What's next: TBA. But whatever it is, the chicest folks in lower Manhattan will be grooving to it.