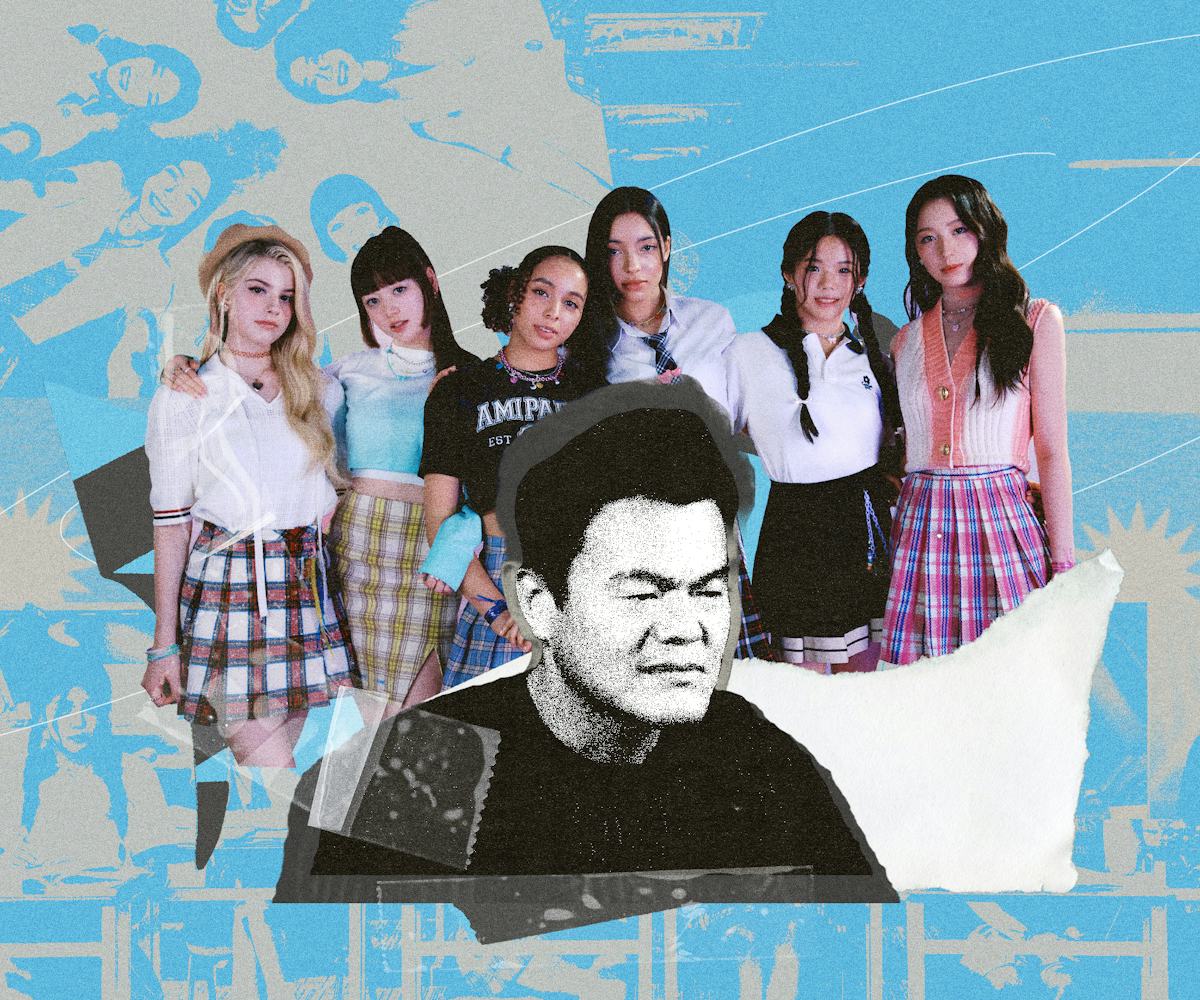 How Do You Create An American K-Pop Girl Group?
Inside the formation of VCHA, two record labels' attempt to do just that.
In September 2022, hundreds of young women from across the United States and Canada auditioned for a new reality singing show. They were between the ages of 12 and 17 years old, and accomplished in many different ways. But only six would make it through the finale to become a North American rarity: a girl group. A K-pop-inflected one, at that.
Meet VCHA — Lexi, Camila, Kendall, Savanna, KG, and Kaylee: the winners of the star search program A2K, or America2Korea. Hosted by Republic Records and JYP Entertainment, the competition created the first of its kind: an L.A.-based, American girl group guided by K-pop principles. Brought together by their love of K-pop, its six members hail from a mix of cultural heritages and performance arts training styles, and its name is already a premonition: VCHA, drawn from the Korean word 비춰 (bit-chwo), meaning "shine" or "illuminate," exemplifies their hope to become the next in a long line of successful JYP-produced girl groups.
"I just think the most amazing aspect about us is that we all come from different backgrounds," Camila tells NYLON over a morning Zoom from Seoul, a few days after VCHA released its first-ever songs. "I think it's really cool that other people are watching us and can feel represented, can feel that they can also achieve this dream of becoming a K-pop artist."
If you took a cross section of North America, you'd get something like VCHA: Lexi, 17, who is Hmong, is the leader of the group. She's trained in ballet, and got into K-pop while exploring hip hop dance; Camila, 18, comes from a very musical Cuban family (she and her brother competed on The Voice Kids France), and is the group's sole Canadian, hailing from Quebec; Kendall, 17, from Texas, is of Vietnamese descent; Savanna, 17, a former pro gymnast, grew up in Florida to Venezuelan and Trinbagonian parents; L.A.-native KG, 16, who may very well be the first white K-pop star to debut under a major South Korean label, has played guitar with her family band since she was young; Kaylee, 13, is the team's sole member of Korean descent and grew up doing taekwondo and dreaming of stardom.
As much as VCHA is a cross-cultural collaborative attempt at making what works so well — K-pop, one of the world's biggest rising markets, and the U.S. music industry — work even better, it's also an attempt at something they haven't yet conquered: creating a successful American girl group.
Since the dawn of modern music there have been single-gendered groups that have taken off, but in the U.S., all-American girl groups haven't had a big moment in ages, since the hiatus of Fifth Harmony. K-pop groups like BLACKPINK, TWICE, and NewJeans have had their own presences, as have British groups like Little Mix and FLO. But in the past decade, or even two, homegrown girl groups have been mostly missing in action. JYP and Republic are hoping to change that.
"I do agree that it is very difficult to make a girl group, or boy group, very successful [in the US] but I think people love them if it works," says Daniel Hong, an L.A.-based JYP Entertainment manager spearheading VCHA. "The way we see it, VCHA is positioned in a unique way because they are a group coming out of the K-pop system, which, as you know in K-pop, [whether it's] a girl group or boy group, everyone's pretty successful. So that's definitely not the main concern. Also they're sitting in a mainstream pop space where, yes, it is difficult, but when it happens, it's wildly successful. We are very optimistic."
KG
Lexi
SavannaPhotos by JYP Entertainment
The members of VCHA didn't grow up with many American girl groups to look up to but they did grow up with K-pop which inspired them down the path to stardom.
KG wanted to become an idol after seeing girl group ITZY perform at KCON. "It's the fashion, the choreography, the whole visual part of it," she says. Kaylee, meanwhile, grew up listening to JYP-born K-pop groups like Miss A and 2PM with her mom. Before A2K, she had auditioned for "eight or nine" other K-pop star search programs. "The most influential group that I remember is TWICE, especially [2016's] 'TT,'" she says. "They really inspired me, and I wanted to be in a group and I wanted to be in a team where people understood my love of music."
Lexi similarly got into K-pop when she was 11 or 12 after becoming interested in contemporary dance styles. "Because K-pop is very big in the dance aspect, I just kept learning K-pop dances until I got older," she recalls. "Then, seeing all of these idols perform on stage, I really wanted to be able to do the same so I started auditioning."
Following the YouTube broadcast of A2K's finale on Sept. 22, VCHA went on South Korean music shows to promote their debut single "Y.O. Universe," released on the three-song album SeVit, or "New Light." But they're technically all still training at JYP's headquarters in Seoul, honing their raw talent to meet K-pop's high standards, with an official debut expected in 2024.
For hours every day, they're polishing their vocal tones with the big work being perfecting K-pop's famously sharp dance performances. The members say the show cut out a lot of their efforts to get dances down; spending upwards of five hours a day dancing was, and remains, typical. It's especially been a challenge for KG, who didn't dance before A2K began. But, with support from the other members – as the show depicted the then-competitors giving one another advice when it came to their shortcomings – she's been able to get to a professional level quickly.
Right now, all parties involved are also trying to determine what VCHA's musical identity will look like since the songs on SeVit were somewhat generically created for any of the contestants to sing, not necessarily the six winners of VCHA. "Basically [Sevit] is the thought process between the show to their first public facing performance, and then [there will be] new music and future music," says Hong. "Now they're trying to find out what will be the right kind of music, what will be the right sound, whether it's sonically or concept-wise for a new group."
This discovery process has actually been going on longer than A2K's airing dates: Though the finale aired in September 2023, it was filmed around a few months prior. This means VCHA had to spend time incognito as they trained at JYP's hub in Seoul, even as they saw fans eagerly cheering on their favorite contestants and reacting to the show as it aired.
"We did have to keep everything quiet and not go out to places too often," says Savanna with a laugh. They remember walking around their neighborhood, trying to keep a low profile, and sometimes getting asked if they were the winners from A2K. "At the time, we couldn't really spoil anything, so we were like, 'No pictures, sorry!'"
Camila
Kaylee
Photos by JYP Entertainment
JYP has come a long way since its first concerted push into the U.S. market with Wonder Girls in 2009. For years now, the label and Republic Records have worked together promoting JYP's biggest acts like TWICE and Stray Kids, who have grown to host stadium tours in North America. But they acknowledge they're still entering unknown territory with VCHA.
"There is no magic formula," says Hong, about whether the K-pop effect will work for VCHA. "I think they will have to put out good music and they will have to be very active in terms of promotion and all that. The way they mingle with the fans will be different from the way things are done here in the U.S. because in K-pop, generally, there's a lot more ways to interact with the group, not just social media. And we plan to do a live performance when it's possible. That's pretty critical to us."
How do the girls of VCHA themselves feel being the first of their kind to enter the playing field? "It's obviously nerve wracking," Savanna admits. "It has not been done before, so you don't necessarily know exactly how the audience is going to react, but I think we're all just trying to stay confident and keep working hard. And whatever happens, happens. It's new. Some people like new things, some people don't."
"I think we hope for a big impact with our debut like… BOOM," KG adds. "We're here."
VCHA won't be the only attempt at this hybrid K-pop-meets-western model girl group for long. As the group prepares for its debut, other K-pop companies are working in collaboration with American counterparts to create their own international, K-pop-trained girl groups, such as HYBE Corp. and Geffen Records teaming up for The Debut: Dream Academy project.
And then, there are the pricklier parts of managing a teen idol group. As public scrutiny for how minors engage with the K-pop industry ramps up, there's the question of how the label will handle the VCHA members, Kaylee, who began appearing on A2K when she was just 12, in particular.
Per Hong, this is a concern they're mitigating by ensuring VCHA "from the get go" operates by California's regulations for minors working in the entertainment industry, which means limiting hours working each day (6 hours for younger minors, 8 for older ones), providing educational tutors, and having guardians present when necessary.
"That rule has been put together and followed until today and it'll be followed until later," says Hong, explaining they instituted the guidelines while filming A2K and have kept to them ever since. "There are concerns regarding quality because we're competing with other groups that are not necessarily following the same guidelines like we do. But it is something that we can't really cross. We're not going to cross that line."
The group's culturally-diverse makeup is also a big change for JYP and K-pop in general, where diversity is typically made up of different Asian nationalities or biracial backgrounds. At times, K-pop's relationship with diverse perspectives and cultural appropriation has led to conflict between artists, who predominantly live in and operate (though not always) in homogeneous spaces, and their fans and outside audiences. Companies like JYP provide some media sensitivity training as part of their K-pop schooling, but artists more often than not are held accountable directly by fans. VCHA's members, presumably, will be bringing very different perspectives to the field.
"Although they're young, we believe that each girl understands they represent their cultures," says Hong. "Each girl has their own opinion, which will be respected, and they'll also learn how to navigate these things."
For now, the opportunity for them to become the role models that others will look up to is a major factor fuelling VCHA toward their shining future.
"As we were growing up, since we're all from diverse backgrounds, we would naturally gravitate towards characters that represented us in fiction, animation, anything like that," says Kendall. "So for us to be able to go up there and maybe be that for somebody else, someone that they can look up to that came from the same background as them, someone that can prove to them that it's possible to follow what you want to do and be yourself in the industry, I think that is one precious important thing about being VCHA."