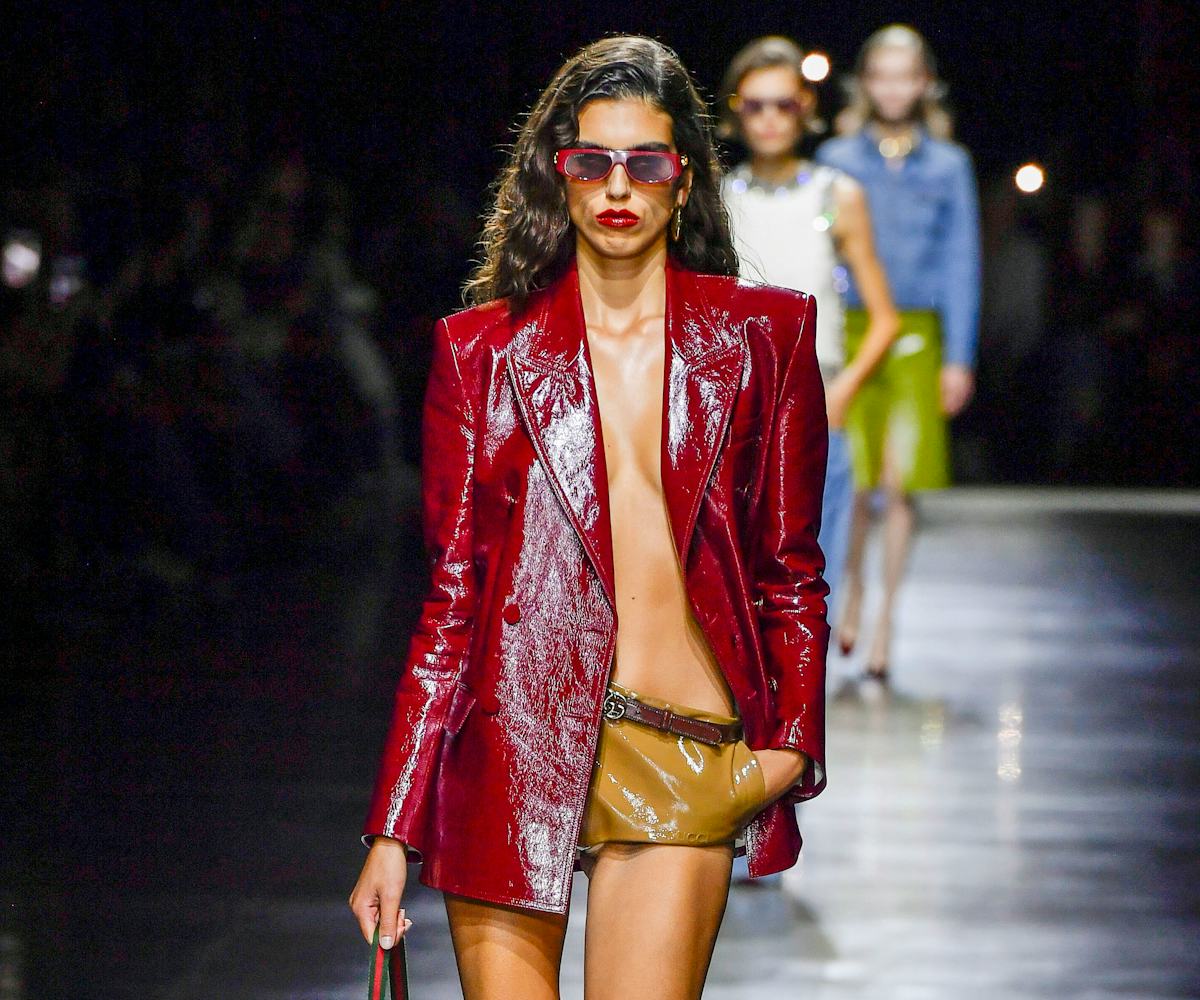 Victor VIRGILE/Gamma-Rapho/Getty Images
The Best And Buzziest Moments From Milan Fashion Week Spring 2024
Including tons of celebrity appearances, highly-anticipated debut collections, and more.
Milan Fashion Week is over, and compared to its counterparts in New York and London just weeks before, it is undoubtedly the most exciting week from the global circuit so far. Over the last seven days, Milan gave fashion month the most talked-about moments of the season with front row sightings, great new clothes, and trends we'll see well into 2024.
After the news of Alessandro Michele ending his eight-year tenure at Gucci, Sabato de Sarno dropped his first-ever show for the fashion house titled "Gucci Ancora," but he wasn't the only one to make a debut. At Tom Ford, Peter Hawkings doused his line with silhouettes that made his predecessor, and the brand, famous to begin with.
Trends in Milan balanced eccentric styles and minimalist staples, but the ones that made the most impressions this season embraced the "quiet luxury" look. MFW also left us with unforgettable presentations including Sunnei's crowd of judges and Diesel's runway party.
Before heading to Paris for the last stop in the fashion month calendar, read more to catch up on the top moments you missed from Milan Fashion Week, below.
The Front Row Was the Most Star-Studded So Far
Similar to that of New York and London, celebrities at Milan Fashion Week are what make the week-long event feel even more worth the wait. While bustling around the Italy capital, the top shows gave the most star-studded front row. Fendi kicked it off MFW with a bang — Cara Delevingne and Charli XCX were seated beside each other along with supermodels Naomi Campbell, Linda Evangelista, and Kate Moss. Gucci invited a slew of A-listers to ring in a new creative director — Bad Bunny and Kendall Jenner were front and center, along with Paul Mescal and Ryan Gosling. Korean celebrities, as they always do, sparked buzz throughout the week which included NewJeans' Hanni, IVE's Ahn Yujin, TWICE's Sana and Momo, among others.
Bad Bunny and Kendall Jenner at the Gucci Spring 2024 runway show.Jacopo M. Raule/Getty Images Entertainment/Getty Images
Twice's Sana and Mei Nagano at the Prada Spring 2024 runway show.Jacopo M. Raule/Getty Images Entertainment/Getty Images
Demi Moore at the Versace Spring 2024 runway show.Daniele Venturelli/WireImage/Getty Images
NewJeans' Hanni and Halle Bailey at the Gucci Spring 2024 runway show.Daniele Venturelli/Getty Images Entertainment/Getty Images
Sabato De Sarno Rang In A New Gucci Era
When Alessandro Michele departed Gucci after eight years, we knew the brand would be getting a much-needed makeover. For nearly a decade, Michele made Gucci the "Gucciest Gucci" it's ever been, and to not see the brand in all of the flashy sequins and over-exaggerated prints seemed almost unimaginable. Earlier this year, the luxury house announced Michele's successor to be Sabato de Sarno, who's worked on Pierpaolo Piccioli's design team at Valentino, and his debut in Milan was the buzziest yet.
On Sept. 22, De Sarno dropped his first-ever collection for the fashion house titled "Gucci Ancora," which translates to "Gucci Again." He kicks off his tenure with silhouettes ranging from statement sets to tiny shorts and bedazzled ensembles; and standout accessories, including the Jackie bag and platform mules. De Sarno's new collection was met with mixed reviews, as expected, but maybe it's because we've all gotten too accustomed to Michele's gimmicky vision of the brand.
Victor VIRGILE/Gamma-Rapho/Getty Images
Victor VIRGILE/Gamma-Rapho/Getty Images
Victor VIRGILE/Gamma-Rapho/Getty Images
Victor VIRGILE/Gamma-Rapho/Getty Images
Quiet Luxury Is Still Trending For Spring 2024
Fashion is currently wrestling with the quiet luxury trend — some say we're completely over it while others are still relishing in the "IYKYK" of it all. Regardless, one thing's for sure: we're still going to dress like we've cashed our inheritance checks for Spring 2024.
The hush-hush nature of clothes resumes for Spring. Unlike what we've seen in New York and even London, most Milan designers showed they didn't care for the frills and florals this time around (apparently, it's not groundbreaking enough). Instead, brands from the ranks of Bottega Veneta, Ferragamo, Fendi, and Jil Sander opted for simplicity with an emphasis on the subtleties. The reason behind the "less is more" theme of MFW is simple: you don't need loud prints or unconventional shapes to demand the room.
Bottega Veneta Spring 2024Victor VIRGILE/Gamma-Rapho/Getty Images
Fendi Spring 2024Victor VIRGILE/Gamma-Rapho/Getty Images
Ferragamo Spring 2024Justin Shin/Getty Images Entertainment/Getty Images
Jil Sander Spring 2024Ozan Yilmaz/Getty Images Entertainment/Getty Images
New Faces and Forever Muses Hit the Versace Catwalk
Versace gave us what surprisingly no other runway has this season so far: a celebrity-studded catwalk. For Spring 2024, Donatella Versace swapped out her signature bold approach for pastel dresses, balletcore Mary Janes, and bow-adorned accessories; and what better way to introduce the brand's new design direction than through the biggest names in the industry?
Kendall Jenner opened the show in a white A-line mini dress, while Gigi Hadid showed out in a light yellow sequin gown. There were more surprises in store: Natalia Bryant walked her first-ever runway wearing all black; and Claudia Schiffer, an OG Versace muse in the '90s, closed out the show in a mint green look.
Gigi HadidVictor VIRGILE/Gamma-Rapho/Getty Images
Natalia BryantVictor VIRGILE/Gamma-Rapho/Getty Images
Kendall JennerDaniele Venturelli/WireImage/Getty Images
Claudia SchifferVictor Boyko/Getty Images Entertainment/Getty Images
Sunnei's Guests Rated The Looks As It Came Down the Runway
We've seen a lot of gimmicks and theatrics this season, but if there's any show that does it well, it's none other than Sunnei. From models sprinting down the catwalk in Fall 2022 to crowd surfing in Fall 2023, guest participation seems to always be a requirement for the brand, and its recent showing at Milan was no different.
Sunnei's Spring 2024 presentation turned its audience into a fashion jury. Attendees were handed numbered paddles and then asked to rate each of the looks on a scale of 0 to 10. All 30 outfits, ranging from upcycled denim to braided skirts, were subjected to the audience's critiques — and while that could be a blow to anyone's pride, designers Loris Messina and Simone Rizzo welcomed not only guest participation but the ability to express opinions freely.
WWD/WWD/Getty Images
WWD/WWD/Getty Images
Tom Ford Spring 2024 Paid Homage to Its Beginnings
Tom Ford launched his eponymous label in 2005, but it was even before then, during his decade at Gucci from 1994 to 2004, where the Texas-born designer built his brand identity on proactive glamour. So when Ford announced his departure from his label in April, the news coming after the namesake house was sold to Estée Lauder for $2.8 billion, questions began to circulate about how and who would carry on its legacy.
Peter Hawkings, Ford's protegé for 25 years, took the reins of the brand and showcased his collection on Sept. 21. The runway was flooded with 57 looks — fitted suits and revealing ensembles — that, intentionally or not, paid an homage to Ford in his '90s glory days at Gucci, and Hawkings' debut solidified the brand's direction toward nostalgia.
WWD/WWD/Getty Images
WWD/WWD/Getty Images
WWD/WWD/Getty Images
WWD/WWD/Getty Images
Diesel (Literally) Brought the Party to Milan Fashion Week
Since Glenn Martens took over Diesel as artistic director back in October 2020, he's had a clear agenda not only on the brand's potential but to unapologetically push boundaries within fashion. On top of showing his reinvention of denim offerings in front of a world record-breaking inflatable for Spring 2023 or constructing a condom mountain for Fall 2023, Martens is also known to share, never gatekeep, his collections to the public. His Spring 2024 show was yet another example of bringing Diesel to the masses.
The rain didn't stop 7,000 attendees from attending the show on a Wednesday night. Held at an old railway yard in Milan, there was a raised runway in the middle of the field and giant movie screens that displayed models as they took over the catwalk. The collection carried on from what we've seen previously from Martens: reimagined denim, "D"-adorned accessories, and neon pieces thrown in here and there. But after the show ended near 10 p.m., the festivities started, and from what we heard, it was a rave-like atmosphere with free booze involved.
WWD/WWD/Getty Images
WWD/WWD/Getty Images
WWD/WWD/Getty Images
WWD/WWD/Getty Images