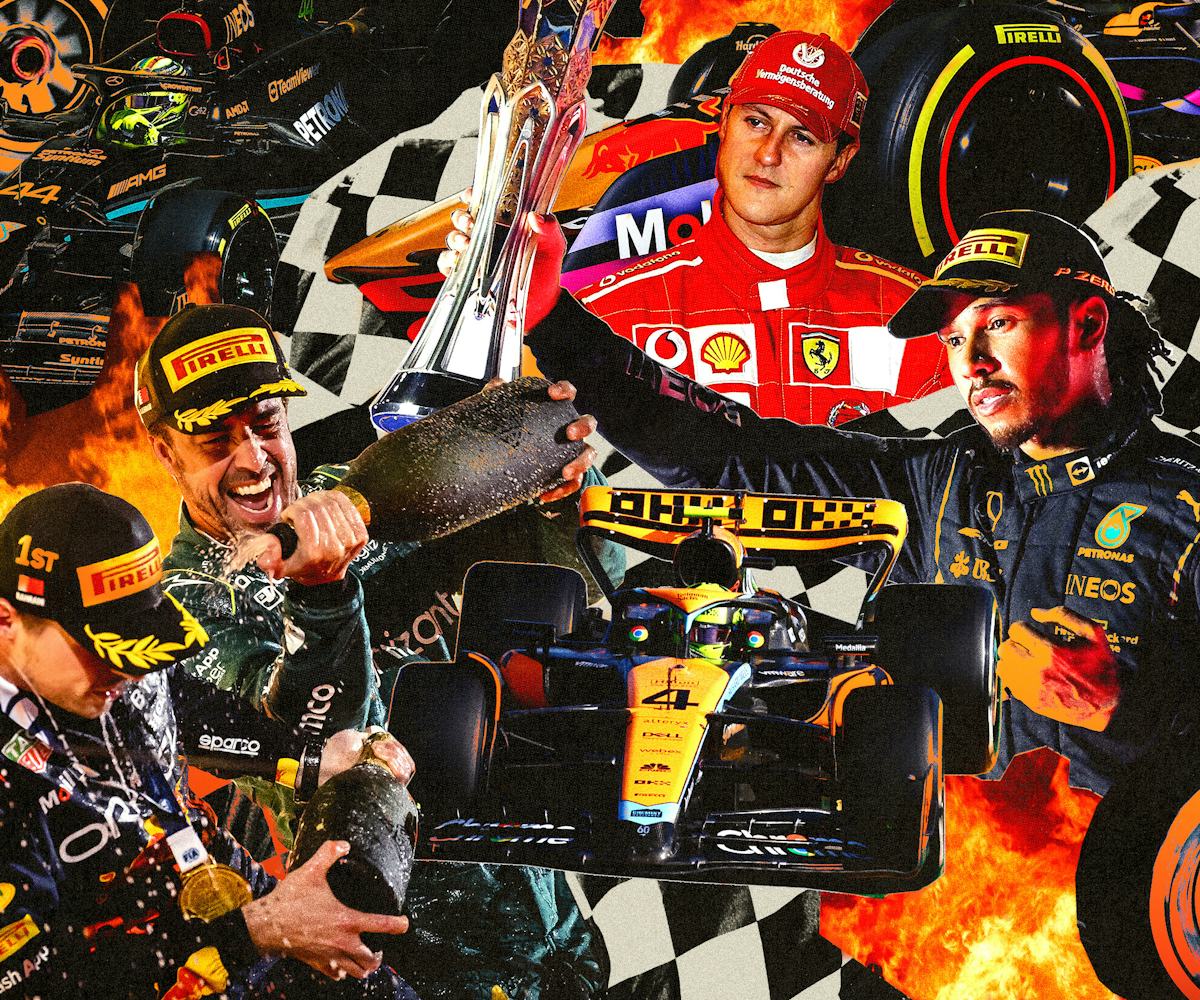 Lindsay Hattrick/Nylon; Getty Images
A Beginner's Guide On Getting Into Formula 1
Amp up your newfound Formula 1 fandom with NYLON's ultimate beginner's guide to the European motorsport.
Formula 1 has amassed an overwhelming amount of fans and support from all over the world in just a few short years. The open-wheel sport, originally establishing its roots in Silverstone during the '50s, isn't new by any means, but its popularity has skyrocketed thanks to the likes of Netflix's Drive to Survive and viral clips on and off the track that feel so niche, from the exhilarating battles to the intense rivalries between drivers that play out with each grand prix, it's practically the cool kids' right of passage at this point. These days, the motorsport is even co-signed by A-listers like Anne Hathaway, who told Daniel Ricciardo she's a fan of F1 at the 2023 Met Gala, Paris Hilton, Cameron Diaz, Gordon Ramsay, and other notable names.
There are tons of aspects to enjoy about the sport — the drivers themselves, the mechanics behind the scenes, the team principals, and the cult-like fandom culture. But for those finally making their way to the "dark side," you might wonder where one should begin. Ahead, read on to see NYLON's ultimate rookie handbook for incoming F1 fans, including how to watch the races live and keep up to date with the teams.
Do Your Research
No matter the sport or topic, it's crucial to do your due diligence for a clear understanding of events and the nuances to follow. There's no specific manual on how exactly to research Formula 1, but with a rich 70-year history, there's an answer for just about any question you have in mind. We recommend looking into the frequently asked ones to fuel your curiosity: For example, what are the levels of the Formula series (there are four), and what are the basic rules of the sport? Who exactly is Lewis Hamilton (he's a seven-time world champion, by the way), and how many teams are on the grid (there are 10 in total)? It also helps to get acquainted with F1-specific terminology, too (it's probably the closest thing to a STEM career that my writer brain will get.)
Yes, You Need To Watch Drive To Survive
Some longtime F1 fans might get upset at this suggestion but seriously, Netflix's Drive to Survive is the starting place for every hopeful fan, even curious minds. With five seasons and 50 episodes under its belt so far, the Netflix docu-series offers insight into the world of the drivers and their teams. What makes DTS such a popular show is the backstage access we normally wouldn't see at a typical race weekend, and the reality TV-fication of the sport also keeps us anticipating dramatic — and meme-able — moments.
Listen To F1 Podcasts Regularly
As someone with very few friends invested in Formula 1 along with me, I feel lonely in my obsession at times. Nowadays, I usually get my dose of community by listening to podcasts. Every week, I tune into episodes led by today's top F1 creators who are revolutionizing the conversations surrounding the sport through in-depth breakdowns and special segments. Some favorites include Quick Stop F1, the Red Flags Podcast, and F1's Beyond The Grid; with the rise of the sport, some creators are even hosting their very own IRL recordings.
Tune In Live Every Race Weekend
For whatever reason, there's a trend happening at the moment where new fans aren't actually watching the sport, but we don't recommend doing that (like… at all). The actual competition makes F1, and the fandom, so much more interesting, and thankfully, it's accessible via the official Formula 1 website for less than $10 a month, or about $80 a year. We admit it's a hefty price to pay upfront but well worth it, as the quality and exclusive features — like viewing live stats, hearing the commentary, and watching driver-specific angles — prove to be crucial. No matter what time zone you reside in, the site details when to tune into the practices, qualifying sessions, and the actual race.
Watch Archival Clips And Interviews
It's interesting, and comforting for longtime viewers, to rewatch how Formula 1 once played out in the past. The beloved European classic is always evolving and studying throwbacks will make you an F1 expert in no time. The archives are full of heated moments, tragic and near-fatal incidents, spicy press interviews, and more. It also helps to learn the names of legends that made F1 history like Michael Schumacher and Ayrton Senna, and record-breakers like Lewis Hamilton. Soon, you'll realize the sport has been entertaining from the jump.
Keep Up With Online Discourse
What makes Formula 1 all the more interesting is not only what takes place during the season, but the drama and discourse to follow when the cameras are off. As mentioned, there's never a dull moment in the sport, so expect to see updates often like the FIA's seemingly never-ending rule changes to the sport, speculation during "silly season" — the time of the year when rumors of which driver is jumping to which team — and personal announcements made by teams themselves (as in, which team principal is leaving this time?!).
Build Community On Social Media
Aside from reading F1 tweets like it's the morning newspaper, social media is also the best way to stay in touch with other fans — a task that may take some effort, but will ultimately prove to be rewarding. Despite the flaws of stan culture, the F1 community is bonded by mutual interest, love, and passion for the sport, the drivers, the team, and the overall future of the competition. Whether it's through a subreddit discussion or in the YouTube comment section, you can follow along with fans all over the world. Perhaps you'll even find a group of people to host an F1 Fantasy league with as well.
Follow Your Favorite Drivers And F1 Personalities
A person's true sign of stan-dom is a follow on social media. Aside from the official Formula 1 accounts, there's an endless pool of content waiting to be seen from individual teams, drivers, team principals, and sports commentators, especially during those off-season breaks in between. Seeing the personalities shine outside of the car makes the races all the more compelling. No disrespect to a man in uniform, but watching the boys in their downtime via Instagram thirst traps and late-night carousels at the club can be just as exhilarating as a grand prix race.
Support Small And Independent F1 Stores
The F1 brand has lots of money flowing to and from. As the sport grows in popularity, so does the number of small and independent F1 brands popping up. Whether these shops are creator-led or by longtime fans wanting to spread their passion further, they're deserving of their flowers and coin nonetheless. Our spotlights feature RaceWknd's gigantic coffee table books and Parc Fermé's mini shop for T-shirts and tote bags.