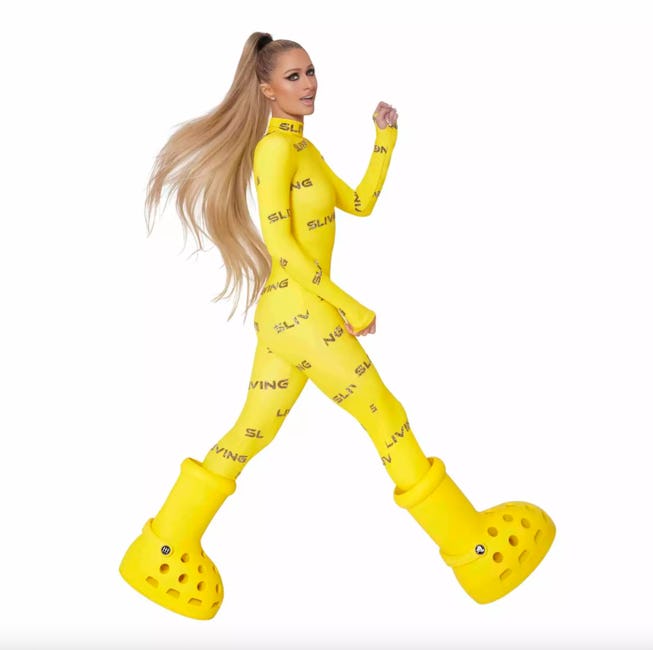 MSCHF
The MSCHF x Crocs Big Yellow Boot Debut Has Paris Hilton Sliving
Art collective MSCFH and Crocs tapped Paris Hilton for the debut of their Big Yellow Boot.
Paris Hilton can pull off anything — there's her 21st birthday disco dress, her Juicy Couture sweatsuits and UGGs, her recent Marc Jacobs campaign for the return of the iconic Stam bag, to name a few. The latest must-have item in her dreamy closet? A Big Bird-colored pair of giant Crocs stompers for her MSCHF x Crocs campaign.
The Crocs Big Red Boot (Yellow) was created by Crocs and art troll collective MSCHF, who is famous for made-you-look creations like Satan sneakers done in collaboration with Lil Nas X (made with real blood) or Tiffany and Co. participation trophies. The Crocs Big Red Boot (Yellow) is a take on MSCHF's own creation The Big Red Boot, the cartoonish monstrosities that were the subject of many of meme in the winter, but also became Fashion Week's unexpected favorite footwear. They've since been seen on celebrities like Diplo, Janelle Monae, and model Sarah Snyder.
"Big Red Boots, now yellow with holes in them! We're mixing two samples to create something totally transformed and instantly recognizable," MSCHF's website reads. "Crocs' distinctive hole pattern and strap get transposed onto the big red boot silhouette. Feel the breeze: If your toes can get wet in the rain, it's technically a sandal. No jibbitz."
MSCHF and Crocs' big yellow boot was actually revealed during the most recent round of Paris Fashion Week last month, by Tommy Cash in a mime-inspired outfit at Rick Owens' Spring/Summer 2024 show. But for an on-sale announcement, nothing will make you click more than a Kill Bill-inspired Paris Hilton campaign, especially when paired with a bodysuit with one of her favorite catchphrases: "Sliving." If there's anything MSCHF knows how to do, it's make you click.
The Crocs Big Red Boot (Yellow) retail for $450 and are out August 9 via MSCHF's website and MSCHF Sneakers App at 2pm EST via raffle.