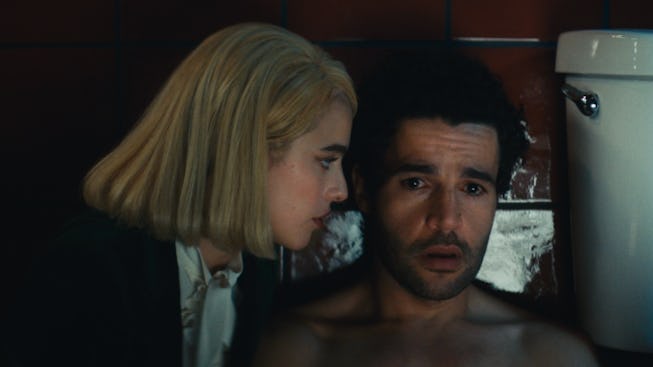 NEON
Margaret Qualley & Christopher Abbott Star In Sexy Thriller Sanctuary
Sanctuary is a tale as old as time: The power struggle between a dominatrix and her favorite client.
Erotic thrillers are having a well-deserved moment. Theres Ti West's X, Pearl and soon to be MaXXXine, the trilogy that made Mia Goth a breakout star of the genre; there's Sydney Sweeney's Rear Window-esque The Voyeurs and Brandon Cronenburg's Infinity Pool (also starring Mia Goth). Now, a new erotic thriller-dramedy is coming: Sanctuary, a new film starring Margaret Qualley and Christopher Abbott that takes a BDSM bent to the genre.
It's a tale as told as time: Qualley plays Rebecca, a dominatrix, while Abbott plays Hal, a millionaire who tries to fire her as he assumes the position of taking over his father's empire in the wake of his death. (Yep, big Succession energy.) Only, when he tries to fire her the boundaries between life and play get fuzzy. The film takes place over the course of a night in a single, claustrophobic hotel room where you're never really certain who has the power.
The film was directed by former film critic Zachary Wigon who made the psychological romance The Heart Machine with a script by Homecoming co-creator Micah Bloomberg. It premiered at the Tortonto International Film Festival earlier this year. Qualley, who also executive-produced the film, calls is a "bizarre love story," and recently spoke to Collider about the role, hinting that playing a dominatrix isn't exactly what people would expect. "That lends itself to a connotation that makes it seem like a lot more sexy than it really is. In reality, it's not S&M or anything. It's psychological domineering," Qualley said. "But it was so fun."
Abbott is best known, of course, for his role as Marnie's boyfriend Charlie in HBO's Girls, which you're hopefully rewatching (including his stunning performance in the Season 5 episode "The Panic in Central Park," where the dark fate of his character is revealed.) He also starred in Brandon Cronenberg's Possessor. Qualley, on the other hand, was most recently heard on a voicemail in Lana Del Rey's album closer "Taco Truck x VB" and will star as as Ginger Rogers in the biopic Fred & Ginger.
Sanctuary will be released in theaters by Neon on May 19. In the meantime, you can watch the trailer, below.