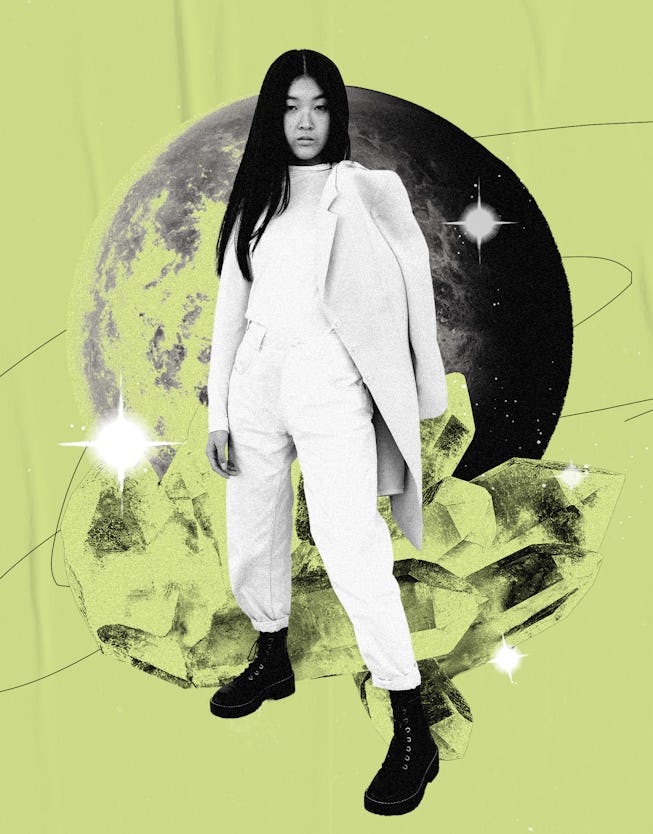 Your Venus Retrograde In Leo 2023 Survival Guide
As Venus retrogrades in Leo through September, prepare for a grand makeover — and some romantic reckonings.
Even in the cold, capricious cruelty of space, beauty endures. Enter Venus, the scorching-hot planet of art and beauty. Blasting through the signs, Venus affords you the gifts necessary to find love, friendship, and optimum creative success. So what happens, every 18 months, when Venus retrogrades — seemingly going backward in her orbit? From July 22 through September 3, Venus lurches back in Leo, setting off a cinematic reboot of the feminine, the romantic, and the delusive. What does this symbolic stall spell out for your chart? And how will Leo's penchant for theatrics set you off when the summer comes to a melting point? Consult our guide to get through this gauntlet.
THE SETTING: VENUS IN LEO
Venus entered Leo on June 5, joining her shadow sister Lilith in the Lion's Kingdom, where both remain until October 8. Leo is the sign of visibility and affirmation, of realizing one's intrinsic nobility and expressing it completely. When Venus is in Leo, the assignment, in the words of Leo Geri Halliwell, is: Look at Me. She demands not only love, but adoration. In this incarnation, she manifests as a primadonna.
And then there's Lilith. If Venus knows what it is to be adored, Lilith has collected more, um, varied experiences. She represents the primeval "night hag," the wanton seductress, the archetypal woman whose sexuality threatens the rule of the masculine mainframe. In Leo from January through October 2023, Lilith inspires you to throw a table rather than diminish quietly, to wear your rejection as a badge of honor. They wronged you. Now they have to watch the show.
When Venus retrogrades, she is said to descend into the underworld, into the realm of Persephone, Inanna, and Illyana Rasputina. Here, the divine feminine may be idolized for her madness, her savagery, and all within her that the surface world would deem abject. When Venus last retrograded in Leo, in 2015, Trainwreck made a matinee idol out of a hot mess; Carly Rae Jepsen released her confessional masterpiece Emotion; and UnReal debuted two of TV's most savage (and likable) antiheroines ever.
With Venus and Lilith in Leo, you must honor every one of your aspects: to stop correcting and start accepting. Your lovers, collaborators, family, and friends would be wise to do the same — or else. It's not to say that you should act like a millennial cliché and glamorize your pathologies. But if, once in a while, something volatile and vengeful erupts in you; if, every now and then, you just want to tear everything to f*cking pieces, wouldn't it be better to give your shadow side a stage, so she can let it all out?
VENUS RETROGRADE 2023: REVENGE OF THE FEMME
This year's Venus retrograde coincides with the premiere of Barbie, a glossy, premium-pink semi-satire from Margot Robbie and Greta Gerwig. And, as with 2021's Venus retrograde, this round runs parallel to a new season of And Just Like That. Both properties have made intentional, varied efforts at expanding their palettes, at blowing up their own prescriptions of beauty. Why not just drip everyone in glamour? If Venus were preparing for her resurrection from the underworld, she'd be disappointed by the macho-saturated, man-boy dystopia to which she's rising. Barbie and AJLT, then, function as high-femme propaganda machines, arming and recruiting an army of girlies to embrace unironic, outré glamour.
And so you are invited to embrace grand romance, to ditch the drudgery in your closet and let yourself be seen. This isn't a rote makeover but a chance to scramble the coding of your matrix, to incarnate your supreme, cinematic form. Carrie Bradshaw and Barbie don't lean on irony, cynicism or subtlety to prove their intelligence. They're in on the joke, and they use style to confront the 2D world around them. Suit up and join the fray.
Matt Winkelmeyer/WireImage/Getty Images
Cindy Ord/Getty Images Entertainment/Getty Images
VENUS IN LEO 2023: THE NEW MOVIE STARS
Loh! We continue to hear complaints, from all over Hollywood, bemoaning the "death of the movie star." The personal crises of actors like Jonathan Majors and Ezra Miller wobble even the sturdiest of tentpole franchises. And outside of cinema, influencers make craven grabs at fame, with no heart or substance. Fortunately, Venus is here to clean up the mess.
Leo is the sign of the king, of the exalted hero who inspires the best in their people. With some special exceptions, the stars of this era aren't up to the job. It's your turn. This retrograde is an invitation to clean up your social media, to consider the impact your speech — or, better yet, your silence — has on the ecosystem around you. How could your integrated, authentic expression shift the consciousness of those you know? When the queen returns from hell, she'll be looking to fill her court. Prove to her that you'd be a noble addition to her retinue.
VENUS RETROGRADE 2023: EXES & RELATIONSHIPS
The latest season of And Just Like That features the return of John Corbett, in his fourth go-round as Carrie's dusty, whitebread ex Aiden. Venus retrogrades are infamous for raising lost lovers out of oblivion, returning them to our orbit, to test how far we've come.
Once upon a time, someone saw you. Either they saw your potential, long before you did, or they considered you as a reflection of themselves, and will forever wish to remember you that way. When you encounter them now, you are invited to view yourself, past and present, and to take stock of the ways you've changed. With Lilith in Leo, Venus demands a harrowing retelling of your story, so that you may arrive at full authorship. At the tail end of Venus's Leo tour, Sofia Coppolla will debut Priscilla, a counter to the standard male rockstar biopic, as told from the perspective of his former wife. You're afforded the same opportunity.
When you revise your relationship history, and make peace with the ways you were small or grandiose, meek or overpowering, you get the chance to move on. If the return of an ex prompts a new, current, accountable means of mutual visibility, then they may deserve to stick around. But otherwise, they're here to reveal the ways you've changed, and to force you to make the inner upgrades external. Thank them, and leave them at the wardrobe sale.
VENUS RETROGRADE 2023 IN LEO: HOW TO DEAL
A retrograde period is something like a review, and when Venus goes back and forth, you get to really experiment with your makeover. You could consider this summer your soft launch, or multi-pronged debut. As you experiment with new styles and incarnations, you must give yourself the opportunity to fail, collect data, and try again. That goes with relationships as well. With Lilith in the house, volcanic encounters are guaranteed. Make amends, move on, and try again. You are learning how to better imbue every aspect of your personal and public presentation with authentic beauty. This takes time. You have a whole summer. Find your shade of pink, and set it off.