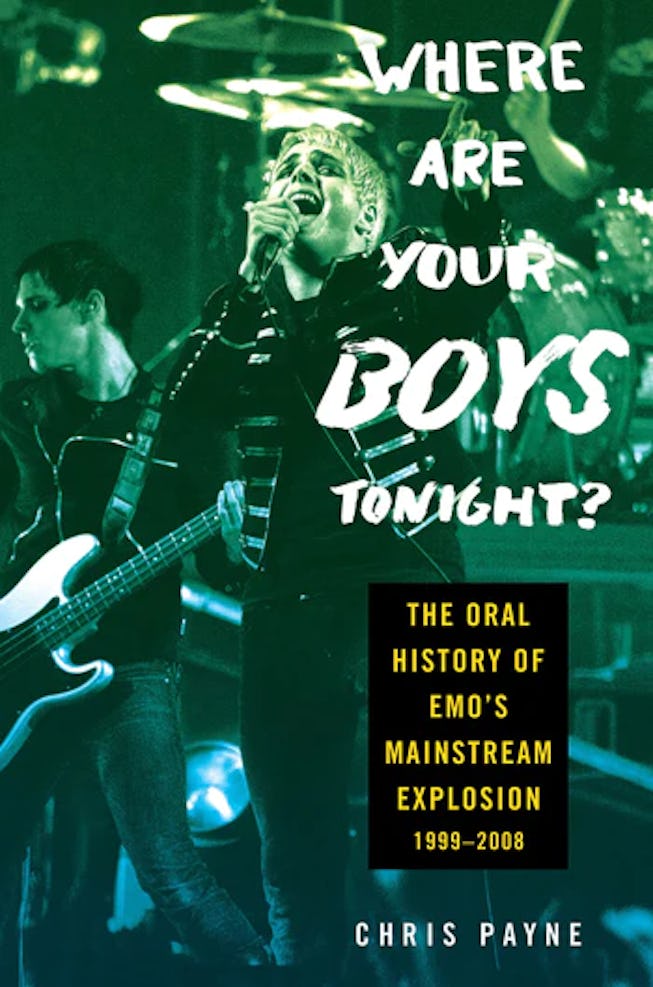 An Expansive Oral History of Emo Music Is Coming
Finally, the emo scene gets its own Meet Me In the Bathroom treatment with Where Are Your Boys Tonight?
A few years ago, the indie rock music scene was memorialized in the whopping 650-page book Meet Me In The Bathroom, an oral history of New York City's early 2000s indie rock scene that charted the success of bands like The Strokes, Yeah Yeah Yeahs, and LCD Soundsystem — an era later generations have come to know as indie sleaze. Now, the emo era is getting a similar treatment.
Where Are Your Boys Tonight? The Oral History of Emo's Mainstream Explosion 1999-2008 by music journalist Chris Payne will cover the emo takeover in the early aughts, led by bands like My Chemical Romance, Fall Out Boy, Paramore, Panic! At the Disco, Taking Back Sunday, Jimmy Eat World, Dashboard Confessional, and more. Dust off the jelly bracelets, write love on your arms, and get that snake bite piercing because if the emo festivals and fashion trends of the last two years haven't signaled enough of the pop punk-emo revival, this book solidifies it.
Payne announced the book on January 3, writing that he was, in fact, inspired by Meet Me In The Bathroom, which has since inspired a gallery exhibition and a documentary of the same title.
Payne grew up in New Jersey, a suburb of a state, the terrain where emo music with a nasally cadence thrived among hordes of vaguely dissatisfied youth, and experienced the scene through the sweaty mosh pits of the era. The book promises an "authoritative, impassioned, and occasionally absurd account told through interviews with more than 150 people, from the scene's biggest bands, producers, and managers to the teenage fans who helped redefine American music culture."
"There was Pete Wentz, the Fall Out Boy leader who launched a litany of scene-stealing bands and preposterous side-hustles, and Gerard Way, the wizard behind My Chemical Romance and The Black Parade," the publisher's description of the book reads. "Panic! At the Disco and Paramore emerged soon after — a pair of intrepid outsiders who got massive playing by their own rules. As they ascended, MySpace took over the internet and the age of influencers dawned, with emo its choice aesthetic."
Where Are Your Boys Tonight? The Oral History The Oral History of Emo's Mainstream Explosion 1999-2008 will be published by Harper Collins and is out June 6, but rest assured, you can pre-order it today.